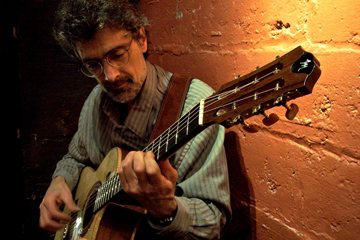 "A musician with incredible depth and breadth. Kinloch Nelson plays with the virtuosity of a classical master and the sensibility of a pop performer." — Portland Press Herald, Portland, Maine
Kinloch Nelson, a solo fingerstyle guitar player, performs a synthesis of folk, jazz, classical, rock, American popular music, and original compositions. His programs range from J.S. Bach to John B. Sebastian and may include references to Miles Davis, Franz Schubert, John Fahey, Leo Kottke, The Ventures, The "folk scare," Flatt and Scruggs, and the occasional TV theme.
Kinloch Nelson began performing in 1969. His 48 years-and-counting career has run the gamut from solo classical and folk concerts in coffeehouses and folk festivals to club dates with jazz, country, rockabilly, rock, and rhythm & blues bands. Over the years Nelson has played with such notables as Tom Paxton, Amos Garrett, Buddy Guy, and long-time influence Danny Gatton. Recent concerts have included appearances with Stephen Bennett, Muriel Anderson, Teja Gerken (Acoustic Guitar magazine), Al Peteway (Ken Burns documentaries) and Wings alumnus Laurence Juber.