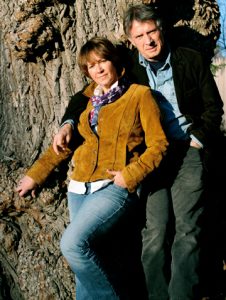 The Cadleys have each been involved with music in the Syracuse area for many years, John as a songwriter and member of area bluegrass bands, Cathy as a singer and church's music director. The two started playing as an acoustic duo, Cadley & Wenthen. After marrying in 2012, they've performed as The Cadleys, bringing together two wonderful instrumentalists and two beautifully blended voices to traditional covers and original songs.
At 13, John Cadley picked up the guitar and was drawn to the virtuoso picking of Lester Flatt and Earl Scruggs. After getting a master's degree in public communications he started work as an ad copywriter, eventually becoming associate creative director at Eric Mower and Associates, all the while continuing to play and write songs. He went on to join and form bluegrass bands, such as Cripple Creek and The Lost Boys. Cadley has often said that, "My writing is Bill Monroe meets Jackson Brown." One of his songs, "Time" with vocals by Lou Reid and harmonies by Vince Gill and Ricky Skaggs, reached #1 on national bluegrass charts.
Cathy began learning guitar at age 11 from her uncle Ed Hamell who had an international reputation as a singer/songwriter. Cathy became adept at classical, jazz and bluegrass flatpicking guitar styles as well as clawhammer banjo. She serves as the music director for Fayetteville's Immaculate Conception Church.