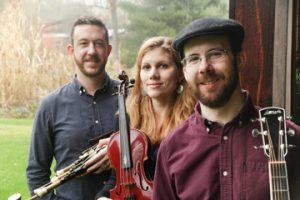 Arise and Go is an exciting Celtic trio from Ithaca that finds its roots in the dance music of Ireland, Scotland and Atlantic Canada. Blending pipes, whistles, fiddle, and guitar, they are noted for their "precision and energy". From intimate house concerts to festival stages, the band blends traditional melodies and instruments into fresh new arrangements. In 2017, Arise & Go released their debut, self-titled EP. Members Ellie Goud, Michael Roddy, and Tim Ball each bring unique elements of different Celtic traditions into the group's sound.
From New Brunswick, Ellie grew up steeped in the Atlantic Canadian musical tradition. Her style combines Celtic and Acadian influences from Canada, Ireland and Scotland. Piper Michael Roddy began his journey in Celtic music when he learned the Highland bagpipes. After years of competitive success, Michael turned to the world of bellows piping, making the natural leap to smallpipes and border pipes, and the bigger leap to the Irish uilleann pipes.
Tim (guitar, bouzouki, foot percussion) has been a staple of the contra dance and Irish music scenes in western New York for the better part of a decade. An exceptionally versatile musician and relentless collaborator, he performs as a fiddler throughout the Northeast with contra dance bands Tempest and Center Street, and Ithaca's Irish session band Traonach.