February 17— Eddy & Kim Lawrence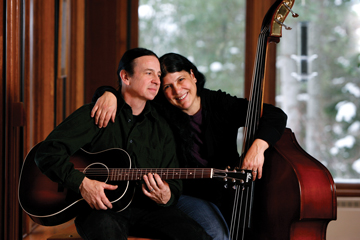 Growing up in Alabama, with deep roots in the red clay of then-rural Walker County, Eddy Lawrence was immersed in the old-time folk, country, blues, and bluegrass traditions that flourished there. He has called the area where he came from "the place where the Appalachians meet the Delta." He spent a decade in New York City before settling in the North Country of New York State in 1992.
Eddy first gained attention in New York City's thriving East Village music scene of the early 1980s. His first solo album, "Walker County", released in 1986, was an acoustic homage to his home state. For the next 15 years, Eddy worked the folk music circuit, playing coffeehouses, festivals, and clubs.
Shortly after the release of his album "Inside My Secret Pocket" in 2004, Eddy scaled back promotion of his own work in order to focus on producing recordings by Native American artists, several of which were released on his own Snowplow label. Two of the albums were nominated for Native American Music Awards (NAMMYs).
These days, he performs in concert with his wife, Kim, who accompanies him on upright bass. The duo has recently released a new all-acoustic CD called "My Second Wife's First Album". The recording is their first together and the ninth album of Eddy's original songs. With this album Eddy has reentered the world of the singer-songwriter, returning to the acoustic sounds that first brought attention to his music back in the 1980s.
---
March 3—Vance Gilbert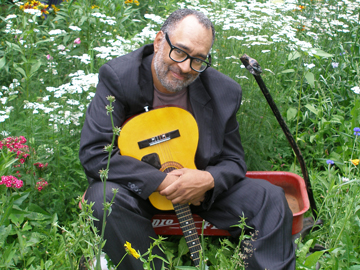 Vance Gilbert burst onto the singer/songwriter scene in the early 90's when buzz started spreading in the folk clubs of Boston about an ex-multicultural arts teacher who was knocking 'em dead at open mics. Born and raised in the Philadelphia area, Vance started out hoping to be a jazz singer, and then discovered his affinity for the storytelling sensibilities of acoustic folk music. Once word got out about Gilbert's stage-owning singing and playing, Shawn Colvin invited him to be special guest on her Fat City Tour.
Noted not only for being the ever-consummate performer, Gilbert has recorded 14 albums, including 4 for Philo/Rounder Records and a duo album with friend Ellis Paul. Along with being opener of choice for artists as varied as Aretha Franklin, Arlo Guthrie, and Anita Baker, 2006 and 2007 found Gilbert opening 140+ shows for comedian George Carlin. Most recently he's the opener of choice for Paul Reiser and The Subdudes.
Considered by many to be an integral part of the national folk scene, Gilbert's approach to the acoustic singer-songwriter idiom is significant. Gilbert's compositions, while frequently employing sophisticated melodies and harmonies that attest to his jazz roots, remain sublime attestations to the storyteller's craft. He even has a tune on a Grammy Nominated children's album. How rounded is that?
---
March 10—Mark Rust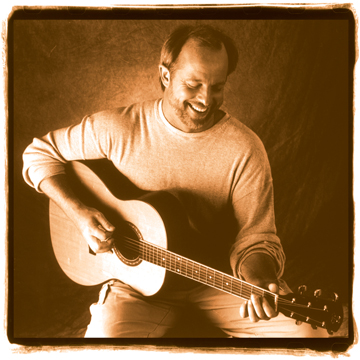 Mark Rust is one of those rare performers whose welcome will never wear out. He's a perennial Ithaca Festival fixture, writing songs every year based on the theme for the Festival, and is the author of Ithaca's unofficial anthem, "Ithaca Sunset".  He's surely in the running for most-ever Bound for Glory performances, and we'll be delighted to see him whenever it can be arranged.
Mark's music and stage presence reflect the harmonies of nature and the simplicity and beauty of life as he discovered it while growing up in the Catskill Mountains. The author of nearly two hundred songs, including many about Ithaca, Mark material focuses his songs on the timeless topics to which we all relate. His performing career began with his family; the Rust Family appeared at concerts, festivals, and coffeehouses across the country. As a solo artist, Mark has opened for David Brenner, and appeared in concert with Pete Seeger; Peter, Paul & Mary; and Tom Chapin.
Mark's CD "Live at the Ithaca Festival," recorded with many of us present, was nominated for a Campus Entertainer of the Year award by the National Association of Campus Activities. He sings with strength and clarity, accompanying himself variously on guitar, piano, banjo, and mountain and hammered dulcimer. He captivates his audience and quickly makes them an integral part of the performance; in that moment, we all become part of his family.
---
March 17—Mustard's Retreat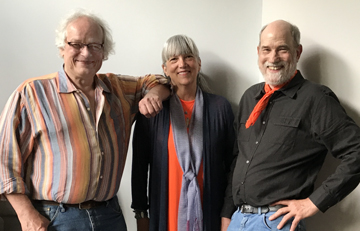 In May 1975 it seemed inevitable. Libby Glover, Michael Hough, and David Tamulevich had been informally jamming with each other for three months in the Rathskellar of the Old Heidelberg Restaurant in Ann Arbor, Michigan. The room had grown consistently packed with enthusiastic fans every weekend. They all agreed it was time trio made it official and chose the name Mustard's Retreat, which was the title of a tune David had written.
Libby Glover, a native of Flint, MI, had been singing since before she could walk, and did so extensively through high school. David Tamulevich was a transplant from Connecticut where he'd taken piano lessons and sang in the church choir. Michael Hough had grown up outside of Detroit Michigan in a very musical family in which everyone sang and played.
The trio performed together off and on throughout the late 70's whenever Libby was back from her various travels until a permanent move left Michael and David on their own. Success and praise continued to follow the pair for the next 40 years. When Libby finally moved back to Michigan in 2014, the trio began singing together again.
Mustard's Retreat released 14 acclaimed recordings featuring Michael and David, and at long last, they have their first album ever as a trio. It's titled "Make Your Own Luck". It's a fitting title for the three of them who have always sung the songs they enjoyed and cared about, regardless of the trends of the music industry and pop culture.  Now approaching their 45th year, Mustard's Retreat has traveled more than a million miles and performed more than 6,000 shows, from pig roasts and pool parties to the Kennedy's Center's Millennium Stage.
---
March 24—Pepper & Sassafras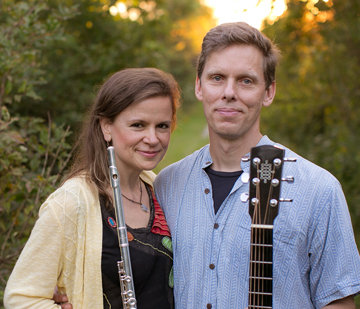 "It's the blend. It's the instruments. It's the ideas. It's the creativity. It's the authority. It's the flair. It's the flirting. It's the fast fingers. It's the laughing. It's the words. It's the rock. It's the folk. It's the wit. It's hard to put your finger on just what you like best about Rodgers and Ramsay."—Nancy Emrich, LilFest
Jeffrey Pepper Rodgers, grand prize winner of the John Lennon Songwriting Contest, teams up with multi-instrumentalist/songwriter Wendy Ramsay in this dynamic folk-rock duo. Rodgers, also the founding editor of Acoustic Guitar magazine, delivers masterful band-in-a-box guitar work while Ramsay, harmonizer extraordinaire, adds flute, clarinet, guitar, accordion, and her quirky originals to the mix.
Based in upstate New York, the two musicians collaborated on Rodgers' latest album, "Almost There", which won the 2015 Sammy Award for Best Americana. They were selected to perform, with the full JPR Band, in the 2015 Emerging Artist Showcase at the Falcon Ridge Folk Festival. Now known as Pepper and Sassafras, the duo was finalist for Best Duo at FreshGrass. The duo has played in venues ranging from house concerts and coffeehouses to bars and churches.
"Jeffrey and Wendy meander comfortably from laugh-out-loud funny to beautiful love songs and rousing sing-alongs…all performed with great musicianship and goose-bump harmony."—Jim Clare, Tunes by the Tracks
---
April 14—Small Potatoes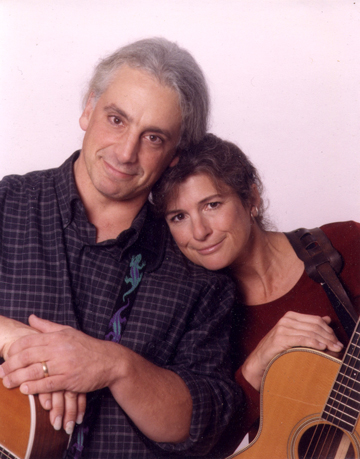 "Jacquie Manning and Rich Prezioso combine cleverly witty with powerfully poignant songs, along with well-chosen covers to present an unusually entertaining and involving repertoire engagingly delivered. Prezioso's song "1000 Candles, 1000 Cranes" is one of the most outstanding songs of the past 50 years."—Rich Warren, The Midnight Special – WFMT Radio, Chicago, IL
Jacquie grew up near Chicago, studied flute, taught herself guitar, and began in the mid-'70s as an independent folksinger, with forays into country, rock 'n' roll, girl bands and Celtic music, developing an easy affinity with audiences from Girl Scouts to Renaissance Fairs. Meanwhile, in Fort Lee, Rich learned his chops from the Beatles and Creedence, studying classical guitar while at Hampshire College in Amherst, playing in rock and blues bands. A job writing commercial music took him to Chicago, where his search for a female singer for a commission led friends to recommend Jacquie. And the rest is folk music history.
When this Chicago-based duo decided to hit the road to be full-time troubadours as Small Potatoes, they took a risk. A million and a half miles, thousands of shows, and at least six Dodge Caravans later, they've continued to be audience favorites on the national folk circuit. Their self-described "eclecto-maniacal" mix of covers and originals, arrived at through "careful indecision" is unique. Their "Celtic to Cowboy" repertory is solidly their own, staking out a contemporary "folk" music as authentic as America's big tent. They won the Best of Bound for Glory's award in 2000 (their "Live" CD is taken from BFG performances) and continue to engage audiences with their stage presence, their droll, savvy takes on life, and poking fun at themselves—all while performing with stunning musicianship.
---
April 21—Joe Crookston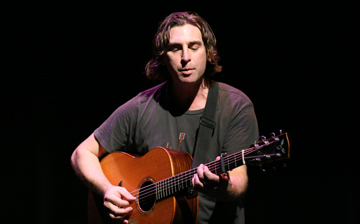 "At every festival I hope to find the gift of one artist whose songwriting and performance stand out. Joe Crookston was that gift for me this year at the Philadelphia Folk Festival. Stunning performance, great songs, and not a word wasted! I LOVE that!"—David Francey, Songwriter
Songwriter, guitarist, painter, fiddler, slide player, and believer in all things possible, Joe Crookston is a master storyteller on the creative edge. His music swirls with themes of lightness, darkness, clocks ticking, fiddle looping, weeping willows, slide guitar bending, cynicism, hope, and the cycles of life and rebirth. With unwavering courage to be himself, he is literate, poignant and funny as hell. Whether he's picking his 48 Gibson, weaving through lap slide songs, or looping his fiddle, he will draw you in.
Joe says, "I'm learning to trust my voice as a songwriter. Be who I am. Trust the stories and follow no trends. More and more I find that when I tell my true story, it has wider breadth, deeper impact, and resonates more clearly." His music has been recorded and performed by Irish harpers, a cappella gospel choirs, solo artists, and bluegrass bands.
He lives in Ithaca NY, and tours regularly in the US, Ireland and Canada. Joe has taught at many retreats including SummerSongs, The Swannanoa Gathering in North Carolina, and the Yearly Quaker Gathering in Rhode Island. He was named the 2016 Folk Alliance International Artist-in-Residence.
---
April 28—Jane Rothfield & Allan Carr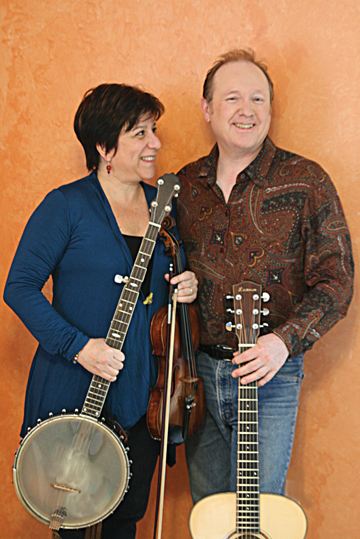 Husband and wife duo, Jane Rothfield and Allan Carr have been playing their unique blend of traditional and original Celtic and Appalachian style music for over 30 years.
Allan Carr was born and raised in Aberdeen, Scotland a region known for its rich musical traditional musical heritage. He began singing traditional songs in his teens, learning from such source singers as Jeannie Robertson, Lizzie Higgins, Jimmy McBeath and Stanley Robertson. Allan performed regularly at the Aberdeen Folk Club and won numerous traditional singing competitions throughout Scotland.
In 1978, Allan met Jane Rothfield while she was studying at Aberdeen University. Jane is an award winning fiddler, clawhammer banjo player and tune composer with deep roots in the fiddle traditions of New England, Scotland and the American South. The combination of Allan's traditional Scottish singing and Celtic guitar style melded perfectly with Jane's Old Time fiddle and banjo and clear voice and with innovative arrangements created a unique sound not heard on the folk scene at the time.
In the early 80's they moved to Edinburgh, Scotland and toured extensively appearing at folk clubs and festivals in the UK and USA. Allan and Jane moved back to the US in 1988, performing at festivals and concerts throughout the Northeast. In 2008, they formed Red Hen Stringband, an American Roots Old Time Band, and then, following a move to the Philadelphia area in 2009, they formed Coracree with tune composer and multi-instrumentalists (and dancers) Bill Quern and Sarah Gowan. Coracreee plays for Contra Dances throughout the East Coast and also for concerts adds a strong repertoire of original and traditional songs from the Scottish and Old Time tradition.
---
May 5—Mike Agranoff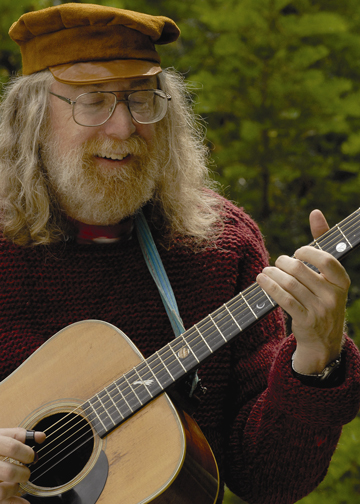 If you've been around the folk scene, you couldn't miss seeing Mike. Tall, ginger beard, and always around where the music is. He's been on the scene for many many years, listening to the fine details of what makes this genre of music so special to the soul, so able to make us laugh and cry and think. And lucky for us all, he got serious about having fun at it.
Equally at home in the contemporary and traditional camps of the Folk world, he is a fine musician and storyteller. His prime instrument is the guitar, upon which he shines with intricate finger-style arrangements of anything from Tin Pan Alley tunes of the '20s to fiddle tunes to his own music. He also plays concertina, piano, banjo, or sings a cappella. He can be uproariously funny, contemplative, and powerfully emotional in the space of a few minutes. Not so much a singer-songwriter as a "singer-songfinder", Mike takes great delight in discovering the little-known hidden gems, polishing them with his own distinctive style, and bringing them to the light of day where they sparkle. The man will capture your attention, and then your heart.
Not only a performer, Mike is involved in presenting folk music as well. He is one of the prime movers of The Folk Project, New Jersey's oldest and strongest folk music organization. For over two decades he has been chairman of that organization's Minstrel Coffeehouse, one of the longest-lived folk venues in the country.