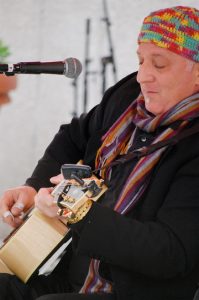 Italo 'Tal' Naccarato, is a roots and country blues artist, Piedmont fingerstyle composer, and occasional street singer. He was born in the in the Apennine mountain range in the South of Italy, raised in New York City, and currently resides in both the Hudson Valley and in Louisville, Kentucky. When not playing at a festival or club, Tal can sometimes be spotted performing on the streets of NYC, Nashville, New Orleans, the Florida Keys, Amsterdam, or Paris, playing traditional American Roots music and "following the weather" in the Piedmont fingertsyle and country blues traditions.
Tal was most recently featured as a Solo Acoustic Performer at the 'MerleFest' Festival in North Carolina, and has deservedly taken his place amongst the very best players of country blues worldwide, performing his own original brand of Roots & Folk Blues music. Beside guitar, he plays banjo and blues harp.
His latest project, "Dreamflower Sessions", recorded live in studio, was released in early 2016. Tal's solid songwriting skills, easily identifiable vocal style, quirky 'behind the beat' tempos, signature slide guitar technique and fresh, authentic, and unique approach to the genre has cemented his slot in the Roots/Folk/Blues world as a superlative, highly original traditional player and composer with a deep love of country blues music.