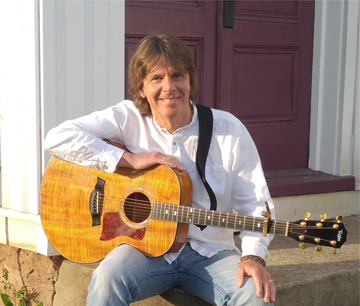 Gordon Thomas Ward got his first guitar at age eleven. Raised in a historic home, said to be haunted, in rural New Jersey, he began at age 14 to write songs that reflected interests in the past, in ghosts and the paranormal. Influenced by Dan Fogelberg, Neil Young, and Jackson Browne, his songs nevertheless take a different course to tell stories that draw on history, while, like a visual artist, he treats guitar and dulcimer as tonal palettes to help illustrate those stories.
Described as "a musical storybook" Gordon's album "Welcome to the Past" is a collection of original, acoustic songs that feature his penchant for thoughtful storytelling and emotional revelation in a variety of ballads, story-songs, and anthems. Gordon is working on a new record for 2017, which will also reflect his unique approach to telling the stories of our collective hearts and journeys through song.
In addition to songwriting, Gordon has published four books, writes a regular column for The Black River Journal magazine, and hosts a radio show "These Days" on northern New Jersey's WDVR. Gordon also lectures on several topics; in September 2016, he produced and performed a Concert Across America to End Gun Violence.
---
Coming up on Bound for Glory
this Summer
The Hickory Project–July 30, 2017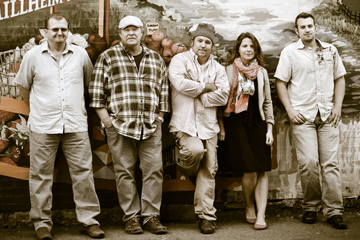 "Hickory Project embodies much of what carries the best of bluegrass and progressive acoustic music into the 21st century." -Bluegrass Unlimited
Formed in 2001 as an experiment, Hickory Project features hard–driving traditional and original acoustic music deeply rooted in bluegrass. They have captivated audiences throughout Europe, US, and Australia.
Anthony Hannigan (mandolin, vocals) is the 1999 National Mandolin Champion and has been playing bluegrass music from the age of four. David Cavage (banjo, vocals) ranks among the finest banjo players and songwriters in bluegrass music today. According to Bluegrass Unlimted, "He sounds like Béla Fleck with an attitude." Steve Belcher (acoustic bass) was born in Liverpool, England and began his music involvement playing drums, which drove his passion for rhythm. Jillian Hannigan (flute, pennywhistle, vocals) is a native of Virginia, and grew up playing classical, folk, and Celtic music with her family.
Despite the influence of his grandfather, an accomplished bluegrass banjo player, Josh Sudigala (guitar) began playing rock and roll at age 14. However, he soon developed a passion for bluegrass flatpicking. Ed Lick (banjo, vocals) grew up in Collingswood, NJ. Bluegrass got into Ed's soul at age 13 when he got a banjo for Christmas. He has been performing professionally since age 15.
Hickory Project has produced one DVD and seven CDs under their own label. Their latest album is "Driving the Blue".