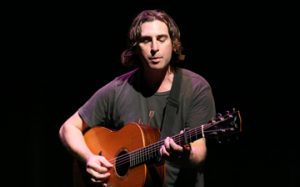 "At every festival I hope to find the gift of one artist whose songwriting and performance stand out. Joe Crookston was that gift for me this year at the Philadelphia Folk Festival. Stunning performance, great songs, and not a word wasted! I LOVE That!"—David Francey, Songwriter
Songwriter, guitarist, painter, fiddler, slide player, Eco-Village member and believer in all things possible, Joe Crookston is a master storyteller on the creative edge. His music swirls with themes of lightness, darkness, clocks ticking, fiddle looping, weeping willows, slide guitar bending, cynicism, hope, and the cycles of life and rebirth. With unwavering courage to be himself, he is literate, poignant and funny as hell.
Joe says, "I'm learning to trust my voice as a songwriter. Be who I am. Trust the stories and follow no trends. More and more I find that when I tell my true story, it has wider breadth, deeper impact, and resonates more clearly." His music has been recorded and performed by Irish harpers, a cappella gospel choirs, solo artists, and bluegrass bands.
Joe has taught at many retreats including SummerSongs, The Swannanoa Gathering in North Carolina, and the Yearly Quaker Gathering in Rhode Island. He was named the 2016 Folk Alliance International Artist-in-Residence.