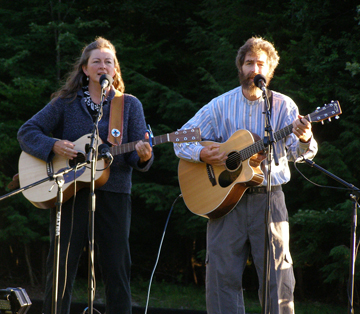 "They sing as though they have performed for a lifetime together." –Buffalo Friends of Folk Music
Dan Duggan and Peggy Lynn, who often perform with Ban Berggren as the Jamcrackers, will be performing as a duo this time at Bound for Glory.
National hammered dulcimer champion Dan Duggan is known from Maine to California for his wizardry on the hammered dulcimer, flat-picking guitar, and keyboards. In addition to his extensive array of recordings, Dan's dulcimer talents are spotlighted on Paul Simon's Grammy-nominated album "You're the One" and "The Paul Simon Collection". Many of Dan's original tunes are published in the collection "Coming Home". Also known for his dance calling, including while accompanying himself on the hammered dulcimer.
Peggy Lynn, singer, songwriter, and educator, brings an infectious enthusiasm to all her endeavors.  With a sultry, yet powerful alto voice, Peggy gives a clear message of the passion underlying her songs. While her style and range give meaning and feeling to all her work, her most powerful message, her passion, is for the contributions and burdens of women. Peggy ranges from folksy to blues with equal ease, alone or harmonizing with others.
Peggy and Dan have released several duo recordings, including "Keeping Christmas", "A Stitch in Time", "Grandsongs", "Jamcrackers", with Dan Berggren, and "Be the Light".  Their most recent recording, released in 2013, is "Esperance", named for their farm in Red Creek, NY.