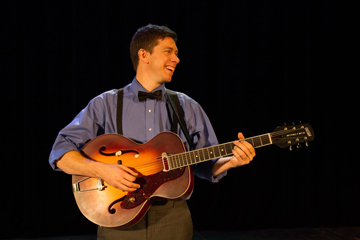 Nate Marshall is a well-known local singer songwriter and multi-instrumentalist and member, with his wife, Kate, of the folk duo Nate & Kate.  They released their debut album, "Fame by Frame", late in 2007.  The album garnered glowing reviews, established the duo as a household name in Ithaca, and continues to receive regular Central New York radio airplay.  In 2009, Nate & Kate hit the road playing over 150 shows on an "Eat Local Tour" of NY State farmers markets, attracting significant press along the way.
As a solo performer, Nate carries on the folk music tradition of song and storytelling with a modern twist of humor and musicianship steeped in a number of genres including swing, blues, Americana and jazz.
In addition to solo performance, Nate is also a guitar instructor, staple of the children's music scene in central New York as well as an accomplished juggler, known as Nate the Great.  He has toured extensively throughout the U.S. in a variety of venues from theaters to cafes and farmer's markets to street corners.
Nate will be at Bound for Glory with some of his musician friends – who and how many to be determined. In any case, it will be a great show.