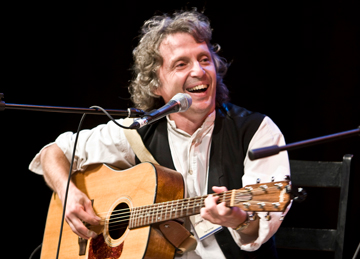 James Gordon has had a remarkably diverse 30-year career in the Canadian entertainment business. As a solo singer-songwriter and with the ground-breaking trio Tamarack, he has released over thirty-five albums, and has toured relentlessly around the world. Gordon has written for symphony orchestras, musical theatre and dance works, film scores, and for more than ten years was heard on CBC radio as songwriter-in-residence for the Basic Black and Ontario Morning programs.
Gordon's classic Frobisher Bay has been recorded by more than 100 different acts world-wide, has become a standard in choirs everywhere. His most ambitious work, the full-length folk opera 'Hardscrabble Road' debuted live in the fall of 2003. His new album "Sunny Jim" has just been released on Borealis Records and has reached #2 in Canada and #24 in North America in that same genre.
Well known for his songs about social justice, heritage and environmental issues, he toured for two years with his hugely successful political theatre piece "Stephen Harper: The Musical".  It worked. You're welcome.
He tours as a solo performer and with his sons. In 2009 BerLen Music published the Pipe Street Songbook, an anthology of his 50 most loved songs. Between tours, James is a record producer, playwright, community activist, Guelph City Councillor, and theatre director.