Tal Naccarato – January 29, 2017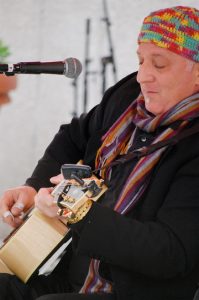 Italo 'Tal' Naccarato, is a roots and country blues artist, Piedmont fingerstyle composer, and occasional street singer. He was born in the in the Apennine mountain range in the South of Italy, raised in New York City, and currently resides in both the Hudson Valley and in Louisville, Kentucky. When not playing at a festival or club, Tal can sometimes be spotted performing on the streets of NYC, Nashville, New Orleans, the Florida Keys, Amsterdam, or Paris, playing traditional American Roots music and "following the weather" in the Piedmont fingertsyle and country blues traditions.
Tal was most recently featured as a Solo Acoustic Performer at the 'MerleFest' Festival in North Carolina, and has deservedly taken his place amongst the very best players of country blues worldwide, performing his own original brand of Roots & Folk Blues music. Beside guitar, he plays banjo and blues harp.
His latest project, "Dreamflower Sessions", recorded live in studio, was released in early 2016. Tal's solid songwriting skills, easily identifiable vocal style, quirky 'behind the beat' tempos, signature slide guitar technique and fresh, authentic, and unique approach to the genre has cemented his slot in the Roots/Folk/Blues world as a superlative, highly original traditional player and composer with a deep love of country blues music.
---
Peter Mulvey – February 5, 2017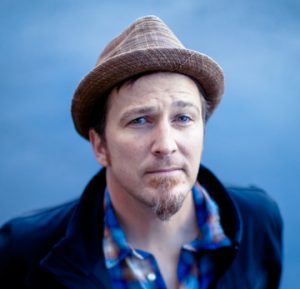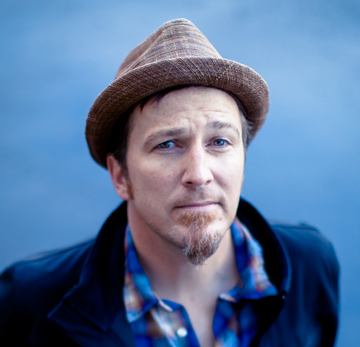 Known for his warm, smartly discursive originals, striking guitar technique, and a big, generous heart, Peter Mulvey has earned his national following as a singer-songwriter and esteemed indie folk/rock musician through two decades of intense touring spanning the continent.
Mulvey's 2015 YouTube recording of his song "Take Down Your Flag"—a response to the Charleston murders of Reverend Clementa Pinckney and eight other members of a Bible study group—had writers and singers adding verses to his song online, and helped raise donations for the Emanuel AME Church.
As a student at Marquette University, Mulvey studied theater, then traveled overseas and honed his skills as a street musician in Dublin. At one point, unemployed in Boston, Mulvey earned a living with his guitar busking ten-hour days in the subway. Over time his reputation has grown with some-twenty CDs, awards, music videos, and spontaneous, on-the-road YouTube clips.
In addition, Mulvey has done a TedX talk, organizes week-long festival that includes luthiers as well as musicians, does a yearly concert in a West Virginia cave for the National Youth Science Camp, and embarks yearly on a tour by recumbent bike covering well-known clubs in the Northeast.
---
Beaucoup Blue — February 12, 2017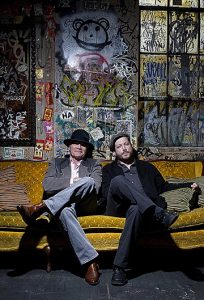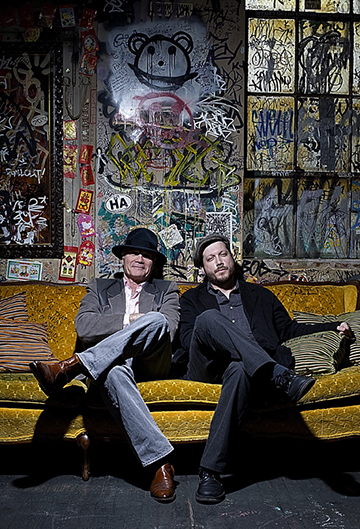 "This powerful yet gentle father-and-son duo gets their audience lost in reverie with arrestingly soulful music. Their original songs blend folk, R&B, jazz, country, and bluegrass together in songs that might be classics, or might just sound like it."  – Sarah Craig, Caffe Lena
Beaucoup Blue is the Philadelphia-based father and son duo, David and Adrian Mowry. Adrian grew up watching his father perform in coffeehouses and clubs, but discovered the guitar on his own and learned his chops in his own band. Some well-received party gigs launched them as a duo. Over the course of several albums, they have crafted original songs that pull together eclectic influences to extend the reach of Americana music. Besides being in the top 40 of Americana radio playlists, they have won first prizes in songwriting, one in Billboard Magazine's 2010 contest, and another in the Blues & Brews Acoustic Contest in Telluride. Their voices—one, mature and mellow, the other a higher keening tenor—along with David's plaintive slide guitar and the pulse of Adrian's picking underscore the drama in their haunting melodies and soulful lyrics.
---
Sally Rogers & Howie Bursen – February 26, 2017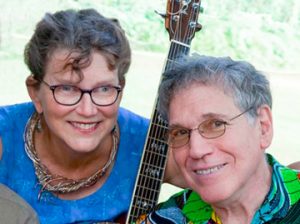 Since their first meeting in a 1981 Greenwich Village café, Sally Rogers and Howie Bursen have fostered rich musical lives, both independent and intertwined.
Sally is known for her clear soprano, strong interpretations of the folk repertoire and original songs. Peggy Seeger has praised Sally's "clear, fluid and remarkably agile voice, keen sense of drama, and a most refreshing sense of fun." Besides decades of touring and recording, Sally has used her music in careers as an educator in Connecticut schools, a developer of an arts-based literacy program, as the author of a children's book, composer of church music, and as a scorer of Mennonite folk operas. In 1997 Sally was designated Connecticut's State Troubador, a position which she used to teach and encourage residents to write songs about the places they know.
Howard Bursen came to Cornell in the late '60s to study philosophy in the experimental Six-Year PhD program. Even as a student, he was making a name as a folksinger with a warm baritone and as a wonderful guitarist. He became one of the foremost practitioners of clawhammer-style banjo with triplet riffs described as gravity-defying. Howie was one of the first performers for Phil Shapiro's fledgling live folk-music radio program "Bound for Glory. After a stint teaching at Wells College, he left academia to become a wine-maker, first in the Finger Lakes, then at Sharpe Hill Vineyards in Connecticut.
---
Mustard's Retreat–March 5, 2017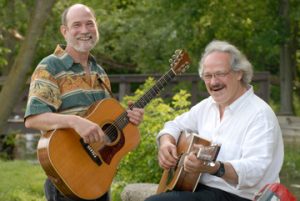 Mustard's Retreat, longtime folk duo from Michigan, has had a loyal following in Ithaca since the 1970s. Michael Hough and David Tamulevich—Connecticut sons, songwriters, former choir members, and erstwhile graduate students—met in 1974 as short order cooks in Ann Arbor. After a well-received open mic appearance at The Ark coffeehouse led to more gigs over the next eighteen months, they started a full-time music career that has lasted over four decades with more than a dozen acclaimed CDs, thousands of festival and club gigs, and more than a million miles of touring. Their performances are known for warmth, wit and energy, and their songs, such as "Mallon's Bridge", "Gather the Family", and "Pay the Toll" have become staples of contemporary folk radio. One song, "A Simple Faith", with its simple, embracing chorus, has passed into iconic status, relayed voice to voice, seeming to arise from a deep traditional American spirit, reflecting hope and inclusiveness.
Spike Barkin, who produced the Roots of American Music Festival at Lincoln Center, praised Mustard's Retreat for their style of "folk from the heart," adding that David and Michael "take your living room on the road with you and invite people in as friends."
---
Reverend Robert Jones and Matt Watroba— March 12, 2017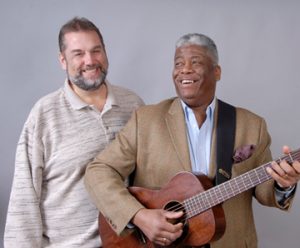 The Rev. Robert Jones, Sr., and Matt Watroba met over twenty years ago when each hosted back-to-back radio programs in Detroit. Sharing a love of traditional American music, they have forged a personal friendship over the years.
As performers and teachers, they seek to revive and instill appreciation for the history, social change, and migration in the lives of all Americans through folk songs, blues, spirituals, work songs, and chants.
The Rev. Robert Jones was born in Detroit. Ordained into the Baptist ministry in 1989, he is pastor of the Sweet Kingdom Missionary Baptist Church in Detroit. As a performer and story-teller he has performed all over America and Europe. In 2007, the National Blues Foundation named him "Educator of the Year".
Matt Watroba was also born in Detroit and raised in Plymouth, MI. After teaching for a dozen years in the Plymouth-Canton public schools, his interests in music and education drew him both into writing, where he has published many pieces in Sing Out! magazine, and into radio, where for 20 years he hosted WDET-FM's Folks Like Us, and syndicated media programs Sing Out! Radio Magazine and Folk Alley. In 2000, the Detroit Music Awards dubbed him "Best Overall Folk Performer".
---
Joe Jencks–March 19, 2017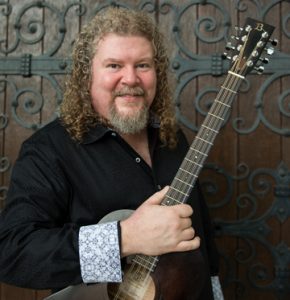 "The key to the future is people joining in. The music of Joe Jencks captures this essential spirit. Joe is a fantastic singer who carries on the traditions." –Pete Seeger
Joe Jencks is an international touring performer, songwriter, and educator, based in Chicago, IL. He has spent the last 18 years touring full-time from concert halls to coffee houses, festivals, spiritual communities, and schools. His songs have traveled to every continent, and he is noted for his unique merging of musical beauty, social consciousness, and spiritual exploration. Joe has won numerous songwriting awards.
Jencks has "the passion of gospel singer, the knowledge of a classical vocalist, and the soul of an Irish tenor." On the stage, in the studio, or in the classroom, Jencks applies conservatory training to contemporary genres, bridging styles and techniques. "Links In A Chain" is Jencks' 7th solo CD, released in the fall of 2009. He's also in demand as a vocal arranger with over 30 recordings as guest artist, harmonist and arranger.
In 2010, Jencks co-founded a dynamic new trio called Brother Sun with colleagues Greg Greenway and Pat Wictor. The trio performs widely throughout the United States and Canada. Brother Sun's CD "Weights & Wings" was at the top of the 2016 Folk DJ Chart.
---
The Cadleys–March 26, 2017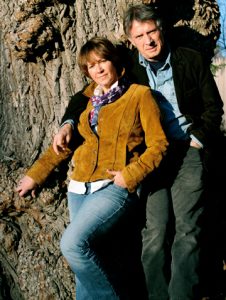 The Cadleys have each been involved with music in the Syracuse area for many years, John as a songwriter and member of area bluegrass bands, Cathy as a singer and church's music director. The two started playing as an acoustic duo, Cadley & Wenthen. After marrying in 2012, they've performed as The Cadleys, bringing together two wonderful instrumentalists and two beautifully blended voices to traditional covers and original songs.
At 13, John Cadley picked up the guitar and was drawn to the virtuoso picking of Lester Flatt and Earl Scruggs. After getting a master's degree in public communications he started work as an ad copywriter, eventually becoming associate creative director at Eric Mower and Associates, all the while continuing to play and write songs. He went on to join and form bluegrass bands, such as Cripple Creek and The Lost Boys. Cadley has often said that, "My writing is Bill Monroe meets Jackson Brown." One of his songs, "Time" with vocals by Lou Reid and harmonies by Vince Gill and Ricky Skaggs, reached #1 on national bluegrass charts.
Cathy began learning guitar at age 11 from her uncle Ed Hamell who had an international reputation as a singer/songwriter. Cathy became adept at classical, jazz and bluegrass flatpicking guitar styles as well as clawhammer banjo. She serves as the music director for Fayetteville's Immaculate Conception Church.
---
Davey O — April 16, 2017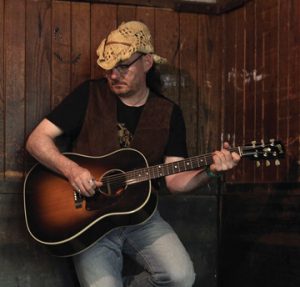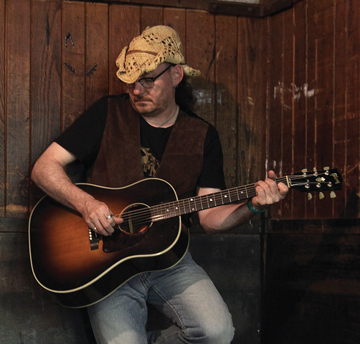 "A journalist's eye for detail and poet's ear for the well-turned observation." — Jeff Miers, Buffalo News
Armed with a steady, rhythmic pulse on his Gibson guitar, a battered straw cowboy hat, and a no apologies rust-belt work ethic, Buffalo, NY born and bred songwriter Davey O. is equal parts songwriter and storyteller. He has earned the respect of his peers for his dedication to the art of song craft. Davey crafts pure Americana that is not of social and political consciousness, but drawn from the well of experience and human emotion.
In 2012, Davey's album "Testing For Rust" spent 11 weeks in the Top 25 on the Roots Music Report in New York State. In 2014 his seven-song EP, "No Passengers", debuted as a Top 20 album on the Folk DJ Charts, and remained a Top 25 Contemporary Folk CD on the Roots Music Report for five months.
Davey is releasing his latest album, "A Bright Horizon Line" in 2017. He is joined on it by veteran folk artists Tracy Grammer (background vocals), and Pat Wictor (dobro), as well as up and coming artists Matt Nakoa (piano), and Eric Lee (mandolin, fiddle).
---
Joe Crookston — April 23, 2017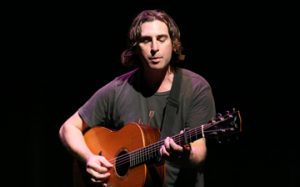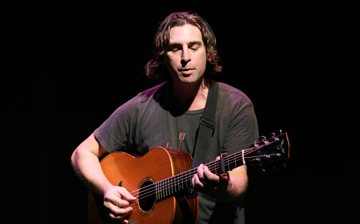 "At every festival I hope to find the gift of one artist whose songwriting and performance stand out. Joe Crookston was that gift for me this year at the Philadelphia Folk Festival. Stunning performance, great songs, and not a word wasted! I LOVE That!"—David Francey, Songwriter
Songwriter, guitarist, painter, fiddler, slide player, Eco-Village member and believer in all things possible, Joe Crookston is a master storyteller on the creative edge. His music swirls with themes of lightness, darkness, clocks ticking, fiddle looping, weeping willows, slide guitar bending, cynicism, hope, and the cycles of life and rebirth. With unwavering courage to be himself, he is literate, poignant and funny as hell.
Joe says, "I'm learning to trust my voice as a songwriter. Be who I am. Trust the stories and follow no trends. More and more I find that when I tell my true story, it has wider breadth, deeper impact, and resonates more clearly." His music has been recorded and performed by Irish harpers, a cappella gospel choirs, solo artists, and bluegrass bands.
Joe has taught at many retreats including SummerSongs, The Swannanoa Gathering in North Carolina, and the Yearly Quaker Gathering in Rhode Island. He was named the 2016 Folk Alliance International Artist-in-Residence.
---
The Heather Pierson Acoustic Trio – April 30, 2017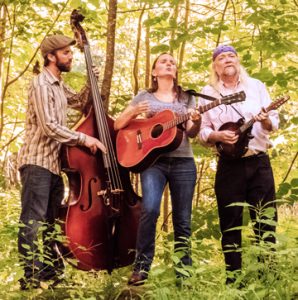 Heather Pierson is an award-winning pianist and multi-genre singer/songwriter. From New Orleans-style jazz and blues to rousing Americana and poignant folk narratives, her music moves seamlessly and effortlessly from one style to the next, and a growing catalog of wildly divergent CD releases reflects her boundless creativity. The Heather Pierson Acoustic Trio features Shawn Nadeau on upright bass, and Davy Sturtevant on, as Heather often puts it from stage, "everything else"—guitar, mandolin, dobro, fiddle, cornet.
Born to a Scottish émigré mother and Navy veteran machinist father, Heather began in life in the single-traffic-light town of Galena, Kansas. Her father was an avid clarinet player, and he passed the love of music onto his daughter. At the age of five, he taught her piano. "I'll never forget it," she recalls. "The very first time I played the piano – a real piano – I knew that this was exactly what I wanted to do, every moment that I had the chance to do it."
Originally hailing from Erie, Pennsylvania, Davy Sturtevant is a veteran touring artist, producer, engineer, songwriter, and performer who now makes his home in Lovell, Maine. Armed with a gorgeous tenor voice and a mighty arsenal of instruments, Davy is an engaging stage presence. New Hampshire native Shawn Nadeau brings nearly two decades of performing experience to the trio, informed by a wide spectrum of unique rhythmic and melodic sensibilities ranging from rockabilly to reggae to jazz.
---
Steve Gillette & Cindy Mangsen – May 7, 2017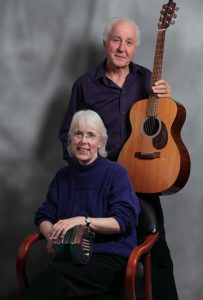 "Steve and Cindy have hit on a combination that consistently produces high quality recordings and entertaining stage shows. Their voices and their styles meld seamlessly with a gentleness and a maturity that is unmatched in the world of folk duos." — Matt Watroba, Sing Out Magazine
Steve Gillette and Cindy Mangsen have been performing together for 25 years, bringing together their love of traditional music and their wealth of original songs. Their live performances are known for rich harmony, compelling songs and a good dose of humor. Their six duet albums have appeared on many folk Top Ten lists, from the WFMT Midnight Special (Chicago) to The Boston Globe.
Steve Gillette has been writing songs since the 1960's. Since Ian and Sylvia first recorded "Darcy Farrow" in 1965, Steve's songs have been covered by John Denver, Garth Brooks, Linda Ronstadt, Tammy Wynette, Waylon Jennings, Josh Ritter, and many others. Steve has conducted songwriting workshops all over the US and Canada, and is author of the book Songwriting and the Creative Process, a standard text in songwriting groups.
Accompanying herself on guitar, banjo, concertina, or mountain dulcimer, Cindy is known for her compelling interpretations of traditional ballads, as well as for her own writing and her wonderful ear for harmony. Cindy has led singing and ballad workshops at the Augusta Heritage Center in West Virginia and The Woods in Ontario, Canada.
---
James Gordon—May 14, 2017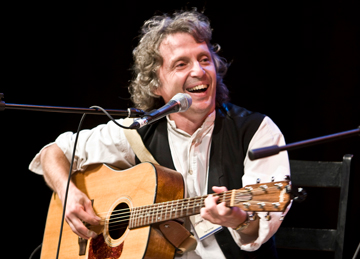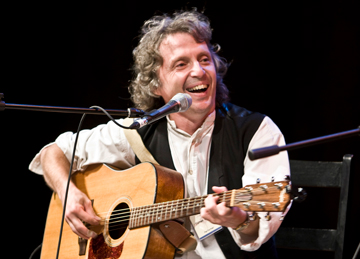 James Gordon has had a remarkably diverse 30-year career in the Canadian entertainment business. As a solo singer-songwriter and with the ground-breaking trio Tamarack, he has released over thirty-five albums, and has toured relentlessly around the world. Gordon has written for symphony orchestras, musical theatre and dance works, film scores, and for more than ten years was heard on CBC radio as songwriter-in-residence for the Basic Black and Ontario Morning programs.
Gordon's classic Frobisher Bay has been recorded by more than 100 different acts world-wide, has become a standard in choirs everywhere. His most ambitious work, the full-length folk opera 'Hardscrabble Road' debuted live in the fall of 2003. His new album "Sunny Jim" has just been released on Borealis Records and has reached #2 in Canada and #24 in North America in that same genre.
Well known for his songs about social justice, heritage and environmental issues, he toured for two years with his hugely successful political theatre piece "Stephen Harper: The Musical". It worked. You're welcome.
He tours as a solo performer and with his sons. In 2009 BerLen Music published the Pipe Street Songbook, an anthology of his 50 most loved songs. Between tours, James is a record producer, playwright, community activist, Guelph City Councillor, and theatre director.
---
Kenny White—June 25, 2017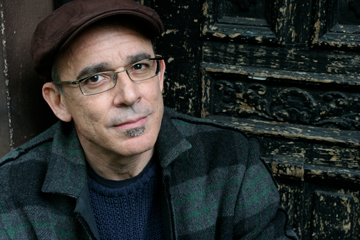 "Kenny the artist, the songwriter, the troubadour, is winning hearts everywhere and often to my good fortune, joins me in concerts. It is always a gift to see him and hear him sing his amazing songs."—Judy Collins, liner notes, "Bohemian"
Astonished audiences often ask Kenny White after a live performance, "How come I've never heard of you?" when in fact, the pianist, singer/songwriter, producer and arranger has been very well known in the New York City recording scene for decades.
Born in New York City and raised across the river in Fort Lee, New Jersey, Kenny White began his career in the 1970s, touring exclusively as the keyboard player for Jonathan Edwards and Livingston Taylor. He then became a fixture in the New York City studio scene throughout the 1980s and 1990s, producing and arranging literally hundreds of commercials for TV and radio. White has worked on many film soundtracks as a contributing writer/musician, and has appeared on dozens of recordings of other musicians.
"Long List of Priors", his aptly named new album, is the latest collection of original songs: indelible snapshots of the human condition, from heart-wrenching to hilarious and observed with the precision of a diamond cutter. As on his past recordings, Kenny White's work in the studio enabled him to assemble a who's who of musicians and guest artists to appear on the album.
---
Bill Destler–July 2, 2017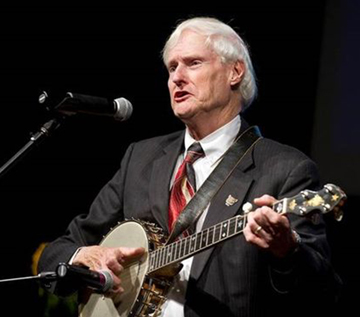 Bill Destler first appeared on Bound for Glory in 1969. A Connecticut native, Destler first started on guitar while a grad student at Cornell. Since appearing on Bound for Glory in the early years, Bill has gone on to other things, like becoming the President of the Rochester Institute of Technology. He has been serving as their President since 2007, although he is retiring from that position effective this June.
Destler received an applied physics PhD from Cornell University in 1972, and is known for his pioneering work in the collective acceleration of heavy ions, achieving the highest energies to date by this method, and for his development of large orbit microwave devices, including large orbit gyrotrons and rotating beam free electron lasers.
Bill is a fine banjo and guitar player, and a traditionally oriented folk singer. A founding member of the Baltimore Folk Music Society, he's reputed to be one of the world's foremost collectors of antique banjos, with a collection of more than 160 (you can see the list at http://www.billsbanjos.com/)
Destler released his first record, "September Sky", in 1973, an album of what he calls "James Taylor-y music." It actually sold a couple of thousand copies. "It has an anti-war song, which fit that era it was released, sort of political, with the Vietnam War," he says. "Some love songs, two children's songs, mostly original."
Since then, Destler's public performances have been rare. A couple of times the first year or two after he first arrived in Rochester, and a few times at the Golden Link Folk Singing Society sing-arounds. He sang on a collection of white and black gospel tunes recorded over a weekend. "Sharon Mountain Harmony: A Golden Ring of Gospel" was released in 1982 on Folk Legacy Records. Now Bill has a new CD, "Would You Have Time", which was released in 2016. His song, "Alternative Facts", is dedicated to presidential adviser Kellyanne Conway.
---
Chris Koldewey & Joy Bennett–July 9, 2017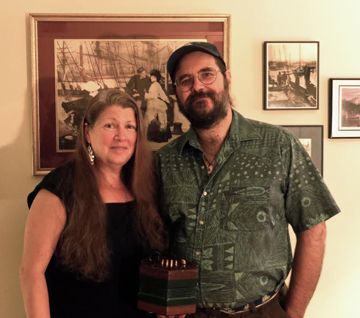 Chris Koldewey has been singing folk music—and sea music in particular—since his early teens. He comes from a family rich in maritime traditions, and his lullabies as a child were traditional songs of the sea. Chris primarily performs US and British traditional music, and he is attracted to the stories behind many of the songs he sings. He has played concerts and festivals in both the US and the UK, and has led workshops dealing with a variety of traditional music forms. Chris plays guitar, banjo, fiddle, concertina, mandolin, and other things common to an average garage sale. Chris is a public school music teacher by trade, which allows him to spend his summers as one of the Chanteymen at Mystic Seaport Museum in Connecticut.
Joy Bennett has been involved in folk music for most of her life. As a member of the quartet Water Sign for 13 years, and the all-female a capella group, The Johnson Girls, for the past 15 years, she has explored the close-knit harmonies of both traditional and contemporary folk music. Joy has performed solo, with Water Sign, the Johnson Girls, with Chris Koldewey, and with guest artists in the U.S., U.K., Canada, and across Europe. She served on the board of Folk Music Society of New York for many years, ten of them as president.
---
Mike Agranoff–July 16, 2017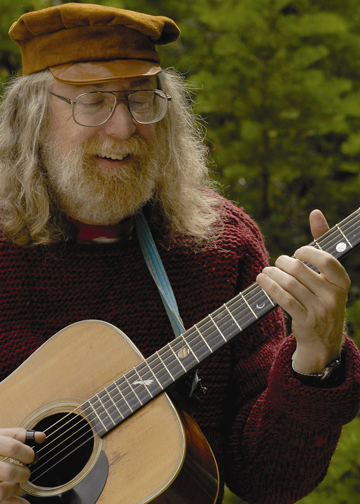 If you've been around the folk scene, you couldn't miss seeing Mike. Tall, ginger beard, and always around where the music is. He's been on the scene for many many years, listening to the fine details of what makes this genre of music so special to the soul, so able to make us laugh and cry and think. And lucky for us all, he got serious about having fun at it.
Equally at home in the contemporary and traditional camps of the Folk world, he is a fine musician and storyteller. His prime instrument is the guitar, upon which he shines with intricate finger-style arrangements of anything from Tin Pan Alley tunes of the '20s to fiddle tunes to his own music. He also plays concertina, piano, banjo, or sings a cappella. He can be uproariously funny, contemplative, and powerfully emotional in the space of a few minutes. Not so much a singer-songwriter as a "singer-songfinder", Mike takes great delight in discovering the little-known hidden gems, polishing them with his own distinctive style, and bringing them to the light of day where they sparkle. The man will capture your attention, and then your heart.
Not only a performer, Mike is involved in presenting folk music as well. He is one of the prime movers of The Folk Project, New Jersey's oldest and strongest folk music organization. For over two decades he has been chairman of that organization's Minstrel Coffeehouse, one of the longest-lived folk venues in the country.
---
Gordon Thomas Ward–July 23, 2017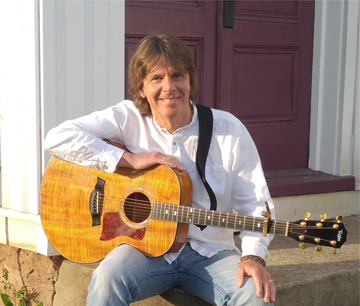 Gordon Thomas Ward got his first guitar at age eleven. Raised in a historic home, said to be haunted, in rural New Jersey, he began at age 14 to write songs that reflected interests in the past, in ghosts and the paranormal. Influenced by Dan Fogelberg, Neil Young, and Jackson Browne, his songs nevertheless take a different course to tell stories that draw on history, while, like a visual artist, he treats guitar and dulcimer as tonal palettes to help illustrate those stories.
Described as "a musical storybook" Gordon's album "Welcome to the Past" is a collection of original, acoustic songs that feature his penchant for thoughtful storytelling and emotional revelation in a variety of ballads, story-songs, and anthems. Gordon is working on a new record for 2017, which will also reflect his unique approach to telling the stories of our collective hearts and journeys through song.
In addition to songwriting, Gordon has published four books, writes a regular column for The Black River Journal magazine, and hosts a radio show "These Days" on northern New Jersey's WDVR. Gordon also lectures on several topics; in September 2016, he produced and performed a Concert Across America to End Gun Violence.
---
The Hickory Project–July 30, 2017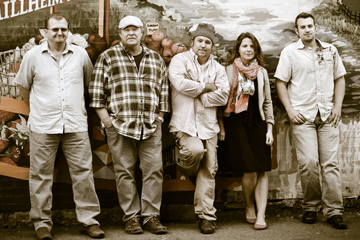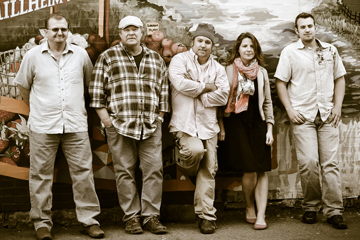 "Hickory Project embodies much of what carries the best of bluegrass and progressive acoustic music into the 21st century." -Bluegrass Unlimited
Formed in 2001 as an experiment, Hickory Project features hard–driving traditional and original acoustic music deeply rooted in bluegrass. They have captivated audiences throughout Europe, US, and Australia.
Anthony Hannigan (mandolin, vocals) is the 1999 National Mandolin Champion and has been playing bluegrass music from the age of four. David Cavage (banjo, vocals) ranks among the finest banjo players and songwriters in bluegrass music today. According to Bluegrass Unlimted, "He sounds like Béla Fleck with an attitude." Steve Belcher (acoustic bass) was born in Liverpool, England and began his music involvement playing drums, which drove his passion for rhythm. Jillian Hannigan (flute, pennywhistle, vocals) is a native of Virginia, and grew up playing classical, folk, and Celtic music with her family.
Despite the influence of his grandfather, an accomplished bluegrass banjo player, Josh Sudigala (guitar) began playing rock and roll at age 14. However, he soon developed a passion for bluegrass flatpicking. Ed Lick (banjo, vocals) grew up in Collingswood, NJ. Bluegrass got into Ed's soul at age 13 when he got a banjo for Christmas. He has been performing professionally since age 15.
Hickory Project has produced one DVD and seven CDs under their own label. Their latest album is "Driving the Blue".