Bound for Glory is rebroadcasting the best of Bound for Glory shows…
…until we can safely get back to presenting live performances.
Each week we will be featuring a recording of a previous live show or music from a selected performer. Is there something you would like to hear? Email Phil here!   Click here for ways to listen to the show.
---
On your radio October 24—Gordon Thomas Ward
Originally broadcast 7/28/19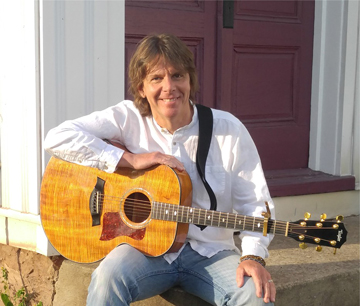 "Gordon Thomas Ward exhibits his mastery of eloquent lyrics and musical storytelling. The songs emanate exquisite colors, captivating rhythms, and Ward's enchanting voice."—Blogcritics
Gordon Thomas Ward's song stylings have been influenced by the singer-songwriters of the late 1960s through the 1970s, yet Gordon's songs occupy a space all their own and fit into the contemporary folk rock, adult alternative, and Americana genres. Gordon utilizes a variety of instruments in his live shows resulting in a varied spectrum of tonal colors.
His songs have led him to work with notable musicians such as Mik Kaminski and Eric Troyer (The Electric Light Orchestra and ELO II), William J. Hall (Frostwater), Caroline Cotter, share the stage and billing with Natalie Merchant and Christine Lavin, and to open for The Boxcar Lilies and Bill Staines, among others. Gordon's first album, "Welcome to the Past" was released in 2013. His new GRAMMY-balloted record "Providence" was released in 2018 to critical acclaim. Gordon has written songs for film, the World War One Centennial Commission in Washington, D.C., and historical groups.
As an artist interested in social issues, Gordon produced and performed in a Concert Across America to End Gun Violence in 2016 and 2018. A true "Renaissance man," Gordon is the host of a podcast titled An Artist's View and is the author of five books, on which he lectures frequently. At the moment, Gordon is working on a new record titled "Eiderdown", which he hopes to release late in 2019 or early 2020.
---
On your radio October 31—Scott Cook
Originally broadcast 9/22/19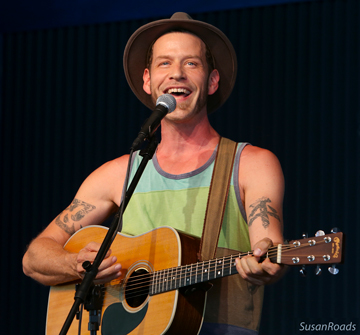 "He sings his heart and soul, and in doing so lets light flood into your own… A good eye for imagery, a gentle human touch, a wry sense of humour, a whole lot of integrity, a warm, rugged voice and a bunch of memorable lines… Truly one of Woody Guthrie's children." -RnR Magazine
A roots balladeer with a rare personal warmth, Canadian Scott Cook has managed to distil the stories collected over his years touring across Canada, the USA, Europe, Asia, Australia, and elsewhere into straight-talking, keenly observant verse. Road-worn, painfully honest, and deeply human, his tunes weave threads of folk, roots, blues, soul and country over spacious fingerstyle guitar and clawhammer banjo arrangements. His fourth release, One More Time Around, was nominated for a Canadian Folk Music Award. UK magazine Maverick Country named him "one of Canada's most inspiring and imaginative storytellers". In 2015 he put together a seven-piece honky-tonk band for his fifth studio album, Scott Cook and the Long Weekends Go Long, and in 2017 he released his sixth album Further Down the Line, earning his second Canadian Folk Music Award nomination, for English Songwriter of the Year. The album is included inside a softcover book offering a look back, in words and pictures, on his last decade of near-incessant rambling. All the hard miles notwithstanding, he still believes that songs can change your life, and your life can change the world.
---
On your radio November 7—Spuyten Duyvil
Originally broadcast 7/5/15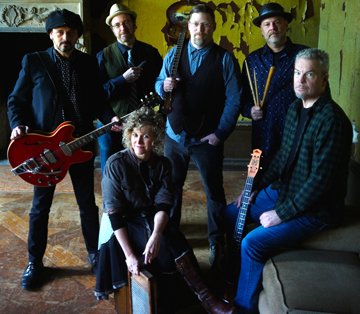 "…the band's arrangements, energy, and attitude always amaze me…big sound, big drama, big groove"—Stephan Winnick, The Huffington Post
Seeing a Spuyten Duyvil (pronounced "SPITE-en DIE+vul") show for the first time is like "throwing a cherry bomb into a lake" (according to Rich Warren, of WFMT). No doubt, it wakes you up. Their brand of original and traditional American Roots music blends Old Time, Blues, 2nd Line, Bluegrass, and Folk Rock with a pinch of Punk Rock energy to create a uniquely modern mix.
Lead by song-writing couple, Mark Miller and Beth Kaufman, this six piece powerhouse brings barn burning energy to venues throughout the Northeast and Midwest. Drop them on a large festival stage and they electrify the crowd. Place them in a listening room and their stripped down acoustic sets connect powerfully.
It's an exciting time for the Hudson Valley based band. They have just released their third full length CD, "The Social Music Hour Vol 1." A love letter to the Anthology of American Folk Music, the project features lyrically relevant, known but not worn out, open for suggestion songs ripe for re-interpretation. Familiar, forgotten words find new meaning in this historically informed but thoroughly contemporary arrangements. The tracks burst with life, joy and vitality.
---
On your radio November 14—
Peter Mulvey
Originally broadcast 2/5/17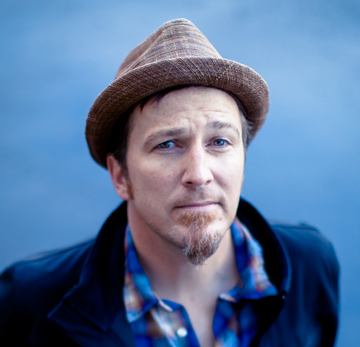 Known for his warm, smartly discursive originals, striking guitar technique, and a big, generous heart, Peter Mulvey has earned his national following as a singer-songwriter and esteemed indie folk/rock musician through two decades of intense touring spanning the continent.
Mulvey's 2015 YouTube recording of his song "Take Down Your Flag"—a response to the Charleston murders of Reverend Clementa Pinckney and eight other members of a Bible study group—had writers and singers adding verses to his song online, and helped raise donations for the Emanuel AME Church.
As a student at Marquette University, Mulvey studied theater, then traveled overseas and honed his skills as a street musician in Dublin. At one point, unemployed in Boston, Mulvey earned a living with his guitar busking ten-hour days in the subway. Over time his reputation has grown with some-twenty CDs, awards, music videos, and spontaneous, on-the-road YouTube clips.
In addition, Mulvey has done a TedX talk, organizes week-long festival that includes luthiers as well as musicians, does a yearly concert in a West Virginia cave for the National Youth Science Camp, and embarks yearly on a tour by recumbent bike covering well-known clubs in the Northeast.
---
On your radio November 21—Tempest
Originally broadcast 10/25/15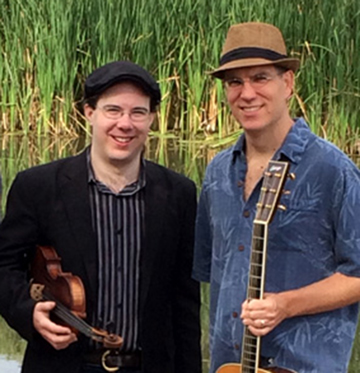 Tempest has an inventive high energy groove all their own. The band is Chuck Abell on guitar and mandolin) and Tim Ball on fiddle, plus one of several drummers or bassists, depending on the occasion. They have collaborated with many other regional artists and past bands have included Tofu Snowshoe (w/ Rebecca McCallum), the Jolly Beggars (w/ Bill Henrie), and Corazon (w/ Max Wickhold). Tempest neatly blends traditional tunes with inventive, progressive grooves and harmonies that draw from jazz, world music, and pop/R&B.
Tempest has performed at the Rochester Thanksgiving Weekend, the Cornell Dance Series, the Syracuse University dance series, and most of the regional dances. Tempest's first Mid-Atlantic tour in 2015 included appearances in Princeton, Hanover, Swarthmore College, Baltimore, Glenside, and Glen Echo, among other locales.
---
On your radio November 28—
Mark Stuart
Originally broadcast 9/4/16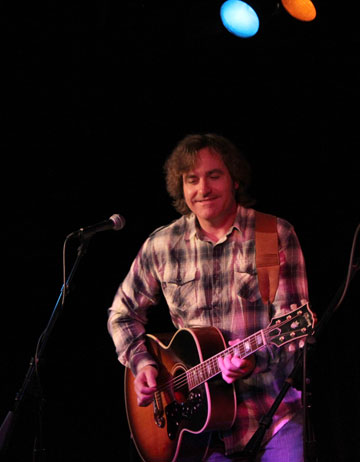 After many years on the Americana/Folk circuit, Stuart has cultivated a very rounded performance. His show consists of storytelling, flashy guitar "chops", and songs, including those that he has penned and recorded, that seem to draw from his rock, blues, country, and folk music roots. Mostly, this artist from Tennessee has toured solo or in a notable duo with his wife ("Stacey Earle & Mark Stuart"). There were stints along the way as a sideman, though (Steve Forbert, Freddy Fender, Steve Earle, Joan Baez). If placed on the bill with a contemporary artist he is usually asked to play guitar on their portion of the show. Just ask Jason Ringenberg, Ray Wylie Hubbard, or Jimmy LaFave.
Mark Stuart went to the finest of music schools, and learned listening to such greats as Chet Atkins, Merle Travis, and John Fogerty, and found himself playing in honky tonks and beer joints by age 15 in his dad's band. He spent some time with the Dukes, and has also recorded a solo record.  One can find Mark Stuart on any given night in a small theater, coffeehouse, house concert, festival stage, club, church auditorium, etc. giving it his all. Aside from that, he could be instructing at a guitar clinic, songwriting workshop, or playing on someone's recording session. As co-owner of Gearle Records he has produced or co-produced many albums.  Stuart's career has repeatedly taken him to all of the USA, Canada, Europe, and the United Kingdom, and, has spanned several decades.
---
On your radio December 5—John Kirk & Trish Miller
Originally broadcast 9/13/15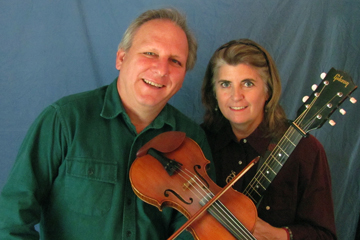 Since 1988, John Kirk and Trish Miller have toured as a duo, from the Grand Canyon to Barbados, from Carnegie Hall in New York to the Academy of Culture in St. Petersburg, Russia, playing music and singing in concerts, festivals, and schools, and calling contra and square dances. Many of their music selections are rooted in the local lore of the northeast woodlands. A love of traditional tunes and witty songs are presented with brilliant arrangements using fiddle, guitar, banjo, mandolin and warm clear vocals. Humorous story telling, original and poetic pieces make for delightful entertainment for all ages.
John Kirk's voice, sense of humor and versatile instrumental skills, has earned him widespread recognition in traditional music circles. On fiddle, mandolin, guitar, banjo, keyboard and ukulele, he demonstrates vast knowledge of musical traditions. He is on the music faculty at Bennington College, Vermont, and Skidmore College in Saratoga Springs, NY. In addition to the group, Quickstep, John tours with the Susquehanna String Band. Trish Miller plays guitar, banjo, dances and sings traditional and original music.  She teaches banjo at Skidmore College in Saratoga Springs, NY, and performs with Quickstep.
And we'll have a bunch of songs for Hannukah.
There are many songs, written in English, that we'll pass on to you, songs that tell ancient stories, songs that fit the joyousness of contemporary Hannukah. Oh, there's a whole lot to talk about, and these songs do that.
---
On your radio December 12—Winter Solstice show
The longest night of the year. Winter solstice is probably our oldest holiday, going back much longer than we have had writing. It's the holiday from which all the others grew.
It's good to celebrate. It brings us together as a community, more than as a family. And there are a whole lot of songs. Some are about the holiday itself, some are about coming together every year at this special time. And some just seem like a good idea.
There's no ritual attached to Winter Solstice, no way of celebrating correctly. These songs come at the shortest days from many directions, and we can find our own places as we celebrate together.
---
On your radio December 19—Christmas show
Join us for Christmas songs that you won't hear in the shopping malls.
Some people celebrate Christmas as a religious holiday, some as a gathering of families, some for incredible food. And there are songs to help us all along. Christmas is very powerful, very central to a lot of people, and for hundreds of years we have had songs to help us gather.
We have famous Christmas carols and twentieth century pop songs which you know. But in addition, we have less well-known older songs, and a whole lot of songs written by newer folksingers, each taking a different view of the holiday. Most are serious, but some are just plain funny. Some will make us think.
---
On your radio December 26—New Year's show
Well, you all know Auld Lang Syne. And it won't really surprise you that Bound for Glory will play a couple of versions of this, with different tunes.
But there's so much more for New Year's. There are songs to make you celebrate, songs to make you laugh, songs to make you think. Some of them are old songs, many of them are new. Some celebrate the change in the calendar, some the changes in our lives. Some will surprise you.
---
On your radio January 2—Twelfth Night show
It's the end of the holiday season, and we all have to face January in Ithaca. But there are Twelve Days of Christmas, and they cover a lot of territory.
We have songs, many of them ancient, for celebration of this particular holiday. Plus, we have wassail songs, for going door to door, begging for bread and beer, as we're sure that you all do every year. Don't you?
There are songs that count to twelve. Most of us know the Twelve Days of Christmas. But it's not alone. We'll count to twelve in many different ways.
And there are songs that just seem appropriate for the ending of this season.
---