Bound for Glory is rebroadcasting the best of Bound for Glory shows…
…until we can safely get back to presenting live performances.
Each week we will be featuring a recording of a previous live show or music from a selected performer. Is there something you would like to hear? Email Phil here!   Click here for ways to listen to the show.
---
On your radio May 22—
Pat Wictor & Debra Latz
Originally broadcast 7/29/18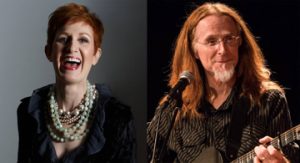 "Pat Wictor walks onstage and sits down. He places a Guild DV-52 flat across his lap and begins playing slide guitar. The sounds are snaky and sizzling."—Richard Cuccaro, Acoustic Live
Pat Wictor has made his mark as a singer-songwriter with songs that incorporate—and subvert—rural blues and gospel traditions. Until 2017, Pat had been touring nationally as part of Brother Sun, the powerful harmonizing trio with Joe Jencks and Greg Greenway, garnering critical acclaim.
An American by birth, Pat's early years were spent in Venezuela, Holland, Norway, England, and East Texas. His time abroad gave him the perspective of a world citizen and set him on a journey to understanding America—and his own "American-ness"—through music.
An adept improviser and accompanist, he is sought after as a collaborator, sideman and session musician, with dozens of recording credits to date. He writes a monthly e-mail column, "A Few Choice Words". He is a music educator, teaching workshops on improvisation, writing, interpreting, and rearranging songs.
Pat is an in-demand session musician, providing his distinctive slide guitar and vocals on dozens of recordings, including releases by Sloan Wainwright, Jon Vezner, Joe Crookston, and a forthcoming CD by David LaMotte.
Pat will be joined tonight by the New York-based jazz singer, songwriter, arranger, and actress Deborah Latz.
---
On your radio May 29—Cosy Sheridan
Originally broadcast 12/2/18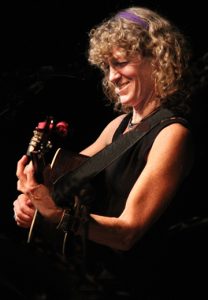 "A Buddhist monk in a 12-step program trapped in the body of a singer/songwriter."–The Albuquerque Journal
Cosy Sheridan first caught the attention of national folk audiences in 1992 when she won both the Kerrville Folk Festival's NewFolk Award and The Telluride Bluegrass Festival Troubadour Contest. Soon after, she released her critically-acclaimed debut CD Quietly Led on Waterbug Records. She has been on the road ever since, playing clubs, concert halls and coffeehouses from Seattle to Berkeley and across and across I-80 to Omaha, Chicago and then to Boston where she now makes her home. On her new CD, Sometimes I Feel Too Much, she writes of these years on the road in her song Woody Guthrie "Watch Over Me". She's released ten CDs, taught songwriting at workshops and camps across the country, and written a one-woman-show entitled The Pomegranate Seed – An Exploration of Appetite, Body-Image and Myth. Cosy Sheridan is one of the most respected touring musicians on the folk circuit, appearing everywhere from Carnegie Hall to the Jerry Lewis Telethon and the Philadelphia Folk Festival. For the past 20 years she has taught classes in songwriting, performance and guitar at workshops and adult music camps across the country including The Puget Sound Guitar Workshop and The Swannanoa Gathering.
Her concerts are wide-ranging explorations of modern mythology (meet Hades the Biker), love songs for adults, contemporary philosophy for the thoughtfully-minded, children's stories woven into tales of modern adulthood, and her signature parody on aging and women. Throughout this journey, her lyrical dexterity is backed by her distinctive, percussive bluesy-gospel guitar style. Cosy brings a depth of experience to her craft.
---
On your radio June 5—John Roberts
Originally broadcast 9/16/18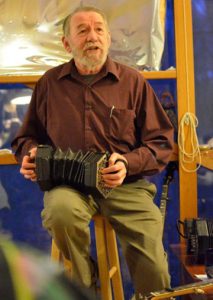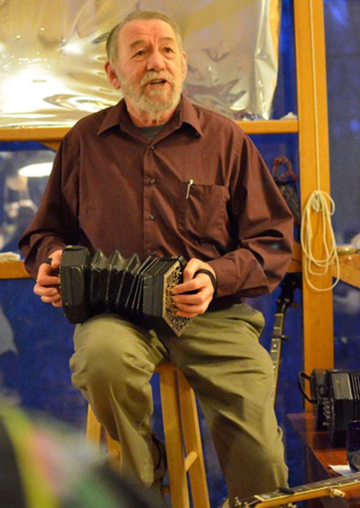 John Roberts is a singer of folksongs from the British Isles. Born and raised in Worcestershire, England, of a Welsh family, he currently lives in Schenectady, NY. He came to the United States many years ago to go to graduate school at Cornell, but, as they say, it didn't take. And so he became more of a folksinger than he was already.
He is known for his work with Tony Barrand, another ex-pat Brit who arrived at Cornell at the same time as he did. They became the two lively Brits who sang folksongs, often wore funny hats, and went on to sing at folk festivals such as Fox Hollow, Mariposa, Philadelphia, Hudson River Revival, and Old Songs.
John accompanies his songs with banjo or concertina–or sings them a cappella, depending on how he feels the song. The music of the sea is one of his specialties. As well as a solo CD, "Sea Fever", he has recorded sea songs albums with Tony Barrand ("Across the Western Ocean") and with the trio Ye Mariners All.
John still occasionally performs concerts with Tony, but these days he mostly performs solo, or in tandem with Debra Cowan, an American singer of both traditional and more recently composed songs, with strong ties to the British Isles. They recently recorded a CD together – "Ballads Long & Short". John has taught folksong and folksinging at various camps and summer schools including Pinewoods, Mendocino, and Augusta in Elkins, West Virginia.
---
On your radio June 12—
Greitzer, Hodgson, & Manning
Originally broadcast 6/8/15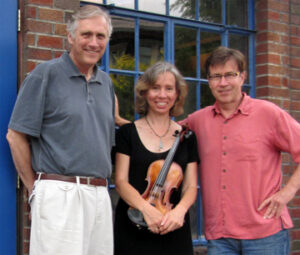 Hope Greitzer lives in Owego, Tom Hodgson's in Boston, and Rick Manning is right here in Ithaca.  Needless to say, they don't get together every day.  But their fiddling, their guitar, their mandolin playing is second to none.
Grietzer, Hodgson, and Manning bring together diverse yet harmonious influences and experience to create an unforgettable string band sound. They met through the central NY contra dance music scene and discovered a shared interest in fiddle tunes and swing and bluegrass songs.
Hope Grietzer is the 2009 inductee into the New York State Fiddlers' Hall of Fame. She sang and fiddled in bands throughout the midwest for 13 years and was voted Rocky Mountain Region Fiddler of the Year by the Colorado Bluegrass Music Society. A "Tune of the Month" on Hope's website is accessed by hundreds of fiddlers across the globe, from Russia to Australia and points in-between.
A longtime resident of the Finger Lakes region, Tom Hodgson has returned to his roots in the Boston area. Tom played folk guitar as a teenager, and has gone on to become one of the most "in demand" back up musicians, accompanying some of the great fiddlers in traditional music and dance scene throughout the country.
---
On your radio June 19—Joe Crookston
Originally broadcast 4/21/19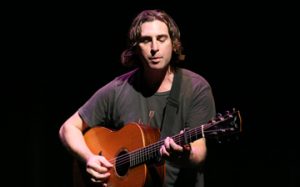 "At every festival I hope to find the gift of one artist whose songwriting and performance stand out. Joe Crookston was that gift for me this year at the Philadelphia Folk Festival. Stunning performance, great songs, and not a word wasted! I LOVE that!"—David Francey, Songwriter
Songwriter, guitarist, painter, fiddler, slide player, and believer in all things possible, Joe Crookston is a master storyteller on the creative edge. His music swirls with themes of lightness, darkness, clocks ticking, fiddle looping, weeping willows, slide guitar bending, cynicism, hope, and the cycles of life and rebirth. With unwavering courage to be himself, he is literate, poignant and funny as hell. Whether he's picking his 48 Gibson, weaving through lap slide songs, or looping his fiddle, he will draw you in.
Joe says, "I'm learning to trust my voice as a songwriter. Be who I am. Trust the stories and follow no trends. More and more I find that when I tell my true story, it has wider breadth, deeper impact, and resonates more clearly." His music has been recorded and performed by Irish harpers, a cappella gospel choirs, solo artists, and bluegrass bands.
He lives in Ithaca NY, and tours regularly in the US, Ireland and Canada. Joe has taught at many retreats including SummerSongs, The Swannanoa Gathering in North Carolina, and the Yearly Quaker Gathering in Rhode Island. He was named the 2016 Folk Alliance International Artist-in-Residence.
---
On your radio June 26—Debra Cowan
Originally broadcast 11/18/18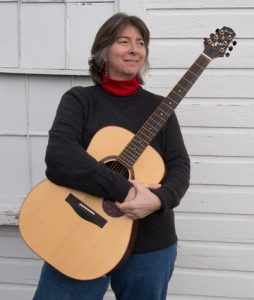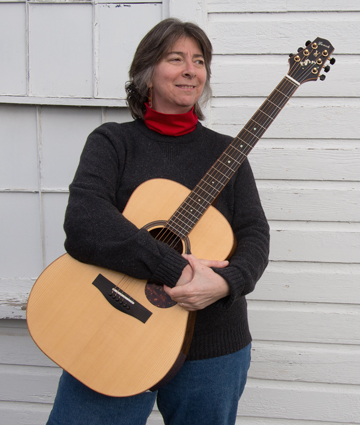 "Debra has a voice which beautifully combines Celtic and Appalachian sensibilities…deeply satisfying, lyrical and musically elegant."—Roseanne Cash
Following a life-long desire to sing and perform, Debra Cowan left her job as a California middle school math teacher in 1997 and went to live in Edinburgh, Scotland for six months. There she learned the art of unaccompanied singing and upon her return to the USA in 1998 began traveling all over New England performing at any open mike within 100 miles of her new home in Springfield, Massachusetts. Almost 20 years later, she is now a full-time performer who bridges the old and new with a refreshing stage presence. She can be seen in many venues, heard on both terrestrial and internet radio world-wide and will travel anywhere to sing. Her four recordings have been met with high praise and in June 2015, she was featured in the UK folk music magazine, Living Tradition. She tours extensively in the United Kingdom and in North America and can also be seen on stage with her good friend, singer and musician John Roberts. When Debra isn't touring internationally or busy with her activities as American Federation of Musicians (USA) Local 1000 Vice-President, she makes her home near Worcester, Massachusetts.
---
On your radio July 3—Jack Williams
Originally broadcast 5/4/08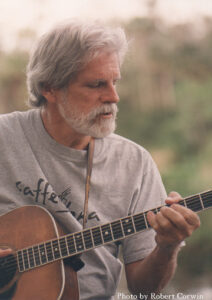 "His artistry is nothing short of amazing. I think his audience would've followed him anywhere!" Rich Warren, WFMT's The Midnight Special.
Jack Williams is celebrated by the contemporary U.S. folk community as a singer/songwriter of national stature and an uncommonly unique guitarist. Sing Out! Magazine describes him as "one of the strongest guitarists in contemporary folk".
The music of Jack Williams, rooted in his native South Carolina, is shaped by a 61-year career of playing folk, rock, jazz, R&B, classical and the popular music of the 30s, 40s and 50s. He continues to tour the U.S. constantly out of the sheer love of music and performing. Williams has added extremely successful tours of England, Scotland, Switzerland, Germany, Liechtenstein, France and Austria to his list of recent performances at festivals, house concerts and major folk venues. A featured performer on the Philadelphia and Kerrville main stages, Jack has also appeared on the Newport, (New Bedford) Summerfest and Boston Folk Festival stages. In addition to his successful solo career, Jack's credits include guitar work with legendary singer/songwriters Mickey Newbury, Harry Nilsson, Tom Paxton, Peter Yarrow, and Steve Gillette, among others.
He currently has a DVD (High Cotton) and ten CDs of original songs on Wind River/Folk Era Records. His CD "Don't Let Go" is a collection of cover songs reflecting the major influences on his musical development. Jack's fusion of guitar, voice and songs – which are loaded with delightful influences from his career in jazz, classical, rock, blues, country and folk – should not be missed.
---
On your radio July 10—
Anne Hills & David Roth
Originally broadcast 2/23/14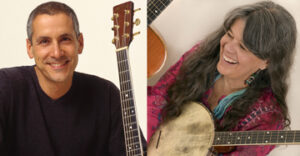 Though she was born in Moradabad, India as the third daughter of educational missionaries, Anne Hill spent her formative years in Michigan. She attended Interlochen Arts Academy, where she formed her first folk trio, and was the female vocalist for the Big Band that also turned out future jazz greats Peter Erskine, Bob Mintzer, and Chris Brubeck. After moving to Chicago in the mid '70s, she co-founded the folklore center Hogeye Music, still a force in Chicago's music scene.
David Roth strikes many chords, hearts, and minds with his unique songs, offbeat observations, moving stories, sense of the hilarious, and powerful singing and subject matter. As a singer, songwriter, recording artist, keynote speaker, workshop leader, and instructor, David has earned top honors at premier songwriter competitions, and has taken his music and experience to a wide variety of venues in this and other countries, full-time, for more than two decades. He has taught singing, songwriting, and performance and is featured on many of Christine Lavin's Rounder compilations.
Anne's commitment to social justice (she has a Masters Degree in Social Work) and to children keeps her busy with benefit concerts and community service projects, and some of her recordings are benefits, as well. The two of them have each performed separately on Bound for Glory, but they're here performing together on our show.
---