Bound for Glory is rebroadcasting the best of Bound for Glory shows…
…until we can safely get back to presenting live performances.
Each week we will be featuring a recording of a previous live show or music from a selected performer. Is there something you would like to hear? Email Phil here!   Click here for ways to listen to the show.
---
SPECIAL LIVE PERFORMANCE!    –    SPECIAL LIVE PERFORMANCE
!
Mustard's Retreat
Special Live Zoom Concert!
Saturday, April 17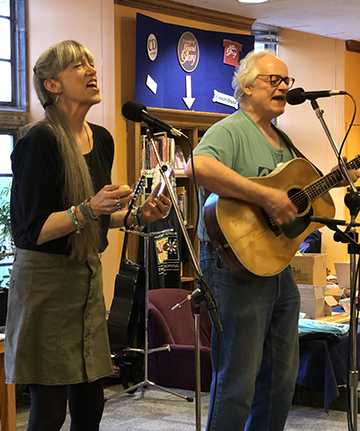 Bound for Glory presents a very special live online concert with Mustard's Retreat on Saturday, April 17, 2021 at 7:00 pm Eastern Time via Zoom. To attend, just visit https://zoom.us/join and enter Meeting ID: 851 8738 2061 and the Passcode: 770952. Besides Mustard's own Libby Glover and David Tamulevich, this performance will include some very special guest stars!
Mustard's Retreat has always sung the songs they enjoyed and cared about, regardless of the trends of the music industry and pop culture. They are committed to simply being themselves, not chasing fame or brass rings, while delighting in and connecting with their audiences as if they were family. The honesty of what they present on stage and the extensive body of outstanding original songs and recordings all contribute to a fiercely loyal audience that continues to grow. "Music to cure what ails you" was how one reviewer in the 1970s described them, and that is as true now as it was then.
Their performances are always joyful and uplifting, as well as intelligent, thought provoking and insightful. They've recently begun referring to their career and touring as "Defiantly Hopeful." In part due to their long career, but more as a statement about what the music has meant to them.
The show is free, but there is a way to donate if you have a bit to spare…it is always very appreciated, but never a requirement: we want to see you most of all.
---
---
On your radio April 18—Beaucoup Blue
Originally broadcast 2/12/17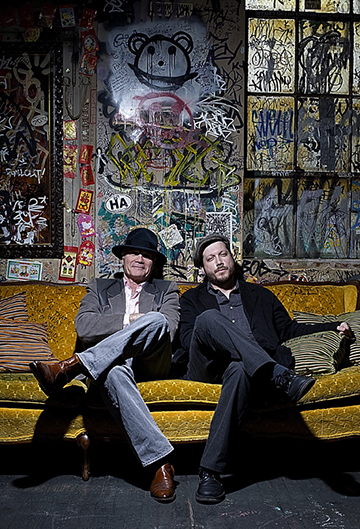 "This powerful yet gentle father-and-son duo gets their audience lost in reverie with arrestingly soulful music. Their original songs blend folk, R&B, jazz, country, and bluegrass together in songs that might be classics, or might just sound like it."  – Sarah Craig, Caffe Lena
Beaucoup Blue is the Philadelphia-based father and son duo, David and Adrian Mowry. Adrian grew up watching his father perform in coffeehouses and clubs, but discovered the guitar on his own and learned his chops in his own band. Some well-received party gigs launched them as a duo. Over the course of several albums, they have crafted original songs that pull together eclectic influences to extend the reach of Americana music. Besides being in the top 40 of Americana radio playlists, they have won first prizes in songwriting, one in Billboard Magazine's 2010 contest, and another in the Blues & Brews Acoustic Contest in Telluride. Their voices—one, mature and mellow, the other a higher keening tenor—along with David's plaintive slide guitar and the pulse of Adrian's picking underscore the drama in their haunting melodies and soulful lyrics.
---
On your radio April 25—Chris Koldewey & Joy Bennett
Originally broadcast 11/17/19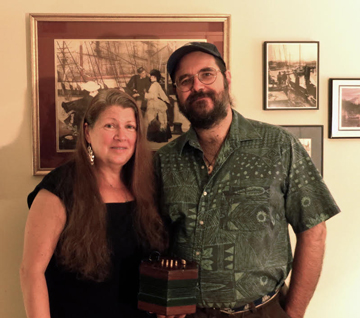 Chris Koldewey has been singing folk music—and sea music in particular—since his early teens. He comes from a family rich in maritime traditions, and his lullabies as a child were traditional songs of the sea. Chris primarily performs US and British traditional music, and he is attracted to the stories behind many of the songs he sings. He has played concerts and festivals in both the US and the UK, and has led workshops dealing with a variety of traditional music forms. Chris plays guitar, banjo, fiddle, concertina, mandolin, and other things common to an average garage sale. Chris is a public school music teacher by trade, which allows him to spend his summers as one of the Chanteymen at Mystic Seaport Museum in Connecticut.
Joy Bennett has been involved in folk music for most of her life. As a member of the quartet Water Sign for 13 years, and the all-female a capella group, The Johnson Girls, for the past 15 years, she has explored the close-knit harmonies of both traditional and contemporary folk music. Joy has performed solo, with Water Sign, the Johnson Girls, with Chris Koldewey, and with guest artists in the U.S., U.K., Canada, and across Europe. She served on the board of Folk Music Society of New York for many years, ten of them as president.
---
On your radio May 2—Jeni & Billy
Originally broadcast 7/19/09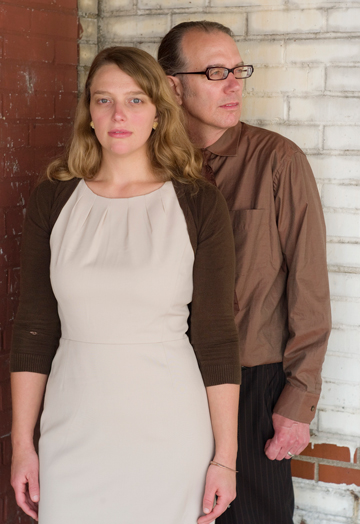 Drawing from Traditional Country, Appalachian, Old-time, Country Blues, Bluegrass and Folk music to create their original songs, Jeni Hankins and Billy Kemp have crafted a unique sound that is truly their own. Their sparse sound and absorbing lyrics have caught the attention of Americana greats Jim Lauderdale and Buddy Miller and folk-rock artist Jim Reilley of the New Dylans.
Their 2008 album, "Jewell Ridge Coal," their second, chronicles the changing fortunes of the Southwest Virginia coal mining community of Jewell Ridge. Though the subject is regional, the songs are meant to present universal themes: earth and heaven, rich and poor, love and loss, work and rest.
Jeni comes by her mournful, lonesome voice honestly. Born in the coalfields of Southwest Virginia, her singing has been compared to that of Mother Maybelle Carter and Hazel Dickens. A born storyteller, she has been a writer almost since she could put pen to paper. Billy comes to the duo with a long history of music-making. He has been everywhere from Germany to the Grand Ole Opry playing his guitar and singing. A Baltimore native, he was introduced to the world of country music through the fateful movie house experience of seeing "Bonnie & Clyde."
---
On your radio May 9—Darryl Purpose
Originally broadcast 4/14/13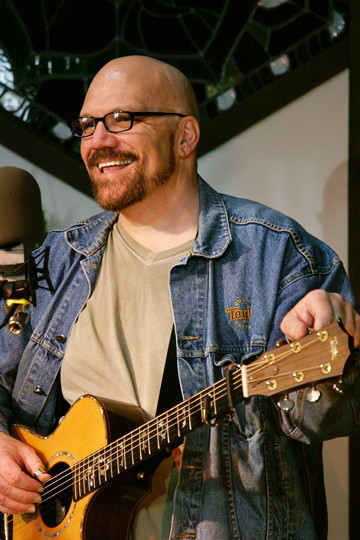 Darryl Purpose came back to making music, with a new energy and purpose, after a seven-year sabbatical in the Rocky Mountains ending in 2012. He's spent much of that time shepherding the release of "Singer-Songwriter Heaven: the Songs of Kevin Faherty," and captaining the Second Strings Project, which has delivered over 20,000 sets of guitar strings to those who need them around the world. Meantime, he was inducted into the Blackjack Hall of Fame.
You may not have realized it, but Darryl was once recognized as the world's top blackjack player. As a peace marcher, he crossed the U.S. over nine months, then continued on to Russia for an historic walk across the Russian heartland that culminated in a first-ever outdoor stadium rock concert, featuring Bonnie Raitt, Santana, James Taylor, and Darryl's band, Collective Vision. He has made his mark in the folk music world with his distinctive baritone voice, a smoothly proficient fingerstyle guitar technique, a sense of drama and storytelling in his music and lyrics, and a charismatic performance that captures coffeehouse and theater audiences alike.
2012 saw the release of Darryl's first CD of original material in ten years, "Next Time Around," produced by Billy Crockett for the Blue Rock Artists label. This show was first broadcast in 2013.
---