Bound for Glory will be Albums from the Studios for the rest of the Spring Semester
Each week for the rest of the semester we will be featuring a recording of a previous live show or music from a selected performer. Is there something you would like to hear? Email Phil at bfg@wvbr.com    Click here for ways to listen to the show.
---
SPECIAL LIVE ONLINE CONCERT
SATURDAY, June 6 at 5 pm–
Mustard's Retreat!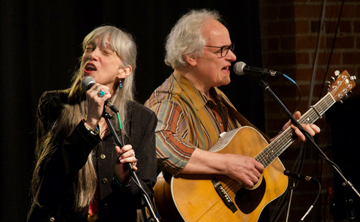 Bound for Glory presents a very special live online concert with Mustard's Retreat on Saturday, June 6, 2020 at 5 pm via Zoom. Email David at: david@mustardsretreat.com for your Zoom link.
Mustard's Retreat has always sung the songs they enjoyed and cared about, regardless of the trends of the music industry and pop culture. They are committed to simply being themselves, not chasing fame or brass rings, while delighting in and connecting with their audiences as if they were family. The honesty of what they present onstage and the extensive body of outstanding original songs and recordings all contribute to a fiercely loyal audience that continues to grow. "Music to cure what ails you" was how one reviewer in the 1970s described them, and that is as true now as it was then.
Mustard's Retreat formed in May 1975 in Ann Arbor, Michigan. Libby Glover and David Tamulevich started performing together in the rathskeller of the old Heidelberg Restaurant. They were eventually joined by David's friend Michael Hough, and Mustard's Retreat was born. They performed as a trio for a couple of years until Libby moved out of state then David and Michael kept on making music together as Mustard's Retreat for the next 40 years. When Libby moved back to Michigan in 2016, the trio started singing together again, and it was like they had never been apart. In the summer of 2019, Michael took a hiatus from the band to be with his partner who is battling cancer. They all agreed that David and Libby should continue to perform as Mustard's Retreat.
Their performances are always joyful and uplifting, as well as intelligent, thought provoking and insightful. They've recently begun referring to their career and touring as "Defiantly Hopeful." In part due to their long career, but more as a statement about what the music has meant to them.
With the pandemic and the subsequent stay-at-home orders, David and Libby have found themselves off the road. David came up with the idea to present their music to friends and fans in this free live virtual concert on June 6, 2020 at 5 pm via Zoom. To listen, just email David at: david@mustardsretreat.com and he will send you the Zoom link information.
---
On your radio June 7—Brother Sun
(Original live show from 9/10/17)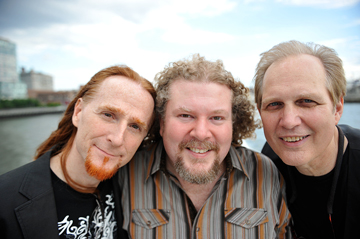 Folk on steroids! Brother Sun melds heart-lifting anthems with the art of harmonic massage. Nimble, strong and soothing all at once!-—Mary Sue Twohy, The Village Folk Show, Sirius XM
National touring artists Joe Jencks, Greg Greenway and Pat Wictor have made their mark as veteran singer-songwriters, but Brother Sun is no songwriter's round. The trio's harmonies, as much as their lyrics, tell what they are about: warm as a campfire, stirring as a gospel church, rousing as a call to arms. Fusing folk, Americana, blues, pop, jazz, rock, and a cappella singing, Brother Sun is an explosion of musical diversity and harmony, in the finest of male singing traditions.
Joe, Greg, and Pat are from three major points on the map, Chicago, Boston, and Brooklyn, but Brother Sun exists between them. Their combined musical skills make for an unforgettable experience – three rich voices blending on a well-crafted foundation of guitar, slide guitar, bouzouki and piano.
They have appeared on "Bound for Glory" several times, and have performed at the Kerrville Wine and Music Festival, the Falcon Ridge Folk Festival, the Old Songs Festival, the Philadelphia Folk Festival, and in many other locations nationally.
Their newest CD, Weights and Wings, is Brother Sun's most emotionally immediate and musically diverse work yet, and it affirms the power of song to accompany each of us from grief and loss into new worlds of possibility, light and promise.
This was Brother Sun's last tour as a group, and the last time they were on Bound for Glory as a group, so this is a show you will not want to miss.
---
On your radio June 14—Sally Rogers & Howie Bursen
(Original live show from 2/26/17)
Since their first meeting in a 1981 Greenwich Village café, Sally Rogers and Howie Bursen have fostered rich musical lives, both independent and intertwined. Sally is known for her clear soprano, strong interpretations of the folk repertoire and original songs. Peggy Seeger has praised Sally's "clear, fluid and remarkably agile voice, keen sense of drama, and a most refreshing sense of fun." Besides decades of touring and recording, Sally has used her music in careers as an educator in Connecticut schools, a developer of an arts-based literacy program, as the author of a children's book, composer of church music, and as a scorer of Mennonite folk operas. In 1997 Sally was designated Connecticut's State Troubador, a position which she used to teach and encourage residents to write songs about the places they know. Howard Bursen came to Cornell in the late '60s to study philosophy in the experimental Six-Year PhD program. Even as a student, he was making a name as a folksinger with a warm baritone and as a wonderful guitarist. He became one of the foremost practitioners of clawhammer-style banjo with triplet riffs described as gravity-defying. Howie was one of the first performers for Phil Shapiro's fledgling live folk-music radio program "Bound for Glory. After a stint teaching at Wells College, he left academia to become a wine-maker, first in the Finger Lakes, then at Sharpe Hill Vineyards in Connecticut.