Pat Wictor and Deborah Latz–July 29, 2018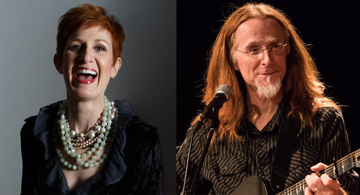 "Pat Wictor walks onstage and sits down. He places a Guild DV-52 flat across his lap and begins playing slide guitar. The sounds are snaky and sizzling."—Richard Cuccaro, Acoustic Live
Pat Wictor has made his mark as a singer-songwriter with songs that incorporate—and subvert—rural blues and gospel traditions. Until 2017, Pat had been touring nationally as part of Brother Sun, the powerful harmonizing trio with Joe Jencks and Greg Greenway, garnering critical acclaim.
An American by birth, Pat's early years were spent in Venezuela, Holland, Norway, England, and East Texas. His time abroad gave him the perspective of a world citizen and set him on a journey to understanding America—and his own "American-ness"—through music.
An adept improviser and accompanist, he is sought after as a collaborator, sideman and session musician, with dozens of recording credits to date. He writes a monthly e-mail column, "A Few Choice Words". He is a music educator, teaching workshops on improvisation, writing, interpreting, and rearranging songs.
Pat is an in-demand session musician, providing his distinctive slide guitar and vocals on dozens of recordings, including releases by Sloan Wainwright, Jon Vezner, Joe Crookston, and a forthcoming CD by David LaMotte.
Pat will be joined tonight by the New York-based jazz singer, songwriter, arranger, and actress Deborah Latz.