Bound for Glory is rebroadcasting the best of Bound for Glory shows…
…until we can safely get back to presenting live performances.
Each week we will be featuring a recording of a previous live show or music from a selected performer. Is there something you would like to hear? Email Phil here!   Click here for ways to listen to the show.
---
On your radio September 20—Tracy Grammer
(Original live show from 9/2/18)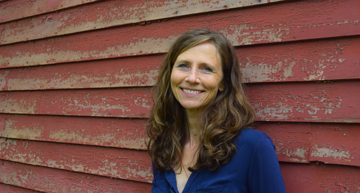 Tracy Grammer is one of contemporary folk music's most beloved artists. Renowned for her springwater-clear alto, perfectly intoned violin, and guitar playing that is by turns percussive and delicate, Grammer is also a gifted storyteller whose incantations add a rare mixture of vulnerability, intimacy, and hard-won insight to her performances. As one fan puts it, "With Tracy, it's never just about the music; it's a soul journey."
Tracy's journey in music has been marked by both tragedy and triumph. In 2002, then-duo partner and songwriter Dave Carter died suddenly while on tour. Tracy's determination and grace in the wake of tremendous loss, and her transparency as she gained her footing as a solo artist, have earned her a devoted, lifelong following. Her concerts are nothing less than a celebration of courage, bravery, and love, as she continues to fold the songs of her late partner in with her own originals. As one fan puts it, "With Tracy, it's not just about the music — it's a soul journey."
In addition to performing internationally, Tracy has judged Kerrville New Folk, served as a Folk Alliance panelist and mentor, led songwriting workshops, hosted the Dave Carter Memorial Writer's Round-up for eight years, and is the only performer invited to play the Falcon Ridge Folk Festival 13 years in a row.
Grammer is currently on tour celebrating the release of "Low Tide", her first album of original songs. "I've been a writer all my life, but it was never my intention to be a songwriter," she says. "However, the road has curves we can't see at the outset of the journey. At some point along the path, writing songs became the most effective medicine for the pains and unresolved questions of my life. Low Tide is an album of revelations, confessions, and ultimately, healing."
---
On your radio September 27—Small Potatoes
(Original live show from 4/14/19)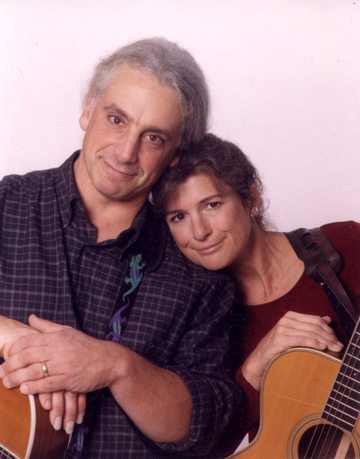 "Jacquie Manning and Rich Prezioso combine cleverly witty with powerfully poignant songs, along with well-chosen covers to present an unusually entertaining and involving repertoire engagingly delivered. Prezioso's song "1000 Candles, 1000 Cranes" is one of the most outstanding songs of the past 50 years."—Rich Warren, The Midnight Special – WFMT Radio, Chicago, IL
Jacquie grew up near Chicago, studied flute, taught herself guitar, and began in the mid-'70s as an independent folksinger, with forays into country, rock 'n' roll, girl bands and Celtic music, developing an easy affinity with audiences from Girl Scouts to Renaissance Fairs. Meanwhile, in Fort Lee, Rich learned his chops from the Beatles and Creedence, studying classical guitar while at Hampshire College in Amherst, playing in rock and blues bands. A job writing commercial music took him to Chicago, where his search for a female singer for a commission led friends to recommend Jacquie. And the rest is folk music history.
When this Chicago-based duo decided to hit the road to be full-time troubadours as Small Potatoes, they took a risk. A million and a half miles, thousands of shows, and at least six Dodge Caravans later, they've continued to be audience favorites on the national folk circuit. Their self-described "eclecto-maniacal" mix of covers and originals, arrived at through "careful indecision" is unique. Their "Celtic to Cowboy" repertory is solidly their own, staking out a contemporary "folk" music as authentic as America's big tent. They won the Best of Bound for Glory's award in 2000 (their "Live" CD is taken from BFG performances) and continue to engage audiences with their stage presence, their droll, savvy takes on life, and poking fun at themselves—all while performing with stunning musicianship.
---
On your radio October 4—Rev. Robert Jones & Matt Watroba
(Original live show from 3/12/17)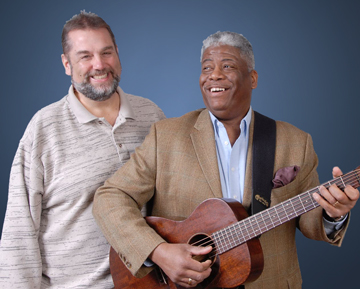 The Rev. Robert Jones, Sr., and Matt Watroba met over twenty years ago when each hosted back-to-back radio programs in Detroit. Sharing a love of traditional American music, they have forged a personal friendship over the years.
As performers and teachers, they seek to revive and instill appreciation for the history, social change, and migration in the lives of all Americans through folk songs, blues, spirituals, work songs, and chants.
The Rev. Robert Jones was born in Detroit. Ordained into the Baptist ministry in 1989, he is pastor of the Sweet Kingdom Missionary Baptist Church in Detroit. As a performer and story-teller he has performed all over America and Europe. In 2007, the National Blues Foundation named him "Educator of the Year".
Matt Watroba was also born in Detroit and raised in Plymouth, MI. After teaching for a dozen years in the Plymouth-Canton public schools, his interests in music and education drew him both into writing, where he has published many pieces in Sing Out! magazine, and into radio, where for 20 years he hosted WDET-FM's Folks Like Us, and syndicated media programs Sing Out! Radio Magazine and Folk Alley. In 2000, the Detroit Music Awards dubbed him "Best Overall Folk Performer".
---
On your radio October 11—Kyle Carey
(Original live show from 2/4/18)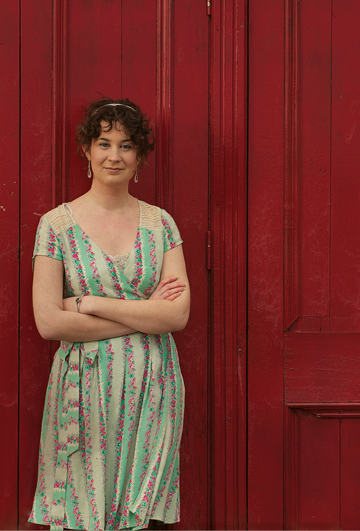 "As in all things musical, there are those who are the real thing and those who are mere pretenders and, even as essentially traditional as Kyle Carey undoubtedly is, she is quite clearly the real thing."—Bluesbunny Music Review
Kyle Carey was born in New Hampshire to schoolteacher parents, and lived in Yup'ik native communities in the Alaskan bush until the age of seven, before her family re-located permanently to New Hampshire. She attended Holderness School and Skidmore College, where she studied English literature, and spent the weekends as a waitress at Caffè Lena. She received the prestigious President's Award upon her graduation from Skidmore. Afterward, she traveled to Cape Breton in Nova Scotia on a Fulbright Fellowship to study Scottish Gaelic song and traditional music. In 2009-2010 she attended Sabhal Mòr Ostaig on the Isle of Skye for a year, obtaining a certificate in Scottish Gaelic language and music and becoming a fluent Gaelic speaker.
"Though many of my songs contain themes of longing and immigration," says Carey herself, "the most important thing about my music is its mix of Celtic and American Appalachian styles—which in the end are really just branches of the same tree. I think the most exciting music comes from the crossing of cultural and artistic boundaries."
---
On your radio October 18—Mark Mandeville & Raianne Richards
(Original live show from 11/12/17)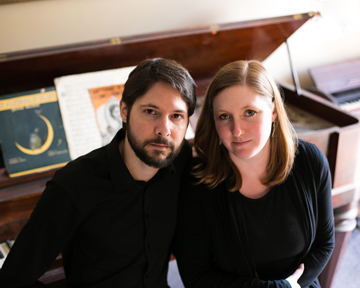 "The best part of their performance is the undeniable chemistry Mark and Raianne have together; they play with a comfortability and trust that can only come with years of partnership. They allow enough space in their musical bond to for us to settle in and witness some serious songwriting and playing." — Fred Knittel, WXPN (Philadelphia)
Mark Mandeville and Raianne Richards create music that is both original and evocative of a rich tradition. Blending distinctive voices and a wide range of accompaniment (guitar, harmonica, ukulele, clarinet, penny whistle, electric bass), their songs have been well-received by audiences since 2010. Transcending the genre of folk Americana, their music echoes inspiration from traditional folk duos and singer/songwriters like Ian & Sylvia, Kate Wolf and Neil Young – combining beautiful harmonies and a lyrical intensity, while establishing a unique sound of their own.
Both artists are products of central Massachusetts mill and factory towns, and for all their national exposure, they are passionately dedicated to the region and what it has to offer. Each summer for the past eight years they have organized the "Massachusetts Walking Tour" where they hike the roads and trails of the Commonwealth in support of the arts in local communities along the way. Each evening they stop over in yet another Massachusetts town, putting on a free concert there, along with local performers and fellow artists who accompany them on their journey.
---