Bound for Glory is rebroadcasting the best of Bound for Glory shows…
…until we can safely get back to presenting live performances.
Each week we will be featuring a recording of a previous live show or music from a selected performer. Is there something you would like to hear? Email Phil here!   Click here for ways to listen to the show.
---
On your radio May 15—Travis Knapp
Originally broadcast 1/27/19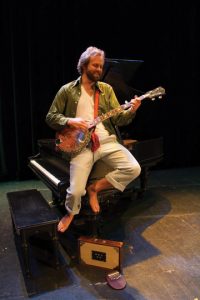 Travis Knapp creates music that is optimistic, uplifting to the soul, and rooted in a spiritual and earthly vision. With a diverse stylistic palette of folk, soul, jazz, pop, classical, blues, and gospel traditions, his organic accompaniment on piano, banjo, and guitar supports a strong expressive voice.
After studying at the Conservatory of Music of Ithaca College Travis was awarded the BMI John Lennon Songwriting Scholarship. He began performing as a songwriter in 2013 with the release of his first album "Bright New Way."
His 3rd album "All the Stars You Hold" came out in 2016 and led to the creation of the show "A Circus to the Music of Travis Knapp: All the Stars You Hold", which was premiered at Circus Culture in Ithaca to enthusiastic full houses. The show featured Travis and a 5-piece band performing the album start-to-finish, with a different circus act for every song.
His 4th album "One By One" was released in July of 2018, which includes anthemic sing-alongs like "One By One, ""Democracy," and "Dark Times," and stories like "Alright," "Cabin Visitors," and "Cannon Ball" (about the Standing Rock movement). He is the 2016 winner of "Best of Bound for Glory" award.
He spent this past fall sharing music in Sweden, England, Wales, Scotland, and Ireland – both solo and with bass player Desmond Bratton – including performances at the Shrewsbury Folk Festival and Findhorn Ecovillage.
---