Bound for Glory is rebroadcasting the best of Bound for Glory shows…
…until we can safely get back to presenting live performances.
Each week we will be featuring a recording of a previous live show or music from a selected performer. Is there something you would like to hear? Email Phil here!   Click here for ways to listen to the show.
---
On your radio December 6—Ernest Troost & our Hannukah show
(Troost's live show from 11/15/17)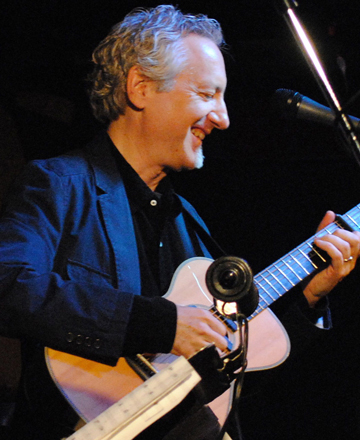 "There's not a better folksinger out there than Troost—he writes great songs with clever lyrics, plenty of hooks and he's an astute guitar player—what else is there? Just this—Troost has a swell voice as well." — Bill Locey, Rock'n' Roll Call, Ventura County Star
Ernest Troost is an Emmy-winning film and television composer as well as a recipient of the prestigious Kerrville New Folk award for his songwriting. He also composed and produced two award-winning albums of songs for Judy Collins using the words of Emily Dickinson, Robert Browning, Gertrude Stein, and others. Los Angeles-based Troost's scores for films include the cult classic Tremors and HBO's award-winning Lesson Before Dying.
Troost says, "I can remember as a kid my father reading aloud Coleridge's "Rime of the Ancient Mariner" and Poe's "Raven" to the family. I was too young to really appreciate those poems, but I think their musicality and dark romantic nature had a powerful effect on me. It's storytelling that really excites me. I call my songwriting style cinematic folk–I try to create a vivid world of images and music that envelops the listener."
And we'll have a bunch of songs for Hannukah.
There are many songs, written in English, that we'll pass on to you, songs that tell ancient stories, songs that fit the joyousness of contemporary Hannukah. Oh, there's a whole lot to talk about, and these songs do that.
---
On your radio December 13—Our Winter Solstice show
The longest night of the year. Winter solstice is probably our oldest holiday, going back much longer than we have had writing. It's the holiday from which all the others grew.
It's good to celebrate. It brings us together as a community, more than as a family. And there are a whole lot of songs. Some are about the holiday itself, some are about coming together every year at this special time. And some just seem like a good idea.
There's no ritual attached to Winter Solstice, no way of celebrating correctly. These songs come at the shortest days from many directions, and we can find our own places as we celebrate together.
---
On your radio December 20—Our Christmas show
Join us for Christmas songs that you won't hear in the shopping malls.
Some people celebrate Christmas as a religious holiday, some as a gathering of families, some for incredible food. And there are songs to help us all along. Christmas is very powerful, very central to a lot of people, and for hundreds of years we have had songs to help us gather.
We have famous Christmas carols and twentieth century pop songs which you know. But in addition, we have less well-known older songs, and a whole lot of songs written by newer folksingers, each taking a different view of the holiday. Most are serious, but some are just plain funny. Some will make us think.
---
On your radio December 27—Our New Year's show
Well, you all know Auld Lang Syne. And it won't really surprise you that Bound for Glory will play a couple of versions of this, with different tunes.
But there's so much more for New Year's. There are songs to make you celebrate, songs to make you laugh, songs to make you think. Some of them are old songs, many of them are new. Some celebrate the change in the calendar, some the changes in our lives. Some will surprise you.
---
On your radio January 3—Our Twelfth Night show
It's the end of the holiday season, and we all have to face January in Ithaca. But there are Twelve Days of Christmas, and they cover a lot of territory.
We have songs, many of them ancient, for celebration of this particular holiday. Plus, we have wassail songs, for going door to door, begging for bread and beer, as we're sure that you all do every year. Don't you?
There are songs that count to twelve. Most of us know the Twelve Days of Christmas. But it's not alone. We'll count to twelve in many different ways.
And there are songs that just seem appropriate for the ending of this season.