Bound for Glory is rebroadcasting the best of Bound for Glory shows…
…until we can safely get back to presenting live performances.
Each week we will be featuring a recording of a previous live show or music from a selected performer. Is there something you would like to hear? Email Phil here!   Click here for ways to listen to the show.
---
On your radio June 13—The Flywheels
Originally broadcast 9/1/19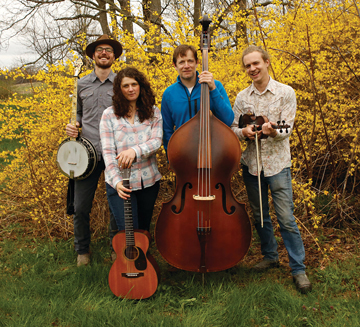 The Flywheels are an old timey band. Except when they're not. The Flywheels are a traditional bluegrass band. Except when they're not. Cap Cooke (banjo and vocals) Liz Pickard (guitar and vocals), Sam Schmidt (fiddle and vocals), Jason Zorn (bass) make up The Flywheels.
Cap Cooke got his first banjo from his parents for his 13th birthday and found a liking for old-style bluegrass and old-time music. He has played with Barham Lashley's Hilltoppers, Aaron Lipp's Mount Pleasant Stringband, Uncle Joe and the Rosebud Ramblers, and other bands.
Cap met Sam Schmidt, when he first filled in with the Hilltoppers. They learned a lot playing together in the Hilltoppers, and had an idea to start their own band once that band disbanded. Cap met Liz Pickard at the Grassroots Festival, and was soon blown away hearing her old-school guitar playing and singing. They became friends, and Cap soon invited her to join their new band.
For the better part of a year, the three rehearsed numerous times and played a few gigs. They were also on the lookout for a bass player. Cap knew Jason Zorn played the bass as well as old-time fiddle, and after Jason played with them a on a couple dates became the fourth member of the band.
Their first digital album, The Back Porch Recordings, is available on their website.
---
On your radio June 20—Rod MacDonald
Originally broadcast 2/17/13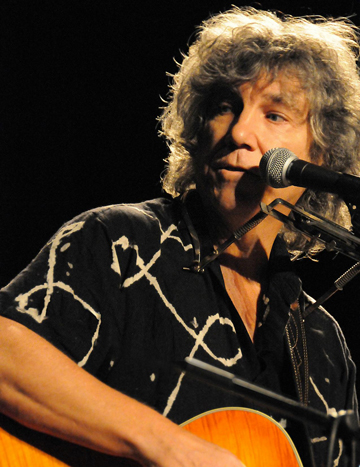 "A fine songwriter who never lets his message get in the way of making good music."—The Boston Globe
Village Voice ascribes "politics, passion, and a sense of humor" to this Connecticut native, who began his singing career in the Greenwich Village music scene. Accompanying himself on guitar and harmonica, Rod sings a range of songs in traditional and contemporary styles. Some of his songs have been recorded by other artists; Garnet Rogers has put MacDonald's "American Jerusalem" and "Dear Grandfather" on his albums.
Rod was the closing act of the 1998 South Florida Folk Festival. He's also made the rounds of such festivals as the Philadelphia, Winnipeg, Kerrville, and Florida Folklife, and has toured Germany, Sweden, Austria, Switzerland, Italy, Canada, the UK, and the Czech Republic.
He's released eleven solo albums over a 35-year performing career. 2009's "After the War," was the first release on his own Blue Flute Music label since the mid '70s, and he followed it up with the 2011 release of "Songs of Freedom," a collection of political commentary.
---
On your radio June 27—Andrew McKnight
Originally broadcast 11/8/15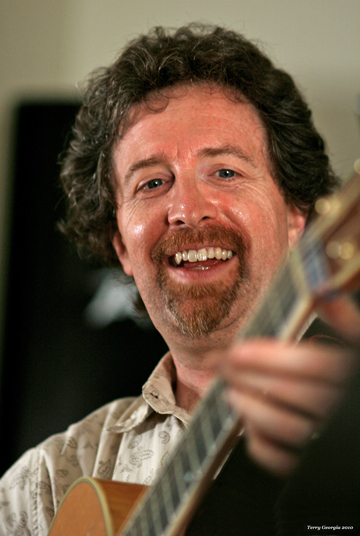 "Blends wry and romantic stories with keen tuneful observations in a delicious mix of folk, blues and bluegrass… a man not to be missed!"—The National Theatre, Washington DC
Andrew McKnight writes, sings and speaks eloquently of the struggles and successes of rural America. Since permanently leaving his corporate environmental engineering career in 1996, award-winning folk/Americana artist Andrew McKnight's musical journey has traced nearly a million miles of blue highways, and earned him a wealth of critical acclaim and fans for his captivating performances and seven recordings.
Andrew¹s powerful and entertaining show is like one-man theatre, delivered with warmth and down-home comfort. His finely crafted songs are woven together with humorous stories and poetic drama, while the musical soundscape traverses influences from Appalachia, tasteful slide and jazzy blues, feisty anthems, rustic folk, and even a little fancy flatpicking on a Carter Family tune. He has performed at many prestigious venues like the Kennedy Center, the International Storytelling Center and the Atlanta Olympics, has been part of the Rocky Mountain, South Florida, Boston and Delmarva Folk Festival lineups, and a guest on NPR's "Art of the Song" and "River City Folk" shows.
---
On your radio July 4—Toby Walker
Originally broadcast 2/21/16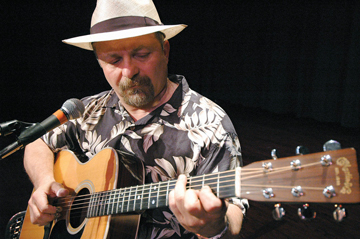 Internationally and nationally acclaimed Toby Walker has been hailed as a roots music fingerstyle guitar wizard who has toured the US, England, Wales, France, Germany, Belgium and Holland. Walker has been featured in the New York Times, the London Sunday Times, the London BBC, and on Sirius-XM radio. He was the first-place recipient of the International Blues Challenge Award—Solo division—given out by the Blues Foundation in Memphis, Tennessee.
Walker blends the styles of blues, ragtime, country, bluegrass, rock and old-time jazz into his own unique style. Jorma Kaukonen of Hot Tuna and the Jefferson Airplane says "Flat out… you have to hear this great musician… I'm blown away" and has employed Walker to teach at his famous Fur Peace Ranch Guitar Camp for 6 years. In 2010 Walker won the NY Music Award for 'Best Instrumental CD,' sharing the honors with Mariah Carey, Rufus Wainwright and Judy Collins among many others.
Walker has recently released several instructional guitar DVD's for the world famous company Homespun Tapes which have been getting rave reviews. His latest CD release—'What You See Is What You Get'—has seen Toby Walker hailed as a shining success in the genre of traditional blues recordings.
---
On your radio July 11—Jane Rothfield & Allan Carr
Originally broadcast 4/28/19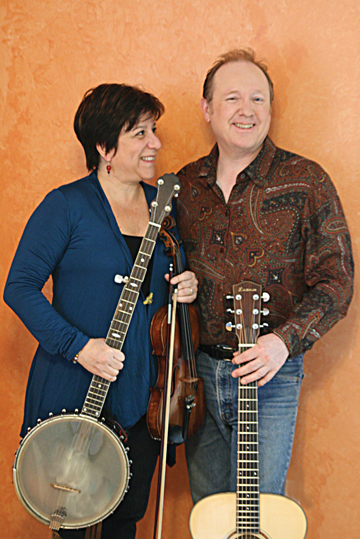 Husband and wife duo, Jane Rothfield and Allan Carr have been playing their unique blend of traditional and original Celtic and Appalachian style music for over 30 years.
Allan Carr was born and raised in Aberdeen, Scotland a region known for its rich musical traditional musical heritage. He began singing traditional songs in his teens, learning from such source singers as Jeannie Robertson, Lizzie Higgins, Jimmy McBeath and Stanley Robertson. Allan performed regularly at the Aberdeen Folk Club and won numerous traditional singing competitions throughout Scotland.
In 1978, Allan met Jane Rothfield while she was studying at Aberdeen University. Jane is an award-winning fiddler, clawhammer banjo player and tune composer with deep roots in the fiddle traditions of New England, Scotland and the American South. The combination of Allan's traditional Scottish singing and Celtic guitar style melded perfectly with Jane's Old Time fiddle and banjo and clear voice and with innovative arrangements created a unique sound not heard on the folk scene at the time.
In the early 80's they moved to Edinburgh, Scotland and toured extensively appearing at folk clubs and festivals in the UK and USA. Allan and Jane moved back to the US in 1988, performing at festivals and concerts throughout the Northeast. In 2008, they formed Red Hen Stringband, an American Roots Old Time Band, and then, following a move to the Philadelphia area in 2009, they formed Coracree with tune composer and multi-instrumentalists (and dancers) Bill Quern and Sarah Gowan. Coracreee plays for Contra Dances throughout the East Coast and also for concerts adds a strong repertoire of original and traditional songs from the Scottish and Old Time tradition.
---
On your radio July 18—John Specker
Originally broadcast 3/25/18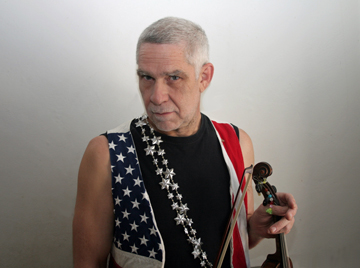 "On stage, John stomps and screams, whispers and grins, crowds fall to attention, and he works them with professionalism and wit. Truly a wild-eyed fiddling man from the hills…who plays early American music the way it should be played, with heart. Crazy, crazy, heart."–Funkyside.com
Fiery Vermont-based fiddler John Specker made his name in the 1970's as the "Father of the Ithaca Sound". He fiddled with the Correctone String Band, pioneers with a riveting mix of old-time, Reggae and African rhythms. Fellow band member Danny Kornblum explained, "We wanted to take ourselves and our dancing friends to another level where the droning buzz of the fiddle and the chunk of the banjo hung in the air like a ball of fire. We played into that fire to make it grow and burn brighter."
Since those days, with full respect for, and mastery of, traditional Appalachian music, John Specker has profoundly influenced several subsequent generations of old-timey fiddlers. These include daughters Lila and Ida Mae, the two other members of The Speckers fiddle band. John and his family are legendary for their darkly intense, primal style. John "created a whole-band sound through the complexity of his bowing technique with it's inventive and dizzyingly fast double and triple stops, while simultaneously singing and tapping a powerful foot percussion." (Cornell Folk Song Society, February, 2009.)
---
On your radio July 25—Naomi Sommers
Originally broadcast 11/3/19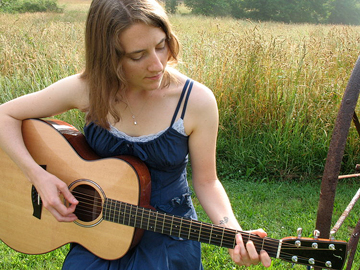 Naomi Sommers is an Ithaca, NY-based singer-songwriter, guitar-, banjo-, mandolin- and flute-player. Naomi performs solo, with her family (as the Sommers Rosenthal Family Band), and a number of other groups, and has recorded and performed professionally since childhood. Over the years she has sung and played flute, banjo, and guitar on more than 20 records released on her father Phil's independent American Melody label, and has recorded three albums under her own name, as well as one with old-time country slow-grass duo Gray Sky Girls.
Naomi's most recent album, "Gentle As The Sun", was recorded in Nashville, produced by the acclaimed musician/producer Jim Rooney (John Prine, Iris Dement, Nanci Griffith, Bonnie Raitt).  Jim's enthusiasm over Naomi's songs and her voice prompted him to end a hiatus from the music business to make this record.  The album was engineered by David Fergusson (Johnny Cash/Rick Rubin) and features a backup band of some of Nashville's finest musicians.  Naomi's trusted family and friends traveled from New England to play on the record as well.  She was thrilled to present the resulting collection of songs, the culmination of years of devotion to the craft of songwriting and to the merging of traditional and contemporary styles in American music.
---
On your radio August 1—Brooks Williams
Originally broadcast 4/10/16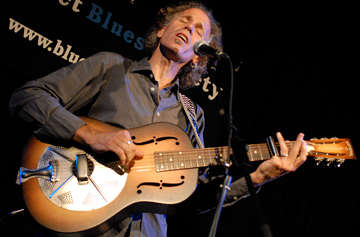 "One of America's musical treasures."—Dirty Linen
Brooks Williams stands on tradition but he doesn't stand still. His influences fly so fast and furious, they blur. Like drinking whiskey from a honey jar, you get both the sweet and the bite.
Born in Statesboro, Georgia (USA)—the town made famous by blues legend Blind Willie McTell's song, Statesboro Blues—Brooks Williams got his start in the clubs and bars around New York and Boston. In 2013, the UK's foremost roots-music mavens, Spiral Earth, nominated him best male vocalist. AmericanaUK says, "He has a beautiful voice that you just melt into." He's also one helluva good guitar player, ranked in the "Top 100 Acoustic Guitarists." The San Antonio Light says that Williams is a "fret monster who has to be seen to be believed!"
With twenty-two albums to his name, including My Turn Now (2016) and Shreveport Sessions (2014), Williams' music has featured on the BBC (UK), RTE (Ireland), CBC (Canada) and NPR (USA) and has charted on the FOLKDJ stations. WUMB-FM radio in Boston (USA) voted him one of their "Top 100 Artists."
---