Bound for Glory is rebroadcasting the best of Bound for Glory shows…
…until we can safely get back to presenting live performances.
Each week we will be featuring a recording of a previous live show or music from a selected performer. Is there something you would like to hear? Email Phil here!   Click here for ways to listen to the show.
---
On your radio March 7—Ellis Paul
Originally broadcast 5/8/16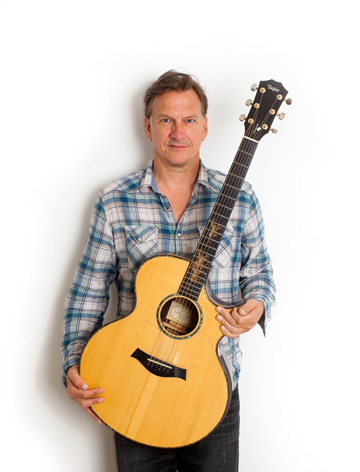 "Ellis has a voice that is so powerful that you know who it is the second he comes through your radio. His music and songs are a new birth in American sound that makes me want to go see concerts again."  – Kristian Bush / Sugarland
"Ellis Paul is one of Boston's best-ever songwriting exports…" – The Boston Globe
Ellis Paul is a singular storyteller, a gifted musician whose words reach out from inside and yet also express the feelings, thoughts and sensibilities that most people can relate to in one way or another, regardless of age or upbringing.
He has become a staple at the Newport Folk Festival, has played Carnegie hall, and venues from Alaska to Miami, Paris and London. In addition to 19 albums released on the Rounder and Black Wolf record labels, his music has appeared on dozens of distinguished compilations. A Film/DVD entitled 3000 Miles — provides a further prospective on both the man and his music. He's also released a pair of children's albums, earning honors from the Parent's Choice Foundation.  His latest recording, The Day After Everything Changed, was recently released on Ellis' label, Black Wolf Records.
---
On your radio March 14—Hickory Project
Originally broadcast 7/30/17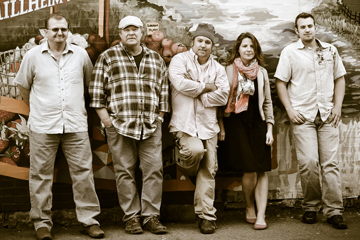 "Hickory Project embodies much of what carries the best of bluegrass and progressive acoustic music into the 21st century." -Bluegrass Unlimited
Formed in 2001 as an experiment, Hickory Project features hard–driving traditional and original acoustic music deeply rooted in bluegrass. They have captivated audiences throughout Europe, US, and Australia.
Anthony Hannigan (mandolin, vocals) is the 1999 National Mandolin Champion and has been playing bluegrass music from the age of four. David Cavage (banjo, vocals) ranks among the finest banjo players and songwriters in bluegrass music today. According to Bluegrass Unlimted, "He sounds like Béla Fleck with an attitude." Steve Belcher (acoustic bass) was born in Liverpool, England and began his music involvement playing drums, which drove his passion for rhythm. Jillian Hannigan (flute, pennywhistle, vocals) is a native of Virginia, and grew up playing classical, folk, and Celtic music with her family.
Despite the influence of his grandfather, an accomplished bluegrass banjo player, Josh Sudigala (guitar) began playing rock and roll at age 14. However, he soon developed a passion for bluegrass flatpicking. Ed Lick (banjo, vocals) grew up in Collingswood, NJ. Bluegrass got into Ed's soul at age 13 when he got a banjo for Christmas. He has been performing professionally since age 15.
Hickory Project has produced one DVD and seven CDs under their own label. Their latest album is "Driving the Blue".
---
On your radio March 21—Dan Duggan & Peggy Lynn
Originally broadcast 1/28/18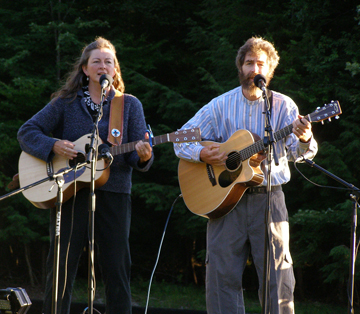 "They sing as though they have performed for a lifetime together."—Buffalo Friends of Folk Music
Dan Duggan and Peggy Lynn, who often perform with Ban Berggren as the Jamcrackers, will be performing as a duo this time at Bound for Glory.
National hammered dulcimer champion Dan Duggan is known from Maine to California for his wizardry on the hammered dulcimer, flat-picking guitar, and keyboards. In addition to his extensive array of recordings, Dan's dulcimer talents are spotlighted on Paul Simon's Grammy-nominated album "You're the One" and "The Paul Simon Collection". Many of Dan's original tunes are published in the collection "Coming Home". Also known for his dance calling, including while accompanying himself on the hammered dulcimer.
Peggy Lynn, singer, songwriter, and educator, brings an infectious enthusiasm to all her endeavors.  With a sultry, yet powerful alto voice, Peggy gives a clear message of the passion underlying her songs. While her style and range give meaning and feeling to all her work, her most powerful message, her passion, is for the contributions and burdens of women. Peggy ranges from folksy to blues with equal ease, alone or harmonizing with others.
Peggy and Dan have released several duo recordings, including "Keeping Christmas", "A Stitch in Time", "Grandsongs", "Jamcrackers", with Dan Berggren, and "Be the Light". Their most recent recording, released in 2013, is "Esperance", named for their farm in Red Creek, NY.
---
On your radio March 28—Vance Gilbert
Originally broadcast 3/3/19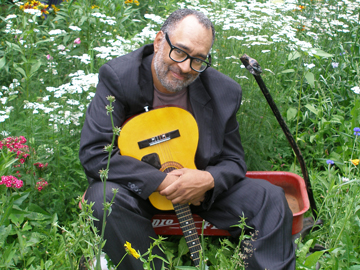 Vance Gilbert burst onto the singer/songwriter scene in the early 90's when buzz started spreading in the folk clubs of Boston about an ex-multicultural arts teacher who was knocking 'em dead at open mics. Born and raised in the Philadelphia area, Vance started out hoping to be a jazz singer, and then discovered his affinity for the storytelling sensibilities of acoustic folk music. Once word got out about Gilbert's stage-owning singing and playing, Shawn Colvin invited him to be special guest on her Fat City Tour.
Noted not only for being the ever-consummate performer, Gilbert has recorded 14 albums, including 4 for Philo/Rounder Records and a duo album with friend Ellis Paul. Along with being opener of choice for artists as varied as Aretha Franklin, Arlo Guthrie, and Anita Baker, 2006 and 2007 found Gilbert opening 140+ shows for comedian George Carlin. Most recently he's the opener of choice for Paul Reiser and The Subdudes.
Considered by many to be an integral part of the national folk scene, Gilbert's approach to the acoustic singer-songwriter idiom is significant. Gilbert's compositions, while frequently employing sophisticated melodies and harmonies that attest to his jazz roots, remain sublime attestations to the storyteller's craft. He even has a tune on a Grammy Nominated children's album. How rounded is that?
---
On your radio April 4—Moonshine Holler
Originally broadcast 10/2/16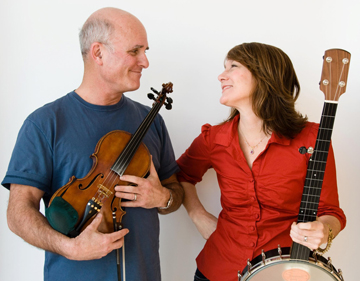 Moonshine Holler, the husband and wife duet of Paula Bradley and Bill Dillof, captures and preserves the spirit of American roots music: hillbilly blues, ballads, breakdowns, Carter family classics and jugband stompers. Known for their musical prowess on banjo, fiddle, guitar, Hawaiian guitar, harmonica, ukulele, kazoo, Paula and Bill are two musicians steeped in the old time traditions, performing and teaching across the country and abroad.
Paula has toured the US and Germany on banjo with old-time darlings "Uncle Earl" and teamed up with fiddle powerhouses Bruce Molsky and Brittany Haas (Crooked Still) for a tour of Sweden. Along with Bruce, she was also a member of the trio "Jawbone" featuring banjo innovator Tony Trischka and appears on Tony Trischka's CD "Territory", winner of the 2009 Americana Awards. She has also recorded and performed with old time trios The Rhythm Rats and The Haywire Gang (with Mac Benford). Recently she's been piano-player for the honky tonk combo, Girl Howdy, and fronts her own jukejoint swing combo, The Twangbusters. Bill is a founding member of the legendary Canebrake Rattlers, a NYC-based string-band known for their authentic "78 rpm" sound. He has an acclaimed old-time CD "Been on the Job Too Long" recorded with Dave Rice and Joe LaRose as "The Cuyahogians"
---
On your radio April 11—Nate Marshall & Friends
Originally broadcast 11/19/17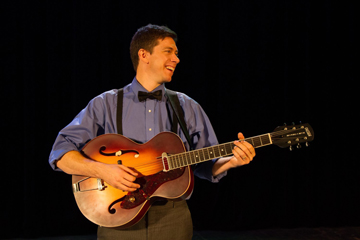 Nate Marshall is a well-known local singer songwriter and multi-instrumentalist and member, with his wife, Kate, of the folk duo Nate & Kate.  They released their debut album, "Fame by Frame", late in 2007.  The album garnered glowing reviews, established the duo as a household name in Ithaca, and continues to receive regular Central New York radio airplay.  In 2009, Nate & Kate hit the road playing over 150 shows on an "Eat Local Tour" of NY State farmers markets, attracting significant press along the way.
As a solo performer, Nate carries on the folk music tradition of song and storytelling with a modern twist of humor and musicianship steeped in a number of genres including swing, blues, Americana and jazz.
In addition to solo performance, Nate  is also a guitar instructor, staple of the children's music scene in central New York as well as an accomplished juggler, known as Nate the Great.  He has toured extensively throughout the U.S. in a variety of venues from theaters to cafes and farmer's markets to street corners.
Nate will be at Bound for Glory with some of his musician friends – who and how many to be determined. In any case, it will be a great show.
---
On your radio April 18—Beaucoup Blue
Originally broadcast 2/12/17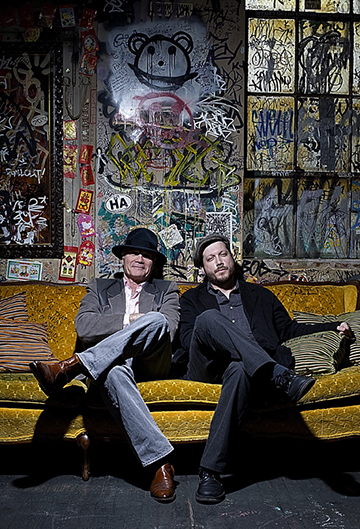 "This powerful yet gentle father-and-son duo gets their audience lost in reverie with arrestingly soulful music. Their original songs blend folk, R&B, jazz, country, and bluegrass together in songs that might be classics, or might just sound like it."  – Sarah Craig, Caffe Lena
Beaucoup Blue is the Philadelphia-based father and son duo, David and Adrian Mowry. Adrian grew up watching his father perform in coffeehouses and clubs, but discovered the guitar on his own and learned his chops in his own band. Some well-received party gigs launched them as a duo. Over the course of several albums, they have crafted original songs that pull together eclectic influences to extend the reach of Americana music. Besides being in the top 40 of Americana radio playlists, they have won first prizes in songwriting, one in Billboard Magazine's 2010 contest, and another in the Blues & Brews Acoustic Contest in Telluride. Their voices—one, mature and mellow, the other a higher keening tenor—along with David's plaintive slide guitar and the pulse of Adrian's picking underscore the drama in their haunting melodies and soulful lyrics.
---
On your radio April 25—Chris Koldewey & Joy Bennett
Originally broadcast 7/9/17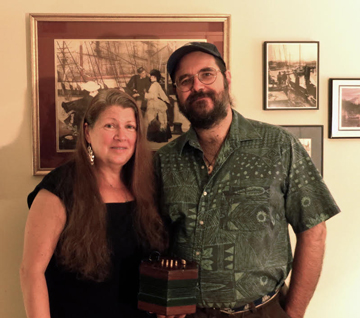 Chris Koldewey has been singing folk music—and sea music in particular—since his early teens. He comes from a family rich in maritime traditions, and his lullabies as a child were traditional songs of the sea. Chris primarily performs US and British traditional music, and he is attracted to the stories behind many of the songs he sings. He has played concerts and festivals in both the US and the UK, and has led workshops dealing with a variety of traditional music forms. Chris plays guitar, banjo, fiddle, concertina, mandolin, and other things common to an average garage sale. Chris is a public school music teacher by trade, which allows him to spend his summers as one of the Chanteymen at Mystic Seaport Museum in Connecticut.
Joy Bennett has been involved in folk music for most of her life. As a member of the quartet Water Sign for 13 years, and the all-female a capella group, The Johnson Girls, for the past 15 years, she has explored the close-knit harmonies of both traditional and contemporary folk music. Joy has performed solo, with Water Sign, the Johnson Girls, with Chris Koldewey, and with guest artists in the U.S., U.K., Canada, and across Europe. She served on the board of Folk Music Society of New York for many years, ten of them as president.
---
On your radio May 2—Jeni & Billy
Originally broadcast 7/19/09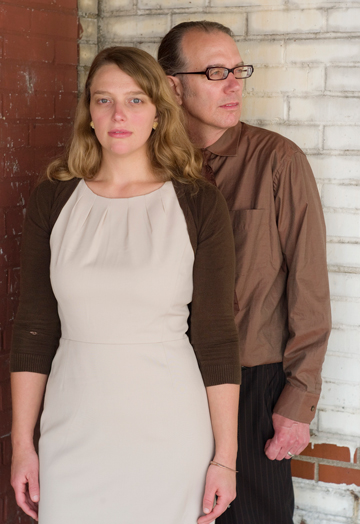 Drawing from Traditional Country, Appalachian, Old-time, Country Blues, Bluegrass and Folk music to create their original songs, Jeni Hankins and Billy Kemp have crafted a unique sound that is truly their own. Their sparse sound and absorbing lyrics have caught the attention of Americana greats Jim Lauderdale and Buddy Miller and folk-rock artist Jim Reilley of the New Dylans.
Their 2008 album, "Jewell Ridge Coal," their second, chronicles the changing fortunes of the Southwest Virginia coal mining community of Jewell Ridge. Though the subject is regional, the songs are meant to present universal themes: earth and heaven, rich and poor, love and loss, work and rest.
Jeni comes by her mournful, lonesome voice honestly. Born in the coalfields of Southwest Virginia, her singing has been compared to that of Mother Maybelle Carter and Hazel Dickens. A born storyteller, she has been a writer almost since she could put pen to paper. Billy comes to the duo with a long history of music-making. He has been everywhere from Germany to the Grand Ole Opry playing his guitar and singing. A Baltimore native, he was introduced to the world of country music through the fateful movie house experience of seeing "Bonnie & Clyde."
---
On your radio May 9—Darryl Purpose
Originally broadcast 4/14/13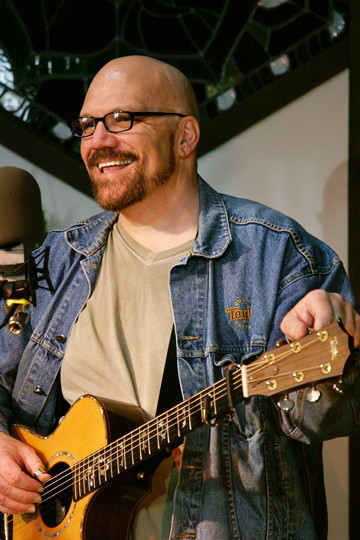 Darryl Purpose came back to making music, with a new energy and purpose, after a seven-year sabbatical in the Rocky Mountains ending in 2012. He's spent much of that time shepherding the release of "Singer-Songwriter Heaven: the Songs of Kevin Faherty," and captaining the Second Strings Project, which has delivered over 20,000 sets of guitar strings to those who need them around the world. Meantime, he was inducted into the Blackjack Hall of Fame.
You may not have realized it, but Darryl was once recognized as the world's top blackjack player. As a peace marcher, he crossed the U.S. over nine months, then continued on to Russia for an historic walk across the Russian heartland that culminated in a first-ever outdoor stadium rock concert, featuring Bonnie Raitt, Santana, James Taylor, and Darryl's band, Collective Vision. He has made his mark in the folk music world with his distinctive baritone voice, a smoothly proficient fingerstyle guitar technique, a sense of drama and storytelling in his music and lyrics, and a charismatic performance that captures coffeehouse and theater audiences alike.
2012 saw the release of Darryl's first CD of original material in ten years, "Next Time Around," produced by Billy Crockett for the Blue Rock Artists label. This show was first broadcast in 2013.
---