Bound for Glory is rebroadcasting the best of Bound for Glory shows…
…until we can safely get back to presenting live performances.
Each week we will be featuring a recording of a previous live show or music from a selected performer. Is there something you would like to hear? Email Phil here!   Click here for ways to listen to the show.
---
On your radio January 29—Joe LaMay & Sherri Reese
Originally broadcast 8/1/2010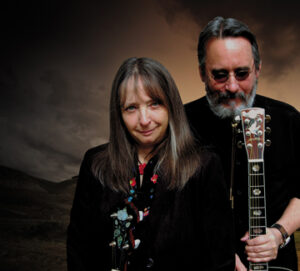 "LaMay & Reese range from bluegrass to traditional American folk without sounding as though a square peg is being rammed into a round hole. It's sweet, but hardscrabble, Americana."— Jeff Spevak, Gannett music columnist
With guitar, old-style banjo, and a sound rooted in the mountains and valleys of America's southeast, Joe LaMay and Sherri Reese offer a generous repertoire of stories, gospel songs, and ballads guaranteed to entice the novice and please the traditionalist. Their fine presentations of the old songs, combined with original compositions written in the traditional style, demonstrate a seamless and pleasing transition from the preservation to the propagation of this treasured art form.
Joe and Sherri are a touring American music duo who produce a unique blend of traditional folk and bluegrass that captures the sentiment and color of an earlier time in our rich musical heritage. They've performed together since 1998, bringing to bear a mix of melody, harmony, and humor.
---