Bound for Glory will be Albums from the Studios for the rest of the Summer
Each week for the rest of the Summer we will be featuring a recording of a previous live show or music from a selected performer. Is there something you would like to hear? Email Phil here!   Click here for ways to listen to the show.
---
On your radio July 5—Cliff Eberhardt & Louise Mosrie
(Original live show from 10/21/18)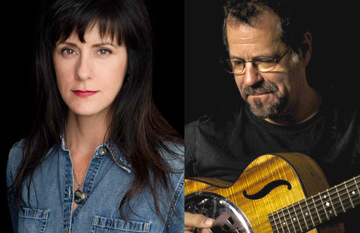 Raised in a musical family in Berwyn, PA, Cliff Eberhardt knew at seven that his future was music. With influences from The Main Line, a nearby folk club, and urban songsmiths like Cole Porter, the Gershwins, Rodgers & Hart, young Cliff paid attention to melodic line and wit in lyrics. After touring in his teens with brother Geoff, and on his own in Illinois and Colorado, Cliff moved in 1978 to New York City. Working as a cabdriver, absorbing the downtown scene, singing in ad campaigns for Coke, Miller Beer and Chevrolet, he maintained a musical life with solo gigs, studio and road work. His 1990 original, "My Father's Shoes," led to a first album with Windham Hill, featuring a duet with Richie Havens. A steady output of recordings followed until a bad car accident forced a recovery of several years. He came back with The High Above and the Down Below, cited by USA Today as 2007's #5 Album. Cliff's songs have been covered by Richie Havens, Shawn Colvin, Buffy Sainte Marie, as well as by a newer generation. Acknowledgement from the theater world has come for his work in sound design commissioned by the Folger Theatre and Shakespeare Library in a 2012 production of "The Taming of the Shrew," set in America's Old West.
Louise Mosrie's career began with songwriter awards and a 2010 debut album "Home", which charted at #1 on the Folk DJ list. She grew up near Nashville on a farm with British parents. After college in Knoxville, learning to play on a Sears guitar "borrowed" from her brother, Louise wrote her first songs influenced by her English roots and urban American pop, but a return to Nashville steered her back to the life she knew in the American south. Her latest album "Lay It Down," produced by Cliff Eberhardt, comes out of a dark period after the end of her marriage and the death of her mother. The stories connected to "Home" have led to Mosrie's being described as "…William Faulkner with a guitar".
---
On your radio July 12—Andy Cohen & Alan Kaufman
(Original live show from 4/29/18)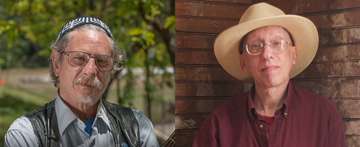 The duo of Andy Cohen & Alan Kaufman is a merging of blues and Old Timey music. Expect the unexpected when they get together.
Andy Cohen is a virtuoso finger-style guitarist who has been described as "a walking, talking folk-blues-roots music encyclopedia." He grew up in a house with a piano and a lot of Dixieland Jazz records, amplified after a while by a cornet that his dad got him. At about fifteen, he got bitten by the folk music bug, and soon got to hear records by Big Bill Broonzy and the Jim Kweskin Jug Band, both of which reminded him of the music he grew up to. At sixteen, he saw Reverend Gary Davis, and his course was set. He knew he had it in him to follow, study, perform and promote the music of the southeast quadrant, America's great musical fountainhead. Although he's done other things, a certain amount of writing and physical labor from dishwashing and railroading to archeology, playing the old tunes is what he does best.
Alan Kaufman has played old time fiddle for more than 30 years and was a member of the influential Wretched Refuse Stringband. A fine player on mandolin and guitar, Alan is author of Beginning Old Time Fiddle, published by Music Sales. He is responsible for starting and leading several well-attended jams in the greater Boston area, where he is also a much-sought-after fiddle teacher.
---
On your radio July 19—James Gordon
(Original live show from 5/14/17)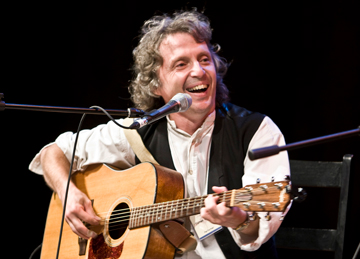 James Gordon has had a remarkably diverse 30-year career in the Canadian entertainment business. As a solo singer-songwriter and with the ground-breaking trio Tamarack, he has released over thirty-five albums, and has toured relentlessly around the world. Gordon has written for symphony orchestras, musical theatre and dance works, film scores, and for more than ten years was heard on CBC radio as songwriter-in-residence for the Basic Black and Ontario Morning programs.
Gordon's classic Frobisher Bay has been recorded by more than 100 different acts world-wide, has become a standard in choirs everywhere. His most ambitious work, the full-length folk opera 'Hardscrabble Road' debuted live in the fall of 2003. His new album "Sunny Jim" has just been released on Borealis Records and has reached #2 in Canada and #24 in North America in that same genre.
Well known for his songs about social justice, heritage and environmental issues, he toured for two years with his hugely successful political theatre piece "Stephen Harper: The Musical".
He tours as a solo performer and with his sons. In 2009 BerLen Music published the Pipe Street Songbook, an anthology of his 50 most loved songs. Between tours, James is a record producer, playwright, community activist, Guelph City Councillor, and theatre director.
---
On your radio July 26—Andrew VanNorstrand & friends
(Original live show from 2/10/19)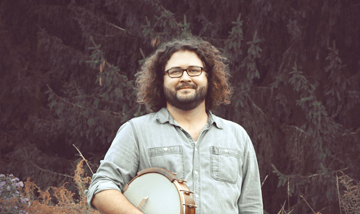 Andrew VanNorstrand is an accomplished singer, songwriter, multi-instrumentalist and producer from upstate New York. As a member of the Great Bear Trio, Giant Robot Dance and the Andrew & Noah Band he has toured extensively and has been a featured performer and instructor at many well-known festivals and music camps. His repertoire incorporates a wide range of musical genres and he loves exploring the connections between music and dance. His original music often focuses on issues of identity, faith, gender and a search for understanding in rural America.
Considered one of Western New York's leading traditional musicians, Andrew VanNorstrand has been playing beautiful music since he was a lad. With his brother, Noah, and their mother, Kimberley Yerton, they have delighted dancers as the Great Bear Trio—which has recently grown into the 6-piece band, Great Bear. He has performed on festival stages, concert halls, dance floors and living rooms all over North America and beyond. Fiddler, guitarist, producer, Andrew excels at whatever music he turns to.
---
On your radio August 2—John Roberts
(Original live show from 9/16/18)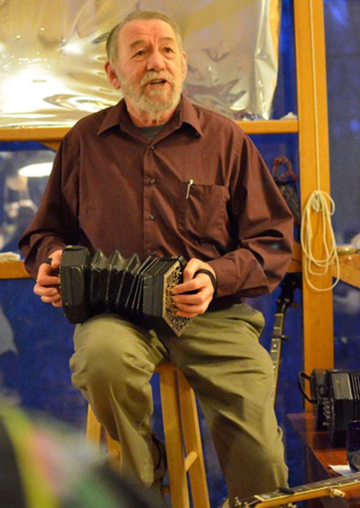 John Roberts is a singer of folksongs from the British Isles. Born and raised in Worcestershire, England, of a Welsh family, he currently lives in Schenectady, NY. He came to the United States many years ago to go to graduate school at Cornell, but, as they say, it didn't take. And so he became more of a folksinger than he was already.
He is known for his work with Tony Barrand, another ex-pat Brit who arrived at Cornell at the same time as he did. They became the two lively Brits who sang folksongs, often wore funny hats, and went on to sing at folk festivals such as Fox Hollow, Mariposa, Philadelphia, Hudson River Revival, and Old Songs.
John accompanies his songs with banjo or concertina–or sings them a cappella, depending on how he feels the song. The music of the sea is one of his specialties. As well as a solo CD, "Sea Fever", he has recorded sea songs albums with Tony Barrand ("Across the Western Ocean") and with the trio Ye Mariners All.
John still occasionally performs concerts with Tony, but these days he mostly performs solo, or in tandem with Debra Cowan, an American singer of both traditional and more recently composed songs, with strong ties to the British Isles. They recently recorded a CD together – "Ballads Long & Short". John has taught folksong and folksinging at various camps and summer schools including Pinewoods, Mendocino, and Augusta in Elkins, West Virginia.