Bound for Glory is rebroadcasting the best of Bound for Glory shows…
…until we can safely get back to presenting live performances.
Each week we will be featuring a recording of a previous live show or music from a selected performer. Is there something you would like to hear? Email Phil here!   Click here for ways to listen to the show.
---
On your radio July 25—Naomi Sommers
Originally broadcast 11/3/19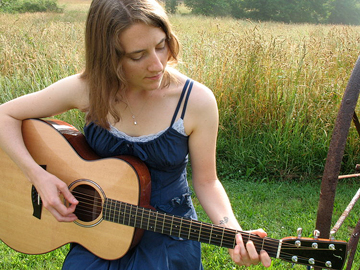 Naomi Sommers is an Ithaca, NY-based singer-songwriter, guitar-, banjo-, mandolin- and flute-player. Naomi performs solo, with her family (as the Sommers Rosenthal Family Band), and a number of other groups, and has recorded and performed professionally since childhood. Over the years she has sung and played flute, banjo, and guitar on more than 20 records released on her father Phil's independent American Melody label, and has recorded three albums under her own name, as well as one with old-time country slow-grass duo Gray Sky Girls.
Naomi's most recent album, "Gentle As The Sun", was recorded in Nashville, produced by the acclaimed musician/producer Jim Rooney (John Prine, Iris Dement, Nanci Griffith, Bonnie Raitt).  Jim's enthusiasm over Naomi's songs and her voice prompted him to end a hiatus from the music business to make this record.  The album was engineered by David Fergusson (Johnny Cash/Rick Rubin) and features a backup band of some of Nashville's finest musicians.  Naomi's trusted family and friends traveled from New England to play on the record as well.  She was thrilled to present the resulting collection of songs, the culmination of years of devotion to the craft of songwriting and to the merging of traditional and contemporary styles in American music.
---
On your radio August 1—Brooks Williams
Originally broadcast 4/10/16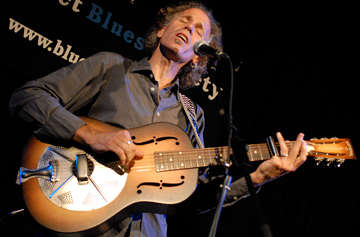 "One of America's musical treasures."—Dirty Linen
Brooks Williams stands on tradition but he doesn't stand still. His influences fly so fast and furious, they blur. Like drinking whiskey from a honey jar, you get both the sweet and the bite.
Born in Statesboro, Georgia (USA)—the town made famous by blues legend Blind Willie McTell's song, Statesboro Blues—Brooks Williams got his start in the clubs and bars around New York and Boston. In 2013, the UK's foremost roots-music mavens, Spiral Earth, nominated him best male vocalist. AmericanaUK says, "He has a beautiful voice that you just melt into." He's also one helluva good guitar player, ranked in the "Top 100 Acoustic Guitarists." The San Antonio Light says that Williams is a "fret monster who has to be seen to be believed!"
With twenty-two albums to his name, including My Turn Now (2016) and Shreveport Sessions (2014), Williams' music has featured on the BBC (UK), RTE (Ireland), CBC (Canada) and NPR (USA) and has charted on the FOLKDJ stations. WUMB-FM radio in Boston (USA) voted him one of their "Top 100 Artists."
---
On your radio August 8—The New Cut Road String Band
Originally broadcast 12/8/19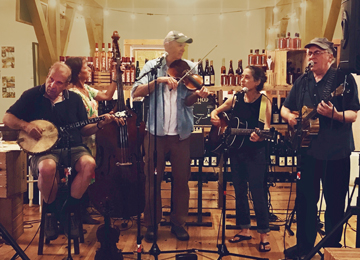 The New Cut Road String Band is an old time string band that plays music from the southern Appalachian Mountains that became popular in this country from the mid-1920s through to the Great Depression. With John Hoffmann on fiddle, Steve Arkin on banjo, Jim Reidy on tenor guitar, Randi Beckmann on guitar, and Sally Freund on bass, they deliver fast and furious fiddle dance tunes as well as ballads that bring a tear to the eye.
John Hoffmann, the fiddler, played banjo for The Tompkins County Horseflies in the early 1980's before he segued to fiddling. John has garnered a number of awards for his fiddle playing around the country.
Steve Arkin grew up in New York's legendary Washington Square music scene, playing both old-time and bluegrass music in many bands. Bill Monroe said of him, "it takes backing to get that stuff going. Steve could play the best backup banjo I ever heard.". Steve has won numerous banjo contests and has taught both bluegrass and old-time banjo.
Randi Beckmann began her musical career playing classical flute and attended music school at Ithaca College. Randi happily switched to the Irish flute in the 1990's and, after some arm-twisting, began playing Old Time backup piano and guitar. Her solid, powerful rhythm playing provides the groove to keep her rambunctious band mates in sync.
Sally Freund, the bass player, has become a trusted rhythm player on bass, guitar, triangle and scrub-board, backing up many of the great Old Time and Cajun/Zydeco musicians around western New York and beyond.
---
On your radio August 15—Mara Levine & Gathering Time
Originally broadcast 10/20/19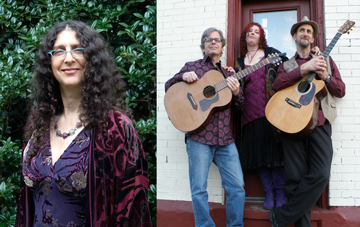 "While Mara Levine doesn't sing original songs, it truly doesn't matter. She chooses songs or has songwriters create to suit her voice, and what a voice! With Gathering Time backing her up, it's magical. Mara and Gathering Time performed at my series a few days ago and the audience loved it, and her. And the harmonies they created – spectacular." Jill Padua, RiverFolk Concerts
Called one of the best singers of her generation by Christine Lavin, folksinger and jewelry designer Mara Levine has been creating beautiful interpretations of fine traditional and contemporary folk songs for many years and singing professionally as a member of various ensembles. Folk DJ Jim Marino has referred to her as "golden-voiced," while Michael Stock calls her voice "full, rich and soothing."
Mara shares shows on a regular basis with the Long Island, NY-based folk trio Gathering Time, with whom she has toured nationally as well as internationally in Canada, Ireland, and Germany.. Founded in 2006, Gathering Time's members Stuart Markus, Hillary Foxsong, and Gerry McKeveny have strong roots in traditional folk as well as '60s and '70s folk-rock, and they've been known to interpret some of those classics alongside their original songs at their shows.
Bob McKillop of MaineFolkMusic.com writes, "Gathering Time … has perfected two separate but related art forms: three part harmony and having a ball on stage! When they harmonize, some sort of fundamental, cosmic concordance occurs that makes you very happy that you have ears."
---
On your radio August 22—Jim Gaudet & the Railroad Boys
Originally broadcast 5/10/15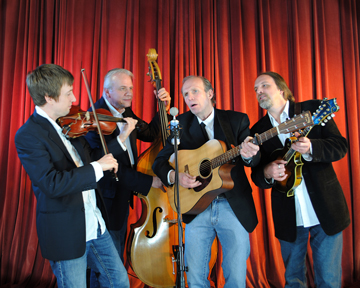 "One of the most respected literate musical talents on the capital region scene, Jim Gaudet is the rare singer/songwriter capable of dancing across the tightrope that stretches between wit and wisdom."—Greg Haymes, Albany Times-Union
After several years off the northeast folk circuit, tending to family duties, Jim Gaudet reopened his guitar case a couple of years ago and returned to touring. This year's new album with the Railroad Boys, "The Reasons that I Run," highlights the latest collection of Jim's stories and songs. As always, the themes of his work can be widely varied.
Jim Gaudet's journey began as a flat picker, not a singer, playing mandolin and guitar for the Lost Country Rounders. After the Rounders split up, he worked up the courage to try covers at such Albany-area haunts as Caffe Lena and Eight Step Coffeehouse, before finally offering his own stunning, confident originals. He's been playing with the Railroad Boys: bassist/vocalist Bob Ristau, mandolinist/guitarist Sten Isachsen, and vocalist/fiddler Tim Wechgelaer are at the intersection of folk and bluegrass.
---