Bound for Glory is rebroadcasting the best of Bound for Glory shows…
…until we can safely get back to presenting live performances.
Each week we will be featuring a recording of a previous live show or music from a selected performer. Is there something you would like to hear? Email Phil here!   Click here for ways to listen to the show.
---
On your radio January 23—Leslie Lee & Steve Gretz
Originally broadcast 2/9/20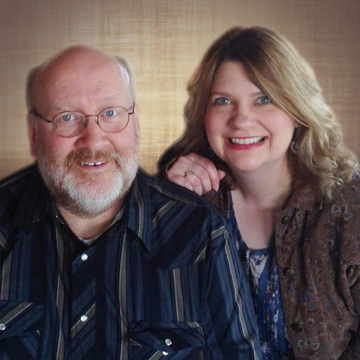 "We sing these songs because they move us, and we hope they will lift your spirits and soothe your souls."
Leslie and Steve began recording and performing together as a duo in 2003. Their music combines backgrounds in traditional, country, Americana, and gospel music with their taste for contemporary singer/songwriters. Their performances feature simple but tasteful arrangements of timeless melodies. Other traditional instruments often supplement Steve's guitar, but the focus is always on thoughtful lyrics and beautiful harmonies. Prior to their work as a duo, Steve had performed as one half of another acoustic folk duo Arnold+Gretz, producing four CDs. One of Steve's songs, "Who Taught These Idiots to Drive?", was featured on NPR's Car Talk radio show and appeared on their compilation CD, Car Tunes Volume 2: Born Not to Run.
Leslie and Steve have also sung harmony vocals onstage for Brooks Williams, Greg Greenway, Perry Cleaveland, The Dady Brothers, Joe Crookston, and Joe Jencks, and added backing vocals to the song "A Friend Like You" on Joe Crookston's 2011 release Darkling & the BlueBird Jubilee. They have opened shows for Michael Troy, Bill Staines, Danielle Miraglia, Brother Sun, Kim and Reggie Harris, and Chris Wilson.
When they are not in the spotlight themselves, Leslie and Steve host two music series: an informal sing-around called Old Time Music Night held on the first Sunday of each month at Greece Baptist Church, and Lake Effect Shows, a house concert series in their home featuring local and touring folk and acoustic musicians.
---
On your radio January 30—Y'All
Originally broadcast 10/6/02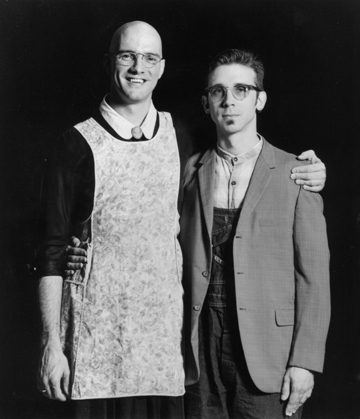 After many years of life in a 20-foot travel trailer, James Dean Jay Byrd and Steven Cheslik-DeMeyer, the country/folk duo "Y'all", were feeling a bit of burnout. After starting touring at Syracuse's "Happy Endings" many years back, their final performance as the "current incarnation of Y'all" was on this October 6, 2002 Bound for Glory show.
Their inventive music is fun and reflects their time and travels together, as well as their family backgrounds, steeped with gospel and country music.  They lived in New York City, performing at a cabaret in the Village and working in theatre and TV, before going on the road. They've kept a diary of their travels on their web site and published an autobiography, but their songs tell their life stories as well as anything can.
Their albums include: "The Hey, Y'all! Soundtrack" (2002), "Y'allology" (2000), "The Next Big Thing" (1994), and "An Evening of Stories & Songs" (1993).  Their autobiography is "The Good Book: the true story of Y'all" (2000).
Please join us for an indescribable, incredible evening.
---
On your radio February 6—Four Shillings Short
Originally broadcast 9/25/16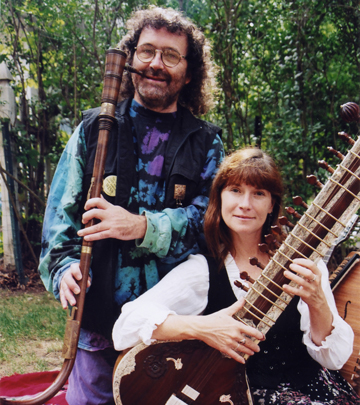 Four Shillings Short—the husband and wife duo of Aodh Óg O'Tuama from Cork, Ireland, and Christy Martin from California—cover the globe in the music they perform. Drawing on musical traditions from the Celtic to the Asian subcontinent and the Americas, as well as classical music from India, medieval and Renaissance Europe, the duo's repertory calls on a sparkling range of more than thirty instruments including bouzouki, sitar, charango, bowed psaltery, doumbek, and krumhorn.
Aodh Óg O'Tuama grew up in a family of poets, musicians and writers. He received his degree in Music from University College in Cork, Ireland, followed by a fellowship at Stanford University in medieval and Renaissance performance. In addition to playing a variety of wind and percussion instruments, he sings in English, Gaelic & French. Christy Martin grew up in a family of musicians and dancers. As a teen, she began a ten-year study of the North Indian sitar, five of those years with a student of master Ravi Shankar. Besides playing a host of plucked, bowed, and percussed stringed instruments, Christy sings in English, Irish, Spanish and Sanskrit.
---
On your radio February 13—Christine Lavin & Don White
Originally broadcast 2/7/16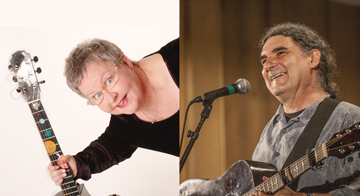 "I have often sung the praises of Christine Lavin and Don White, perhaps the two funniest performers on the folk circuit today. Hearing that they are doing shows together is a dream-come-try for me."—Scott Alarik, Folk music writer, The Boston Globe, Sing Out, NPR
Christine on Don: "When Don and I work together, it's a very powerful one-two punch that leaves audiences gasping for air (from all the laughter), and reaching for tissues from the unexpected serious songs. I've discovered if audiences know me and don't know him–they become instant fans of his. If they know him and don't know me, the same thing seems to happen for me. Everybody wins."
Don on Christine: "Christine understands the unlimited potential that smart humor can bring to an audience's experience as well as anyone I have ever known. People love to laugh. Christine gives them more than they can handle. She gets them laughing and keeps them laughing until they look like they can't take anymore. And she always does this without compromising the intelligence of her work. She never goes for the cheap laugh. Her humor is always part of a bigger idea."
---
On your radio February 20—Dana & Susan Robinson
Originally broadcast 10/20/13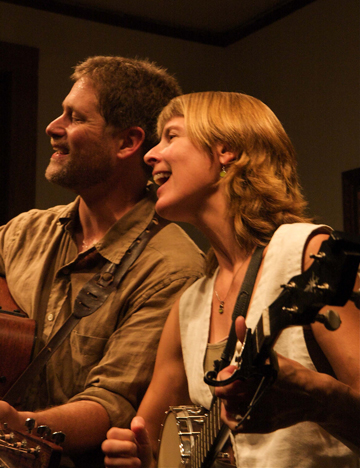 "…rural America explored with elegant simplicity. Their music and cleanly poetic songwriting bring to mind the great folksingers of our times."—Asheville Citizen-Times
Based in Asheville, North Carolina, Dana and Susan Robinson bring two rich, intimate voices to their concerts, along with intricate and powerful guitar and banjo playing, with a handful of fiddle and mandolin thrown in. Dana was raised in California, then moved to the Northeast; Susan was raised in the Northeast, then moved to California. They spent most of their lives crisscrossing paths until they met on Saint Patrick's Day, 2002, when Susan attended a house concert Dana was giving in California.
A multi-instrumentalist on guitar, fiddle, mandolin, and banjo, Dana brings traditional music values into his contemporary songwriting. Susan adds her rich harmonies and the clawhammer-style banjo. Together, they explore their passion for merging traditional and contemporary music. Last year's album "American Hornpipe," on Threshold Music, offers a melting pot of Appalachian, Celtic and African influences, distilled into the stories that unite all us folks as, well, folks.
---