Bound for Glory will be Albums from the Studios for the rest of the Summer
Each week for the rest of the Summer we will be featuring a recording of a previous live show or music from a selected performer. Is there something you would like to hear? Email Phil here!   Click here for ways to listen to the show.
---
On your radio August 9—Eddy & Kim Lawrence
(Original live show from 2/17/19)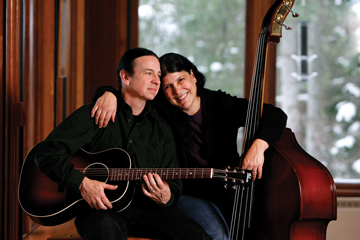 Growing up in Alabama, with deep roots in the red clay of then-rural Walker County, Eddy Lawrence was immersed in the old-time folk, country, blues, and bluegrass traditions that flourished there. He has called the area where he came from "the place where the Appalachians meet the Delta." He spent a decade in New York City before settling in the North Country of New York State in 1992.
Eddy first gained attention in New York City's thriving East Village music scene of the early 1980s. His first solo album, "Walker County", released in 1986, was an acoustic homage to his home state. For the next 15 years, Eddy worked the folk music circuit, playing coffeehouses, festivals, and clubs.
Shortly after the release of his album "Inside My Secret Pocket" in 2004, Eddy scaled back promotion of his own work in order to focus on producing recordings by Native American artists, several of which were released on his own Snowplow label. Two of the albums were nominated for Native American Music Awards (NAMMYs).
These days, he performs in concert with his wife, Kim, who accompanies him on upright bass. The duo has recently released a new all-acoustic CD called "My Second Wife's First Album". The recording is their first together and the ninth album of Eddy's original songs. With this album Eddy has reentered the world of the singer-songwriter, returning to the acoustic sounds that first brought attention to his music back in the 1980s.
---
On your radio August 16—Debra Cowan
(Original live show from 11/18/18)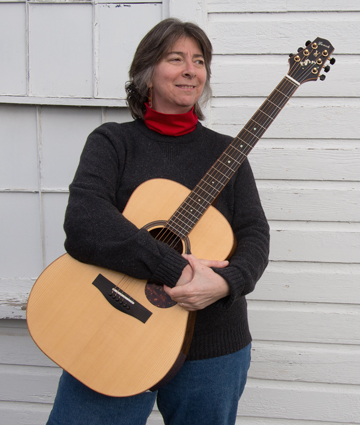 "Debra has a voice which beautifully combines Celtic and Appalachian sensibilities…deeply satisfying, lyrical and musically elegant." -Roseanne Cash
Following a life-long desire to sing and perform, Debra Cowan left her job as a California middle school math teacher in 1997 and went to live in Edinburgh, Scotland for six months. There she learned the art of unaccompanied singing and upon her return to the USA in 1998 began traveling all over New England performing at any open mike within 100 miles of her new home in Springfield, Massachusetts. Almost 20 years later, she is now a full-time performer who bridges the old and new with a refreshing stage presence. She can be seen in many venues, heard on both terrestrial and internet radio world-wide and will travel anywhere to sing. Her four recordings have been met with high praise and in June 2015, she was featured in the UK folk music magazine, Living Tradition. She tours extensively in the United Kingdom and in North America and can also be seen on stage with her good friend, singer and musician John Roberts. When Debra isn't touring internationally or busy with her activities as American Federation of Musicians (USA) Local 1000 Vice-President, she makes her home near Worcester, Massachusetts.
---
On your radio August 23—The Cadleys
(Original live show from 10/14/18)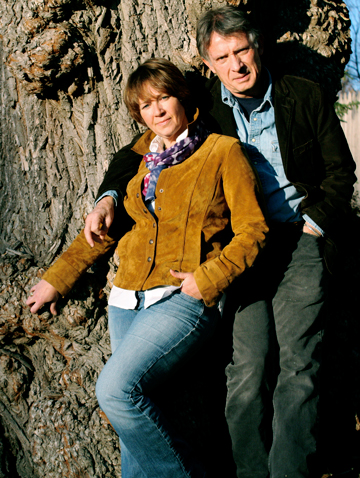 The Cadleys have each been involved with music in the Syracuse area for many years, John as a songwriter and member of area bluegrass bands, Cathy as a singer and church's music director. The two started playing as an acoustic duo, Cadley & Wenthen. After marrying in 2012, they've performed as The Cadleys, bringing together two wonderful instrumentalists and two beautifully blended voices to traditional covers and original songs.
At 13, John Cadley picked up the guitar and was drawn to the virtuoso picking of Lester Flatt and Earl Scruggs. After getting a master's degree in public communications he started work as an ad copywriter, eventually becoming associate creative director at Eric Mower and Associates, all the while continuing to play and write songs. He went on to join and form bluegrass bands, such as Cripple Creek and The Lost Boys. Cadley has often said that, "My writing is Bill Monroe meets Jackson Brown." One of his songs, "Time" with vocals by Lou Reid and harmonies by Vince Gill and Ricky Skaggs, reached #1 on national bluegrass charts.
Cathy began learning guitar at age 11 from her uncle Ed Hamell who had an international reputation as a singer/songwriter. Cathy became adept at classical, jazz and bluegrass flatpicking guitar styles as well as clawhammer banjo. She serves as the music director for Fayetteville's Immaculate Conception Church.
---
On your radio August 30—The Heather Pierson Trio
(Original live show from 11/4/18)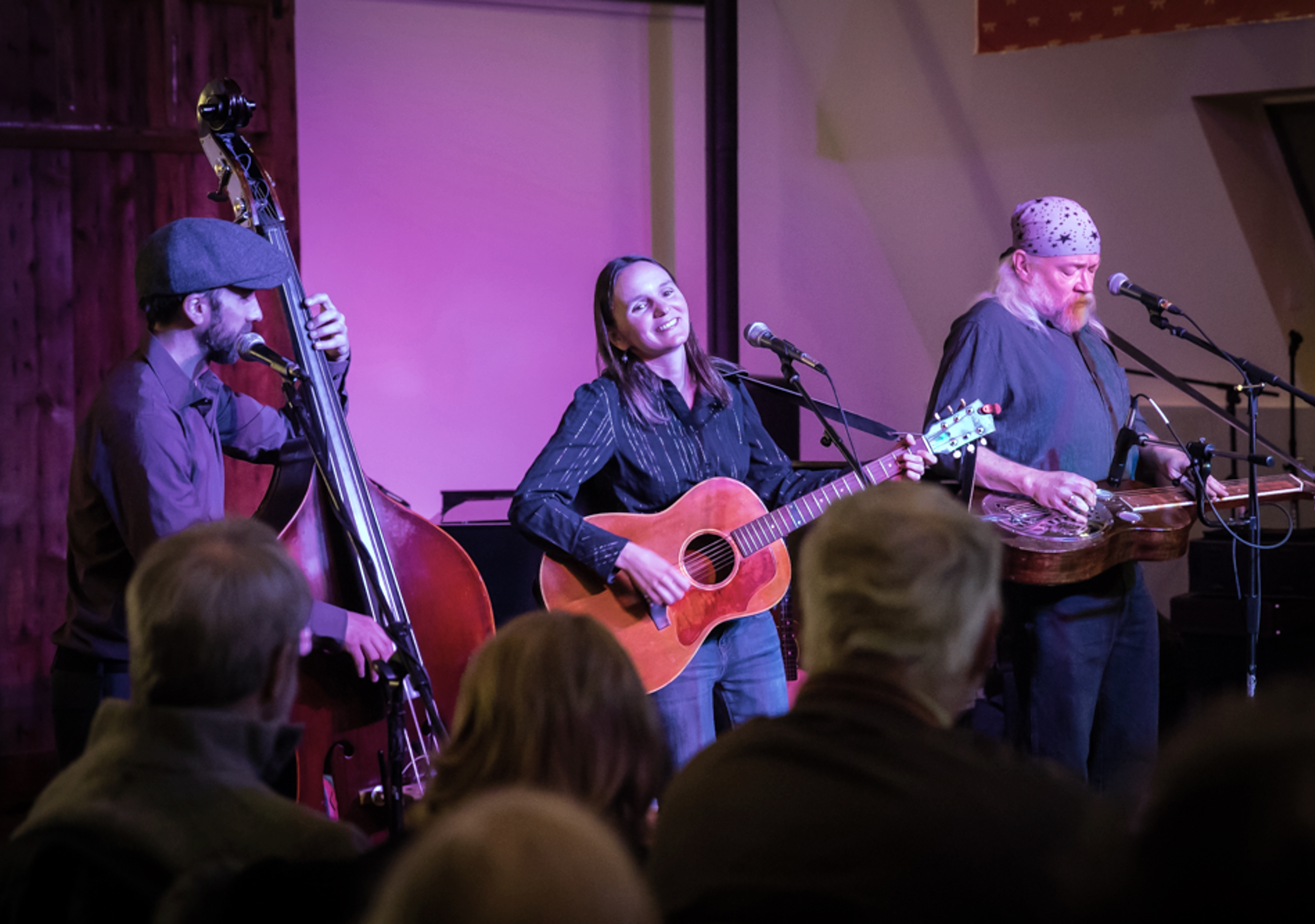 Orleans-style jazz and blues to rousing Americana and poignant folk narratives, her music moves seamlessly and effortlessly from one style to the next, and a growing catalog of wildly divergent CD releases reflects her boundless creativity. The Heather Pierson Acoustic Trio features Shawn Nadeau on upright bass, and Davy Sturtevant on, as Heather often puts it from stage, "everything else"—guitar, mandolin, dobro, fiddle, cornet.
Born to a Scottish émigré mother and Navy veteran machinist father, Heather began in life in the single-traffic-light town of Galena, Kansas. Her father was an avid clarinet player, and he passed the love of music onto his daughter. At the age of five, he taught her piano. "I'll never forget it," she recalls. "The very first time I played the piano – a real piano – I knew that this was exactly what I wanted to do, every moment that I had the chance to do it."
Originally hailing from Erie, Pennsylvania, Davy Sturtevant is a veteran touring artist, producer, engineer, songwriter, and performer who now makes his home in Lovell, Maine. Armed with a gorgeous tenor voice and a mighty arsenal of instruments, Davy is an engaging stage presence. New Hampshire native Shawn Nadeau brings nearly two decades of performing experience to the trio, informed by a wide spectrum of unique rhythmic and melodic sensibilities ranging from rockabilly to reggae to jazz.
---
On your radio September 6—Rick Shea
(Original live show from 10/1/17)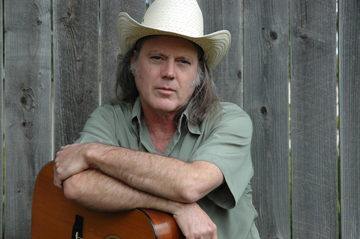 "A hauntingly nostalgic vocalist, imperative guitarist and literate, detail-rich songwriter, do yourself a favor."– Gary von Tersch, Sing Out
Rick Shea cut his teeth in the bars and honky-tonks of San Bernardino where he grew up. He's since gone on to build a solid career for himself as a solo artist, singer, guitarist and songwriter. Shea is equally at home with an acoustic guitar and a set of ballads and stories, or with his worn old Telecaster burning through a set of his own songs and a few honky-tonk standards. With nine critically acclaimed albums he's performed all over Southern California, the West Coast and across the country. His songs reflect the folk, country, rock and Mexican influences he grew up with.
As a songwriter Shea lets the songs find their own settings. "Starting out you might be hearing a song one way and then when its done realize it's about something else altogether." And on his songwriting influences Shea says, "When I was younger Merle Haggard cast a long shadow, but since then Dave Alvin, Jim Ringer and a lot of other music has found its way in." Rick's latest album Sweet Bernardine, his ninth, is a collection of his own stories and stories of California and beyond. From the train journey he took as a brokenhearted young man in "Mexicali Train" to the harrowing tale of his great grandfather's time in Civil war prisoner camps in "John Shea from Kenmare", Shea's songs resonate deeply.