Bound for Glory is rebroadcasting the best of Bound for Glory shows…
…until we can safely get back to presenting live performances.
Each week we will be featuring a recording of a previous live show or music from a selected performer. Is there something you would like to hear? Email Phil here!   Click here for ways to listen to the show.
---
On your radio May 9—Darryl Purpose
Originally broadcast 4/14/13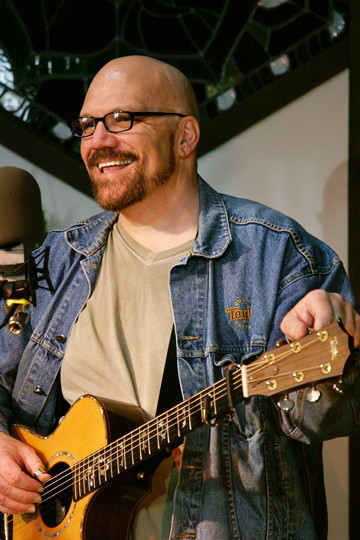 Darryl Purpose came back to making music, with a new energy and purpose, after a seven-year sabbatical in the Rocky Mountains ending in 2012. He's spent much of that time shepherding the release of "Singer-Songwriter Heaven: the Songs of Kevin Faherty," and captaining the Second Strings Project, which has delivered over 20,000 sets of guitar strings to those who need them around the world. Meantime, he was inducted into the Blackjack Hall of Fame.
You may not have realized it, but Darryl was once recognized as the world's top blackjack player. As a peace marcher, he crossed the U.S. over nine months, then continued on to Russia for an historic walk across the Russian heartland that culminated in a first-ever outdoor stadium rock concert, featuring Bonnie Raitt, Santana, James Taylor, and Darryl's band, Collective Vision. He has made his mark in the folk music world with his distinctive baritone voice, a smoothly proficient fingerstyle guitar technique, a sense of drama and storytelling in his music and lyrics, and a charismatic performance that captures coffeehouse and theater audiences alike.
2012 saw the release of Darryl's first CD of original material in ten years, "Next Time Around," produced by Billy Crockett for the Blue Rock Artists label. This show was first broadcast in 2013.
---
On your radio May 16—Arise and Go
Originally broadcast 11/10/19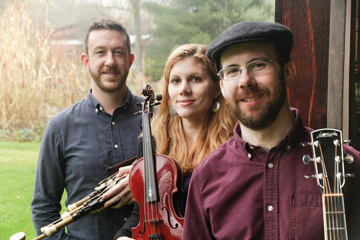 Arise & Go is an exciting Celtic trio that finds its roots in the dance music of Ireland, Scotland and Atlantic Canada. Noted for their "precision and energy", the band blends traditional melodies and instruments into fresh new arrangements. Based in Ithaca, New York, Ellie Goud, Michael Roddy, and Tim Ball bring their varied musical backgrounds together to produce a sound which is both grounded in tradition and uniquely fresh and driving.
Winners of the 2018 Best of Bound for Glory Award, Arise & Go has been featured in Irish Music Magazine, Roots Music Canada, and the Irish American News and praised for their "musical complexity and colour" that is also "authentically mindful of tradition." 2019 sees the release of their full-length album "Meeting Place".
From Quispamsis, New Brunswick, fiddler Ellie Goud grew up steeped in the Atlantic Canadian musical tradition. Her style combines Celtic and Acadian influences from Canada, Ireland and Scotland.
Piper Michael Roddy has spent over 20 years creating his unique combination of Scottish and Irish piping styles. Michael is an active teacher and has also premiered several of his own compositions and arrangements for pipes and orchestra.
Tim Ball (guitar, bouzouki, foot percussion) has been a staple of the contra dance and Irish music scenes in western New York for the better part of a decade. An exceptionally versatile musician and relentless collaborator, he performs throughout the Northeast with contra dance bands Tempest and Center Street, and Ithaca's Irish session band Traonach.
---
On your radio May 23—Jonathan Byrd & the Pickup Cowboys
Originally broadcast 11/22/15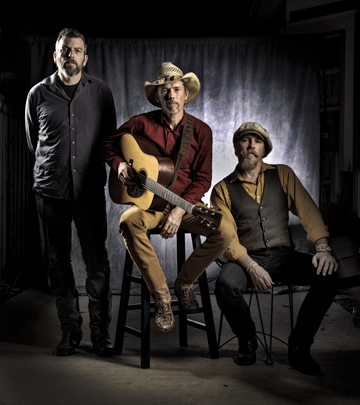 "So deeply rooted in tradition, yet growing in his own way."—Tom Paxton
"I thought I was listening to a young Doc Watson."—Jay Moulon, Southeast Magazine
Jonathan Byrd is "one of the top 50 songwriters of the last 50 years," says Rich Warren of WFMT in the Chicago Tribune. Scott Alarik of the Boston Globe says, "This rootsy North Carolinian may be the most buzzed-about new songwriter in folkdom. He displays John Prine's gift for stark little songs that tell big, complex stories, Guy Clark's lean melodicism, Lyle Lovett's wry mischief, and Bill Morrissey's knack for the revealing image."
Byrd grew up singing in the Southern Baptist church, where his father preached and his mother played piano. After four years in the Navy, he returned to home to play in rock bands. It was at an old-time fiddle festival in the mountains of southwest Virginia where his writing began to change. Assimilating the sounds of southern traditional music, Byrd wrote new songs in an ancient style. After 10 years as a full-time touring songwriter and 7 acclaimed albums, it seems this native of Cackalacky is getting the attention he deserves.
---
On your radio May 30—Davey O
Originally broadcast 4/16/17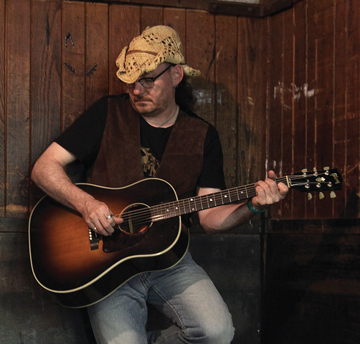 "A journalist's eye for detail and poet's ear for the well-turned observation."—Jeff Miers, Buffalo News
Armed with a steady, rhythmic pulse on his Gibson guitar, a battered straw cowboy hat, and a no apologies rust-belt work ethic, Buffalo, NY born and bred songwriter Davey O. is equal parts songwriter and storyteller. He has earned the respect of his peers for his dedication to the art of song craft. Davey crafts pure Americana that is not of social and political consciousness, but drawn from the well of experience and human emotion.
In 2012, Davey's album "Testing For Rust" spent 11 weeks in the Top 25 on the Roots Music Report in New York State. In 2014 his seven-song EP, "No Passengers", debuted as a Top 20 album on the Folk DJ Charts, and remained a Top 25 Contemporary Folk CD on the Roots Music Report for five months.
Davey is releasing his latest album, "A Bright Horizon Line" in 2017. He is joined on it by veteran folk artists Tracy Grammer (background vocals), and Pat Wictor (dobro), as well as up and coming artists Matt Nakoa (piano), and Eric Lee (mandolin, fiddle).
---
On your radio June 6—Larry Kaplan
Originally broadcast 10/27/19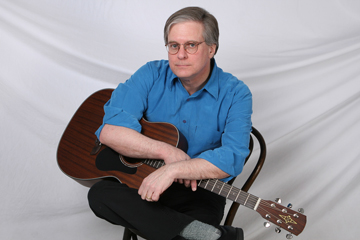 "Larry's themes address topics of concern to all of us who care about those with whom we share this planet. One of the best song-makers in the folk song revival."—Sandy Paton, Folk Legacy Records
Larry Kaplan has been described as a keen and sympathetic observer of the human condition. He cares deeply and writes eloquently about the concerns of others, reflecting his profound respect for the farmers, fishermen, and the other hard working people of New England.
Originally from Boston, Larry spent many of his formative years in Maine. He helped restore, then crewed on the Schooner Bowdoin up there, and worked his way through college and graduate school. He spent some time as a night clerk in a New Orleans hotel and met his wife, Nora, one evening when he was singing in a Providence coffeehouse while doing further graduate work at Brown.
Larry has released four CDs through Folk Legacy Records, "Worth All The Telling," "Songs For An August Moon," "Furthermore," and his newest, "True Enough". No Depression, the Folk Roots Magazine, has called Larry's music "some of the most finely crafted songs in folk music today." He is the recipient of multiple best folk CDs of the year by leading folk radio programs across the US and Europe, and tours regularly in Europe as well as across the US.
Of his album, "Furthermore…", reviewer Larry Looney said, "There is history and humanity and depth here just waiting to be heard….I think you'll find yourself returning to it again and again."
---
On your radio June 13—The Flywheels
Originally broadcast 9/1/19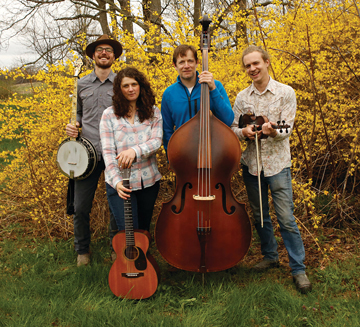 The Flywheels are an old timey band. Except when they're not. The Flywheels are a traditional bluegrass band. Except when they're not. Cap Cooke (banjo and vocals) Liz Pickard (guitar and vocals), Sam Schmidt (fiddle and vocals), Jason Zorn (bass) make up The Flywheels.
Cap Cooke got his first banjo from his parents for his 13th birthday and found a liking for old-style bluegrass and old-time music. He has played with Barham Lashley's Hilltoppers, Aaron Lipp's Mount Pleasant Stringband, Uncle Joe and the Rosebud Ramblers, and other bands.
Cap met Sam Schmidt, when he first filled in with the Hilltoppers. They learned a lot playing together in the Hilltoppers, and had an idea to start their own band once that band disbanded. Cap met Liz Pickard at the Grassroots Festival, and was soon blown away hearing her old-school guitar playing and singing. They became friends, and Cap soon invited her to join their new band.
For the better part of a year, the three rehearsed numerous times and played a few gigs. They were also on the lookout for a bass player. Cap knew Jason Zorn played the bass as well as old-time fiddle, and after Jason played with them a on a couple dates became the fourth member of the band.
Their first digital album, The Back Porch Recordings, is available on their website.
---
On your radio May 20—Rod MacDonald
Originally broadcast 2/17/13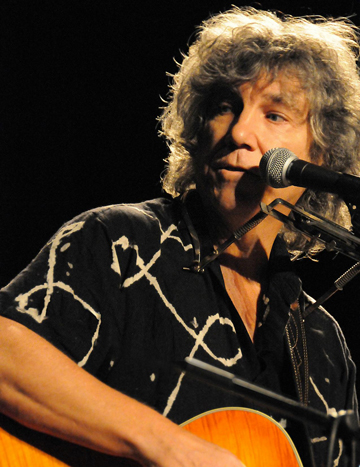 "A fine songwriter who never lets his message get in the way of making good music."—The Boston Globe
Village Voice ascribes "politics, passion, and a sense of humor" to this Connecticut native, who began his singing career in the Greenwich Village music scene. Accompanying himself on guitar and harmonica, Rod sings a range of songs in traditional and contemporary styles. Some of his songs have been recorded by other artists; Garnet Rogers has put MacDonald's "American Jerusalem" and "Dear Grandfather" on his albums.
Rod was the closing act of the 1998 South Florida Folk Festival. He's also made the rounds of such festivals as the Philadelphia, Winnipeg, Kerrville, and Florida Folklife, and has toured Germany, Sweden, Austria, Switzerland, Italy, Canada, the UK, and the Czech Republic.
He's released eleven solo albums over a 35-year performing career. 2009's "After the War," was the first release on his own Blue Flute Music label since the mid '70s, and he followed it up with the 2011 release of "Songs of Freedom," a collection of political commentary.
---