Bound for Glory is rebroadcasting the best of Bound for Glory shows…
…until we can safely get back to presenting live performances.
Each week we will be featuring a recording of a previous live show or music from a selected performer. Is there something you would like to hear? Email Phil here!   Click here for ways to listen to the show.
---
On your radio August 14—
Small Potatoes
Originally broadcast 4/4/19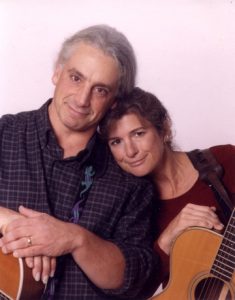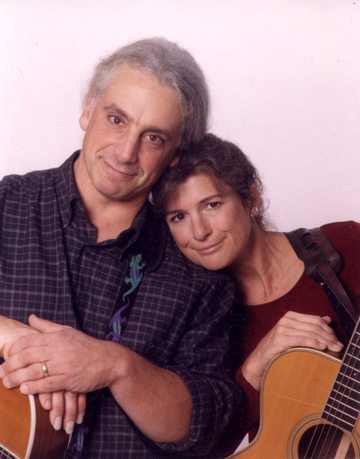 "Jacquie Manning and Rich Prezioso combine cleverly witty with powerfully poignant songs, along with well-chosen covers to present an unusually entertaining and involving repertoire engagingly delivered. Prezioso's song "1000 Candles, 1000 Cranes" is one of the most outstanding songs of the past 50 years."—Rich Warren, The Midnight Special – WFMT Radio, Chicago, IL
Jacquie grew up near Chicago, studied flute, taught herself guitar, and began in the mid-'70s as an independent folksinger, with forays into country, rock 'n' roll, girl bands and Celtic music, developing an easy affinity with audiences from Girl Scouts to Renaissance Fairs. Meanwhile, in Fort Lee, Rich learned his chops from the Beatles and Creedence, studying classical guitar while at Hampshire College in Amherst, playing in rock and blues bands. A job writing commercial music took him to Chicago, where his search for a female singer for a commission led friends to recommend Jacquie. And the rest is folk music history.
When this Chicago-based duo decided to hit the road to be full-time troubadours as Small Potatoes, they took a risk. A million and a half miles, thousands of shows, and at least six Dodge Caravans later, they've continued to be audience favorites on the national folk circuit. Their self-described "eclecto-maniacal" mix of covers and originals, arrived at through "careful indecision" is unique. Their "Celtic to Cowboy" repertory is solidly their own, staking out a contemporary "folk" music as authentic as America's big tent. They won the Best of Bound for Glory's award in 2000 (their "Live" CD is taken from BFG performances) and continue to engage audiences with their stage presence, their droll, savvy takes on life, and poking fun at themselves—all while performing with stunning musicianship.
---
On your radio August 21—Magpie
Originally broadcast 8/26/07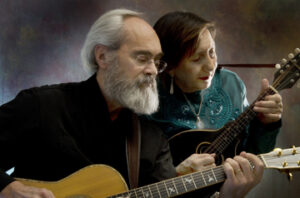 "They demonstrated the qualities that have made their records and folk festival appearances much admired all over North America: the breadth of their musical tastes, the depth of their commitment to humanist ideals, the precision of their chamber-folk arrangements and, above all, the graceful sympathy of their vocal harmonies—refined over the years to an effortless rapport."—Geoffrey Himes, The Washington Post
Magpie, made up of Terry Leonino and Greg Artzner, began to play music together in Kent, Ohio in September of 1973. Terry, then a senior at Kent State, brings her versatile voice to the duo, along with a talent for harmonica, mandolin, fretted dulcimer, and rhythm guitar. She is a gifted singer of jazz and blues in the tradition of Connie Boswell and Billie Holiday, but is equally comfortable with the subtle beauty of traditional folk and contemporary songs. Greg is an outstanding guitarist whose fingerstyle approach owes a lot to his heroes, guitar legends such as Reverend Gary Davis, Big Bill Broonzy, Nick Lucas, Phil Ochs, and Rolly Brown. His high, baritone voice offers a range equal to that of his guitar. Together, the two have developed an eclectic repertoire that's a virtual musical rainbow, from traditional, classic country, swing, and blues of the 1920s and '30s, to contemporary songs written by themselves and others.
---
On your radio August 28—Dan Frechette
Originally broadcast 1/28/07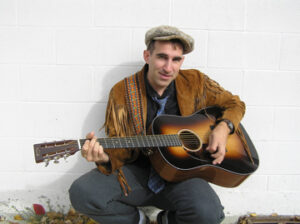 "Winnipeg's next rising start to write for is Dan Frechette, one of the most talented singer-songwriters I've heard in a long time. He has also tailored the arrangements so that the songs get just what they need, a solo arrangement on some songs, and a revolving cast of various backup musicians on others."—Mike Regenstreif, Sing Out magazine
A musical force who's busked for a living on street corners and in subways all over North America and Europe, Dan Frechette is a Winnipeg-based singer-songwriter who's written about 1,400 songs. He grew up in Manitoba, listening to all-oldies radio and trying to write songs in a Beatles style. When he discovered Bob Dylan, Neil Young, and Bruce Springsteen, he began a lifelong study of singer-songwriters that has led him through every possible musical genre, from bluegrass to punk to old-time country to jazz and back again. His 2005 solo CD, "Lucky Day," is the culmination of several years of focus on his vision for his own songs, but is still a distillation of everything he's learned since he was a kid in the early '80s, listening to his uncle's scratchy Johnny Horton and Chubby Checker LPs.
---