Bound for Glory is rebroadcasting the best of Bound for Glory shows…
…until we can safely get back to presenting live performances.
Each week we will be featuring a recording of a previous live show or music from a selected performer. Is there something you would like to hear? Email Phil here!   Click here for ways to listen to the show.
---
On your radio November 27—Steve Gillette & Cindy Mangsen
Originally broadcast 5/7/17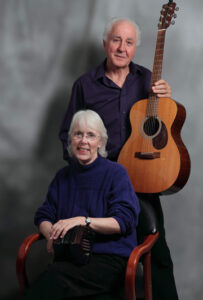 "Steve and Cindy have hit on a combination that consistently produces high quality recordings and entertaining stage shows. Their voices and their styles meld seamlessly with a gentleness and a maturity that is unmatched in the world of folk duos."—Matt Watroba, Sing Out Magazine
Steve Gillette and Cindy Mangsen have been performing together for 25 years, bringing together their love of traditional music and their wealth of original songs. Their live performances are known for rich harmony, compelling songs and a good dose of humor. Their six duet albums have appeared on many folk Top Ten lists, from the WFMT Midnight Special (Chicago) to The Boston Globe.
Steve Gillette has been writing songs since the 1960's. Since Ian and Sylvia first recorded "Darcy Farrow" in 1965, Steve's songs have been covered by John Denver, Garth Brooks, Linda Ronstadt, Tammy Wynette, Waylon Jennings, Josh Ritter, and many others. Steve has conducted songwriting workshops all over the US and Canada, and is author of the book Songwriting and the Creative Process, a standard text in songwriting groups.
Accompanying herself on guitar, banjo, concertina, or mountain dulcimer, Cindy is known for her compelling interpretations of traditional ballads, as well as for her own writing and her wonderful ear for harmony. Cindy has led singing and ballad workshops at the Augusta Heritage Center in West Virginia and The Woods in Ontario, Canada.
---
On your radio December 4—Mark Stuart
Originally broadcast 9/4/16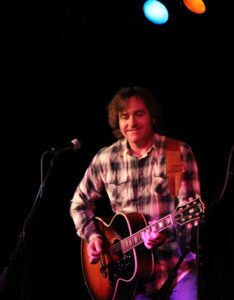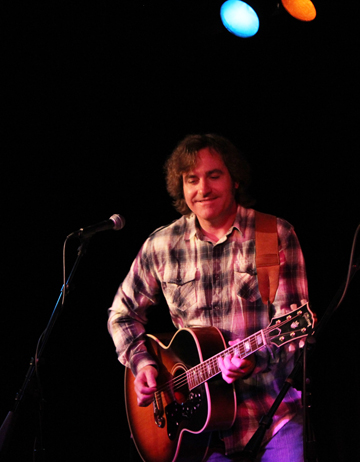 After many years on the Americana/Folk circuit, Stuart has cultivated a very rounded performance. His show consists of storytelling, flashy guitar "chops", and songs, including those that he has penned and recorded, that seem to draw from his rock, blues, country, and folk music roots. Mostly, this artist from Tennessee has toured solo or in a notable duo with his wife ("Stacey Earle & Mark Stuart"). There were stints along the way as a sideman, though (Steve Forbert, Freddy Fender, Steve Earle, Joan Baez). If placed on the bill with a contemporary artist he is usually asked to play guitar on their portion of the show. Just ask Jason Ringenberg, Ray Wylie Hubbard, or Jimmy LaFave.
Mark Stuart went to the finest of music schools, and learned listening to such greats as Chet Atkins, Merle Travis, and John Fogerty, and found himself playing in honky tonks and beer joints by age 15 in his dad's band. He spent some time with the Dukes and has also recorded a solo record. One can find Mark Stuart on any given night giving it his all up on stage in all types of venues. He also teaches guitar clinics, leads songwriting workshops, and plays in recording sessions. As co-owner of Gearle Records he has produced or co-produced many albums. Stuart's career has spanned several decades and has taken him all over the USA, Canada, Europe, and the United Kingdom.
---
On your radio December 11—
John Kirk & Trish Miller
Originally broadcast 9/13/15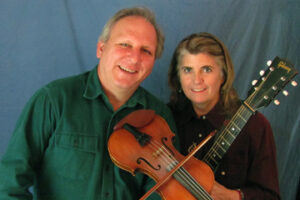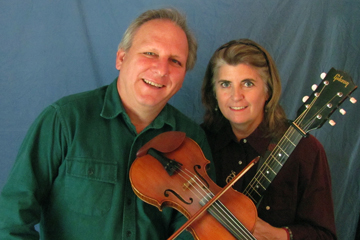 Since 1988, John Kirk and Trish Miller have toured as a duo, from the Grand Canyon to Barbados, from Carnegie Hall in New York to the Academy of Culture in St. Petersburg, Russia, playing music and singing in concerts, festivals, and schools, and calling contra and square dances. Many of their music selections are rooted in the local lore of the northeast woodlands. A love of traditional tunes and witty songs are presented with brilliant arrangements using fiddle, guitar, banjo, mandolin and warm clear vocals. Humorous storytelling, original and poetic pieces make for delightful entertainment for all ages.
John Kirk's voice, sense of humor and versatile instrumental skills, has earned him widespread recognition in traditional music circles. On fiddle, mandolin, guitar, banjo, keyboard and ukulele, he demonstrates vast knowledge of musical traditions. He is on the music faculty at Bennington College, Vermont, and Skidmore College in Saratoga Springs, NY. In addition to the group, Quickstep, John tours with the Susquehanna String Band. Trish Miller plays guitar, banjo, dances and sings traditional and original music.  She teaches banjo at Skidmore College in Saratoga Springs, NY, and performs with Quickstep.
---
On your radio December 18—
Winter Solstice show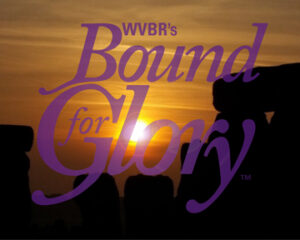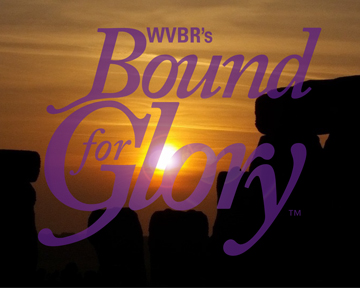 The longest night of the year. Winter solstice is probably our oldest holiday, going back much longer than we have had writing. It's the holiday from which all the others grew.
It's good to celebrate. It brings us together as a community, more than as a family. And there are a whole lot of songs. Some are about the holiday itself, some are about coming together every year at this special time. And some just seem like a good idea.
There's no ritual attached to Winter Solstice, no way of celebrating correctly. These songs come at the shortest days from many directions, and we can find our own places as we celebrate together.
---
On your radio December 25—
Christmas show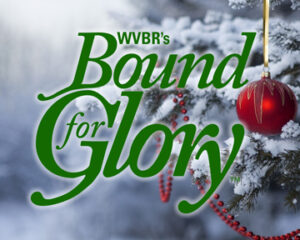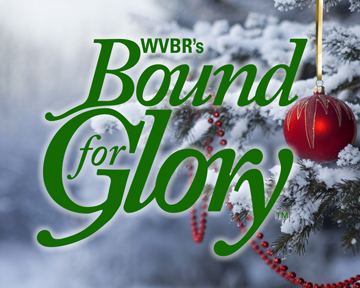 Join us for Christmas songs that you won't hear in the shopping malls.
Some people celebrate Christmas as a religious holiday, some as a gathering of families, some for incredible food. And there are songs to help us all along. Christmas is very powerful, very central to a lot of people, and for hundreds of years we have had songs to help us gather.
We have famous Christmas carols and twentieth century pop songs which you know. But in addition, we have less well-known older songs, and a whole lot of songs written by newer folksingers, each taking a different view of the holiday. Most are serious, but some are just plain funny. Some will make us think.
---
On your radio January 1—
New Year's show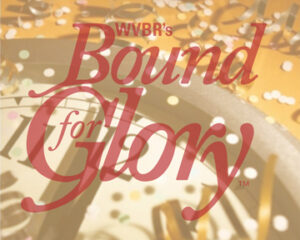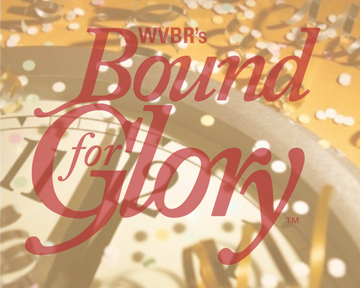 Well, you all know Auld Lang Syne. And it won't really surprise you that Bound for Glory will play a couple of versions of this, with different tunes.
But there's so much more for New Year's. There are songs to make you celebrate, songs to make you laugh, songs to make you think. Some of them are old songs, many of them are new. Some celebrate the change in the calendar, some the changes in our lives. Some will surprise you.
---
On your radio January 8—
Twelfth Night show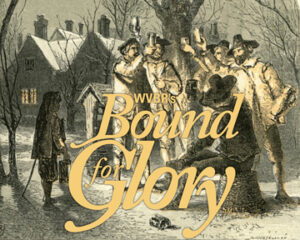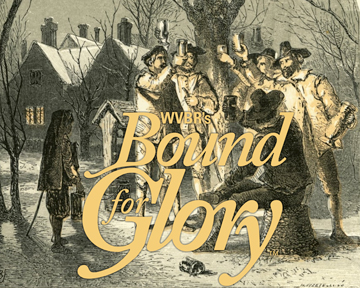 It's the end of the holiday season, and we all have to face January in Ithaca. But there are Twelve Days of Christmas, and they cover a lot of territory.
We have songs, many of them ancient, for celebration of this particular holiday. Plus, we have wassail songs, for going door to door, begging for bread and beer, as we're sure that you all do every year. Don't you?
There are songs that count to twelve. Most of us know the Twelve Days of Christmas. But it's not alone. We'll count to twelve in many different ways.
And there are songs that just seem appropriate for the ending of this season.
---