Bound for Glory is rebroadcasting the best of Bound for Glory shows…
…until we can safely get back to presenting live performances.
Each week we will be featuring a recording of a previous live show or music from a selected performer. Is there something you would like to hear? Email Phil here!   Click here for ways to listen to the show.
---
On your radio January 17—Bobby Henrie & Aaron Lipp
Originally broadcast 9/23/18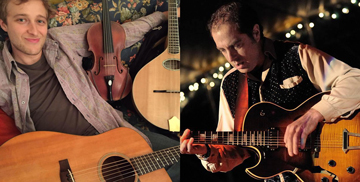 Bobby Henrie is a performer of exceptional ability and range. His early days as an astounding child prodigy shaped his talent and love of eclecticism which includes most traditional music from old-time country to rockabilly and swing. As a guitarist with an unorthodox (flipped, lefty) technique, he can rip through a heady brew of raw roots rock, blistering flatpicking, smoking blues or smooth jazz. Bobby holds a degree in Jazz Guitar from SUNY Geneseo and is adept at writing material with a classic yet contemporary flair. In addition to the playing in the group Bobby Henrie & the Goners, Bobby plays in the bluegrass bands Cornerstone and Paris Texas. He is a founding member of the Gypsy Jazz band–The Djangoners–and has been performing with his four brothers in the Henrie Brothers StringBand since 1974.
Aaron Lipp is from Naples, NY and has been a professional musician since age 16. Throughout a multitude of different genre adventures and instrumentation, he has found home in traditional Appalachian old-time music, classic bluegrass sounds, and the blues–all fused into a new sound of the next generation.
Aaron grew up in a musical family and began playing piano at age four. In 2006, Aaron joined Giant Panda Guerilla Dub Squad, a local Rochester Original Roots Reggae and Dub band. He played a multitude of instruments for the group including Hammond B3 Organ, slide guitar, harmonica, lap steel, guitar, and banjo. While Giant Panda logged nearly half a million miles touring, Aaron was diving heavily into Old Time and Bluegrass music, learning clawhammer banjo, bottleneck slide guitar, blues harp, old time fiddle, and upright bass.
Since 2013, Aaron has come off the road to pursue varied musical projects and songwriting. He can be found playing regionally with his group The Cabin Killers and a host of other bands.
---
On your radio January 24—Kora Feder
Originally broadcast 7/21/19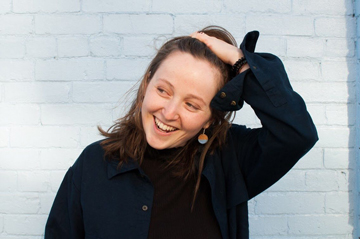 Kora Feder is a rising voice in the new generation of folk songwriters up to the task of confronting the times we live in. "The most talented new singer-songwriter I've heard in the past decade," says Rich Warren, host of Chicago's Folkstage.  The year 2019 brings the release of her first full length album, "In Sevens".  Released in April, the record has already drawn comparison to Pete Seeger (Roots Music Report) and been called "stunningly good" (Ear to the Ground).
Feder holds a degree in Global Studies with a focus on songwriting as empowerment in indigenous and migrant communities. She spent two years wielding a backpack and guitar in places like China, India, Thailand and Italy. While attending lectures, writing essays and leading songwriting workshops, she composed a collection of songs that reflect stories encountered along the way. In 2017 she graduated and recorded her debut solo EP, "Marigolds". The set of 5 original songs was met with glowing reviews, described as "a melodic salutation to all that is neglected and forgotten by a world at the mercy of Father Time; the carefully conceived work of a thoroughly engaging and exceptionally capable storyteller" (A Lonely Ghost Burning, UK).
Feder grew up in the Northern California music scene playing clawhammer banjo and mandolin with parents Rita Hosking and Sean Feder. Performing both as a solo singer-songwriter and supporting instrumentalist since the age of 15, Feder has appeared on stages across the world. She currently calls Brooklyn, New York, home.
---
On your radio January 31—Mike Agranoff
Originally broadcast 5/5/19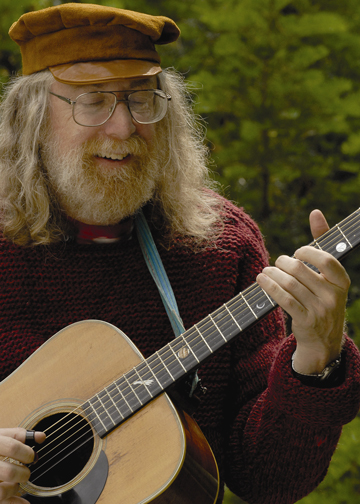 If you've been around the folk scene, you couldn't miss seeing Mike. Tall, ginger beard, and always around where the music is. He's been on the scene for many many years, listening to the fine details of what makes this genre of music so special to the soul, so able to make us laugh and cry and think. And lucky for us all, he got serious about having fun at it.
Equally at home in the contemporary and traditional camps of the Folk world, he is a fine musician and storyteller. His prime instrument is the guitar, upon which he shines with intricate finger-style arrangements of anything from Tin Pan Alley tunes of the '20s to fiddle tunes to his own music. He also plays concertina, piano, banjo, or sings a cappella. He can be uproariously funny, contemplative, and powerfully emotional in the space of a few minutes. Not so much a singer-songwriter as a "singer-songfinder", Mike takes great delight in discovering the little-known hidden gems, polishing them with his own distinctive style, and bringing them to the light of day where they sparkle. The man will capture your attention, and then your heart.
Not only a performer, Mike is involved in presenting folk music as well. He is one of the prime movers of The Folk Project, New Jersey's oldest and strongest folk music organization. For over two decades he has been chairman of that organization's Minstrel Coffeehouse, one of the longest-lived folk venues in the country.
---
On your radio February 7—Hoot and Holler
Originally broadcast 7/14/19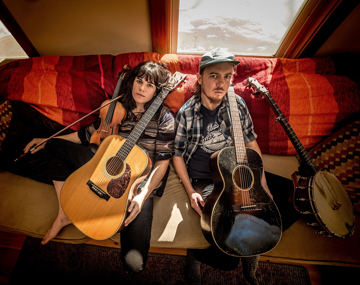 Brought together by a mutual love for American folk music, Amy Alvey (fiddle, guitar) and Mark Kilianski (guitar, banjo) have been entertaining audiences all over the U.S. with their tight duo sound since 2013. Based now in Asheville, NC, they specialize in the soulful grit of old time Appalachian mountain music, with their original songs blending seamlessly alongside their traditional repertoire. Both are equally inspired by mountain musicians like Roscoe Holcomb and Ola Belle Reed as they are to revered songsmiths like Gillian Welch and Townes Van Zandt. Instrument swapping is common during a performance between two guitars, banjo and fiddle, and fiddle and guitar. In 2015, urged by the rising cost of living in Boston, they decided to hit the road full time in a high-top camper van named "Irene" and have toured all over the country. With Asheville as their home base, they still travel most of the year in the van and play concert halls and festivals like Old Tone Music Festival, Watermelon Park Bluegrass Festival, and the Blackpot Festival in Lafayette, Louisiana
"I had only ever heard Amy and Mark play fiddle tunes, so I knew they had great instrumental and vocal skills. I'm the kind of guy that tends to listen only to traditional music, so I wasn't sure what to expect when I got a copy of their new CD ["Reasons To Run"]. Surprise! I was delighted to discover that I really liked their original songs, too. Everything — the instrumentals, vocals, songwriting, arrangements, and quality of recording — is just wonderful." — Brad Leftwich, Hogwire Stringband
---
On your radio February 14—Phil Shapiro & Carrie Shore
Originally broadcast 1/31/16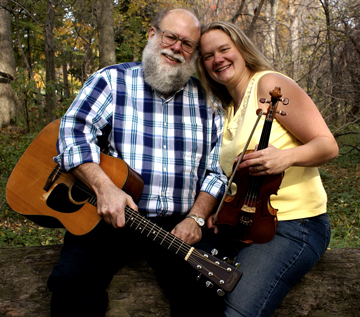 Phil Shapiro is a folksinger and guitarist, and Carrie Shore is a fiddle player, and a fine singer and harmonizer. Together they offer an unusual and delightful program of American folk music, old and new. No, they're not singer-songwriters. They're not soft rock contemporary acoustic performers. No, they're not grinding a political ax. Phil Shapiro & Carrie Shore are American folk musicians, and proud of it. Phil and Carrie choose fascinating, energetic songs from the last couple of hundred years of American traditional folk song, and add newer songs written squarely in the folk tradition.
Carrie has a super repertoire of fiddle tunes, good to dance to, perhaps to waltz to, that she skillfully interweaves between and within the songs. She¹s a classically trained violinist who is having a great deal of fun playing traditional tunes, and bluesy and slinky improvisations.
Phil Shapiro has been entertaining folk audiences throughout New York State–and beyond–for over 40 years. He is a fine finger-style guitarist; creative and lively, good at getting his guitar to "talk", to be part of the song and he story. He is, however, best known as the host of WVBR's Bound for Glory radio show, North America's longest-running live folk concert broadcast.
---