Bound for Glory is rebroadcasting the best of Bound for Glory shows…
…until we can safely get back to presenting live performances.
Each week we will be featuring a recording of a previous live show or music from a selected performer. Is there something you would like to hear? Email Phil here! Click here for ways to listen to the show.
---
On your radio November 26—
Mark Stuart
Originally broadcast 9/4/16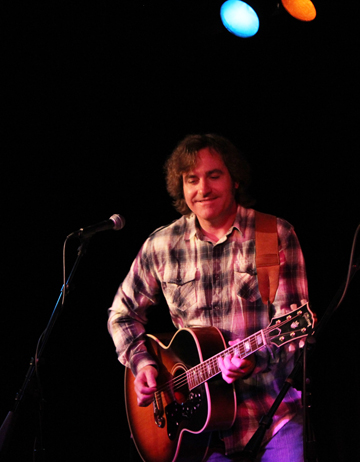 After many years on the Americana/Folk circuit, Stuart has cultivated a very rounded performance. His show consists of storytelling, flashy guitar "chops", and songs, including those that he has penned and recorded, that seem to draw from his rock, blues, country, and folk music roots. Mostly, this artist from Tennessee has toured solo or in a notable duo with his wife ("Stacey Earle & Mark Stuart"). There were stints along the way as a sideman, though (Steve Forbert, Freddy Fender, Steve Earle, Joan Baez). If placed on the bill with a contemporary artist he is usually asked to play guitar on their portion of the show. Just ask Jason Ringenberg, Ray Wylie Hubbard, or Jimmy LaFave.
Mark Stuart went to the finest of music schools, and learned listening to such greats as Chet Atkins, Merle Travis, and John Fogerty, and found himself playing in honky tonks and beer joints by age 15 in his dad's band. He spent some time with the Dukes and has also recorded a solo record. One can find Mark Stuart on any given night giving it his all up on stage in all types of venues. He also teaches guitar clinics, leads songwriting workshops, and plays in recording sessions. As co-owner of Gearle Records he has produced or co-produced many albums. Stuart's career has spanned several decades and has taken him all over the USA, Canada, Europe, and the United Kingdom.
We'll include some Thanksgiving music tonight, Including Alice's Restaurant.
---
On your radio December 3—Anne Hills
Originally broadcast 5/13/18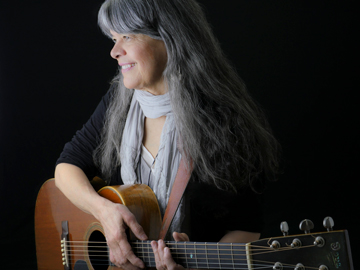 "Anne Hills is such an exquisite singer that it's understandable that people might be swept up in the pure beauty of her voice and thereby overlook her writing. That would be a mistake. For me, Anne's writing, in songs like 'Follow That Road' and many others, is as direct, melodic and deep as any work being done today. She is quite simply one of my absolute favorite songwriters."–Tom Paxton
Anne Hills is one of the most beloved voices of the contemporary folk music scene, receiving awards and recognition for her live performances, her unique solo and collaborative recording projects, and her overall artistry and benefit work. Her song "Follow That Road" was the title cut of the Martha's Vineyard Songwriter Retreat and has been a certified folk classic since the late 1990s. Whether she is singing her own songs, the words of six-year-old Opal Whiteley, or her song settings of the Hoosier poet James Whitcomb Riley; accompanied with her guitar, banjo, or simply a Tibetan bell, she puts her whole heart and soul into the moment. She tours extensively, winning over audiences with her warm, lively and humorous performances. The AllMusic Guide says, "A stunning soprano tone has made Anne Hills one of contemporary music's premiere vocalists … Her knack for writing heartfelt songs [has] brought her to the upper echelon of her craft."
---
On your radio December 10—Ernest Troost
Originally broadcast 11/15/17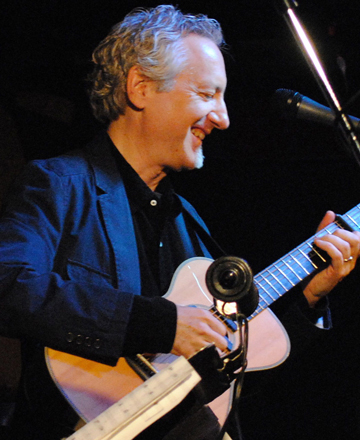 "There's not a better folksinger out there than Troost—he writes great songs with clever lyrics, plenty of hooks and he's an astute guitar player—what else is there? Just this—Troost has a swell voice as well." — Bill Locey, Rock'n' Roll Call, Ventura County Star
Ernest Troost is an Emmy-winning film and television composer as well as a recipient of the prestigious Kerrville New Folk award for his songwriting. He also composed and produced two award-winning albums of songs for Judy Collins using the words of Emily Dickinson, Robert Browning, Gertrude Stein, and others. Los Angeles-based Troost's scores for films include the cult classic Tremors and HBO's award-winning Lesson Before Dying.
Troost says, "I can remember as a kid my father reading aloud Coleridge's "Rime of the Ancient Mariner" and Poe's "Raven" to the family. I was too young to really appreciate those poems, but I think their musicality and dark romantic nature had a powerful effect on me. It's storytelling that really excites me. I call my songwriting style cinematic folk–I try to create a vivid world of images and music that envelops the listener."
We'll include some Hanukkah music in tonight's broadcast.
---
On your radio December 17—
Winter Solstice show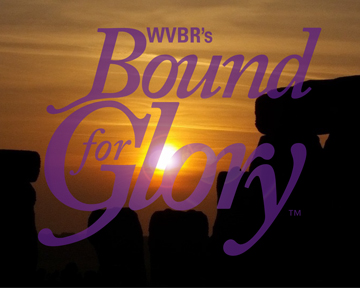 The longest night of the year. Winter solstice is probably our oldest holiday, going back much longer than we have had writing. It's the holiday from which all the others grew.
It's good to celebrate. It brings us together as a community, more than as a family. And there are a whole lot of songs. Some are about the holiday itself, some are about coming together every year at this special time. And some just seem like a good idea.
There's no ritual attached to Winter Solstice, no way of celebrating correctly. These songs come at the shortest days from many directions, and we can find our own places as we celebrate together.
---
On your radio December 24—
Christmas show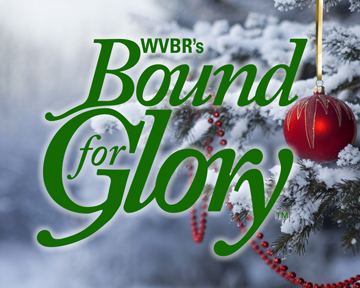 Join us for Christmas songs that you won't hear in the shopping malls.
Some people celebrate Christmas as a religious holiday, some as a gathering of families, some for incredible food. And there are songs to help us all along. Christmas is very powerful, very central to a lot of people, and for hundreds of years we have had songs to help us gather.
We have famous Christmas carols and twentieth century pop songs which you know. But in addition, we have less well-known older songs, and a whole lot of songs written by newer folksingers, each taking a different view of the holiday. Most are serious, but some are just plain funny. Some will make us think.
---
On your radio December 31—
New Year's show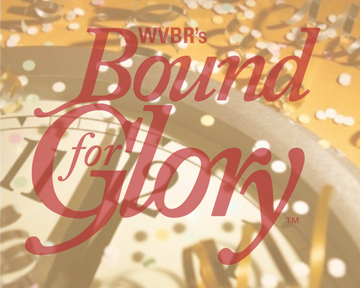 Well, you all know Auld Lang Syne. And it won't really surprise you that Bound for Glory will play a couple of versions of this, with different tunes.
But there's so much more for New Year's. There are songs to make you celebrate, songs to make you laugh, songs to make you think. Some of them are old songs, many of them are new. Some celebrate the change in the calendar, some the changes in our lives. Some will surprise you.
---
On your radio January 7, 2024—
Twelfth Night show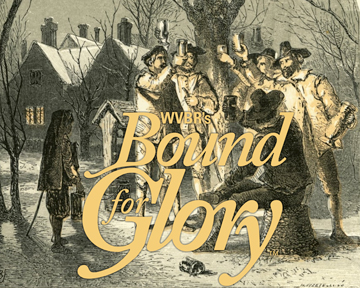 It's the end of the holiday season, and we all have to face January in Ithaca. But there are Twelve Days of Christmas, and they cover a lot of territory.
We have songs, many of them ancient, for celebration of this particular holiday. Plus, we have wassail songs, for going door to door, begging for bread and beer, as we're sure that you all do every year. Don't you?
There are songs that count to twelve. Most of us know the Twelve Days of Christmas. But it's not alone. We'll count to twelve in many different ways.
And there are songs that just seem appropriate for the ending of this season.
---
On your radio January 14, 2024—
Alfie Smith & Nicole Christian
Originally broadcast 3/18/18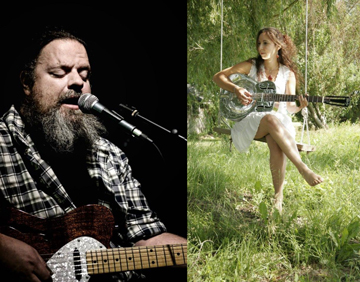 Alfie Smith and Nicole Christian are old-style slide guitarists, multi-instrumentalists and blues duo. Featuring Alfie's belting baritone vocals mixed with Nicole's sass and jazz flute, they bring you blues, roots and originals in a way you have never seen before.
Alfie is a prolific songwriter who has recorded 6 albums over his 20 year career. Known best for his resophonic guitars, brazen slide licks and uncompromising vocals, Alfie is endorsed by several luthiers including Goodman Guitars (who have recently named a guitar model after him) and Goldtone Banjos. He has been nominated for a dozen Hamilton music awards including Best including Male Vocalist and Best Guitarist, and has represented Toronto in the Memphis International Blues Challenge.
Nicole is a little roots, a little country and a whole lot bottle-neck blues. A multi-instrumentalist who specializes in flute, piano and resophonic guitar, Nicole released two solo albums before heading to the studio to record her most recent, Run Rabbit Run, which was voted The Best Debut Roots and Blues Album of 2010. In 2011 Nicole was selected as a finalist for the Toronto Blues Society's Talent Search and was nominated for two Hamilton Music Awards, Best Female Vocalist and Best Blues Album. She appeared on an episode of Toronto Talent and won a Hamilton Arts Award for Performance in 2012. Nicole performs regularly throughout Southern Ontario, and whether solo or as a duo with Alfie Smith she's sure to get your feet tapping.
Alfie and Nicole released their first duo recording, "Come On In My Kitchen", in 2014.
---