November 3—Naomi Sommers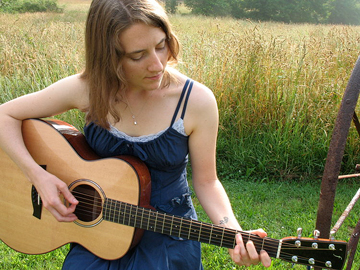 Naomi Sommers is an Ithaca, NY-based singer-songwriter, guitar-, banjo-, mandolin- and flute-player. Naomi performs solo, with her family (as the Sommers Rosenthal Family Band), and a number of other groups, and has recorded and performed professionally since childhood. Over the years she has sung and played flute, banjo, and guitar on more than 20 records released on her father Phil's independent American Melody label, and has recorded three albums under her own name, as well as one with old-time country slow-grass duo Gray Sky Girls.
Naomi's most recent album, "Gentle As The Sun", was recorded in Nashville, produced by the acclaimed musician/producer Jim Rooney (John Prine, Iris Dement, Nanci Griffith, Bonnie Raitt). Jim's enthusiasm over Naomi's songs and her voice prompted him to end a hiatus from the music business to make this record. The album was engineered by David Fergusson (Johnny Cash/Rick Rubin) and features a backup band of some of Nashville's finest musicians. Naomi's trusted family and friends traveled from New England to play on the record as well. She was thrilled to present the resulting collection of songs, the culmination of years of devotion to the craft of songwriting and to the merging of traditional and contemporary styles in American music.
---
November 10—Arise & Go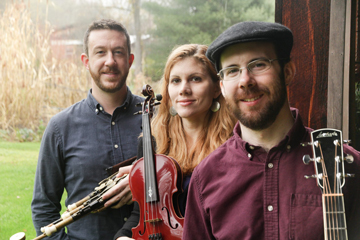 Arise & Go is an exciting Celtic trio that finds its roots in the dance music of Ireland, Scotland and Atlantic Canada. Noted for their "precision and energy", the band blends traditional melodies and instruments into fresh new arrangements. Based in Ithaca, New York, Ellie Goud, Michael Roddy, and Tim Ball bring their varied musical backgrounds together to produce a sound which is both grounded in tradition and uniquely fresh and driving.
Winners of the 2018 Best of Bound for Glory Award, Arise & Go has been featured in Irish Music Magazine, Roots Music Canada, and the Irish American News and praised for their "musical complexity and colour" that is also "authentically mindful of tradition." 2019 sees the release of their full-length album "Meeting Place".
From Quispamsis, New Brunswick, fiddler Ellie Goud grew up steeped in the Atlantic Canadian musical tradition. Her style combines Celtic and Acadian influences from Canada, Ireland and Scotland.
Piper Michael Roddy has spent over 20 years creating his unique combination of Scottish and Irish piping styles. Michael is an active teacher and has also premiered several of his own compositions and arrangements for pipes and orchestra.
Tim Ball (guitar, bouzouki, foot percussion) has been a staple of the contra dance and Irish music scenes in western New York for the better part of a decade. An exceptionally versatile musician and relentless collaborator, he performs throughout the Northeast with contra dance bands Tempest and Center Street, and Ithaca's Irish session band Traonach.
---
November 17—Joy Bennett & Chris Koldewey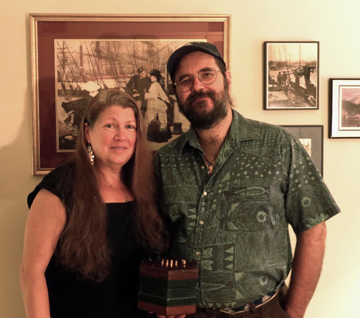 Chris Koldewey has been singing folk music—and sea music in particular—since his early teens. He comes from a family rich in maritime traditions, and his lullabies as a child were traditional songs of the sea. Chris primarily performs US and British traditional music, and he is attracted to the stories behind many of the songs he sings. He has played concerts and festivals in both the US and the UK, and has led workshops dealing with a variety of traditional music forms. Chris plays guitar, banjo, fiddle, concertina, mandolin, and other things common to an average garage sale. Chris is a public school music teacher by trade, which allows him to spend his summers as one of the Chanteymen at Mystic Seaport Museum in Connecticut.
Joy Bennett has been involved in folk music for most of her life. As a member of the quartet Water Sign for 13 years, and the all-female a capella group, The Johnson Girls, for the past 15 years, she has explored the close-knit harmonies of both traditional and contemporary folk music. Joy has performed solo, with Water Sign, the Johnson Girls, with Chris Koldewey, and with guest artists in the U.S., U.K., Canada, and across Europe. She served on the board of Folk Music Society of New York for many years, ten of them as president.
---
November 24—Terry Kelleher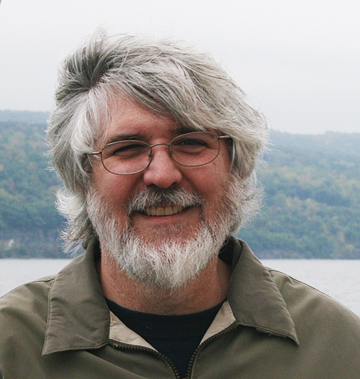 Terry Kelleher can usually be found near a sound mixer, at Ithaca Contra Dances and at other folk venues. He's been the "head techie" at Bound for Glory for the past 25 years or so.
But he is also a singer, songwriter and musician who occasionally performs in public around Ithaca and Binghamton. He has a deep appreciation of story songs and is highly attracted to humorous songs. He performs a wide range of contemporary folk music in addition to his own originals.
Terry has been described as "an interpreter of the strange", with a great love of songs by Steve Goodman and John Prine, getting ample inspiration from these fine songwriters. He gathers songs from many sources, covering topics from alien abduction to cannibalism and from pirates to broken appliances. His original songs offer a view of life from a perspective colored with humor and an appreciation for the strange twists of life. Terry's wife has said that his mind must be a peculiar place to live.
Terry formerly played with the band "Gaskill Road", with Russ Baker and Dannielle Spindler Swart, touring many little coffee houses and bars around Southern New York and Northern Pennsylvania.
---
December 8—The New Cut Road String Band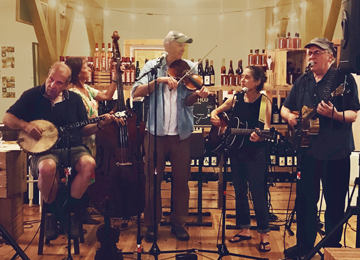 New Cut Road String Band is an old-time string band that plays music from the southern Appalachian Mountains that became popular in this country from the mid-1920s through to the Great Depression. With John Hoffmann on fiddle, Steve Arkin on banjo, Jim Reidy on tenor guitar, Randi Beckmann on guitar, and Sally Freund on bass, they deliver fast and furious fiddle dance tunes as well as ballads that bring a tear to the eye.
John Hoffmann, the fiddler, played banjo for The Tompkins County Horseflies in the early 1980's before he segued to fiddling. John has garnered a number of awards for his fiddle playing around the country.
Steve Arkin grew up in New York's legendary Washington Square music scene, playing both old-time and bluegrass music in many bands. Bill Monroe said of him, "it takes backing to get that stuff going. Steve could play the best backup banjo I ever heard.". Steve has won numerous banjo contests and has taught both bluegrass and old-time banjo.
Randi Beckmann began her musical career playing classical flute and attended music school at Ithaca College. Randi happily switched to the Irish flute in the 1990's and, after some arm-twisting, began playing Old Time backup piano and guitar. Her solid, powerful rhythm playing provides the groove to keep her rambunctious band mates in sync.
Sally Freund, the bass player, has become a trusted rhythm player on bass, guitar, triangle and scrub-board, backing up many of the great Old Time and Cajun/Zydeco musicians around western New York and beyond.