October 14— The Cadleys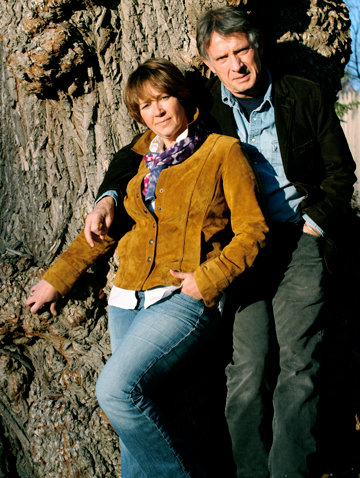 The Cadleys have each been involved with music in the Syracuse area for many years, John as a songwriter and member of area bluegrass bands, Cathy as a singer and church's music director. The two started playing as an acoustic duo, Cadley & Wenthen. After marrying in 2012, they've performed as The Cadleys, bringing together two wonderful instrumentalists and two beautifully blended voices to traditional covers and original songs.
At 13, John Cadley picked up the guitar and was drawn to the virtuoso picking of Lester Flatt and Earl Scruggs. After getting a master's degree in public communications he started work as an ad copywriter, eventually becoming associate creative director at Eric Mower and Associates, all the while continuing to play and write songs. He went on to join and form bluegrass bands, such as Cripple Creek and The Lost Boys. Cadley has often said that, "My writing is Bill Monroe meets Jackson Brown." One of his songs, "Time" with vocals by Lou Reid and harmonies by Vince Gill and Ricky Skaggs, reached #1 on national bluegrass charts.
Cathy began learning guitar at age 11 from her uncle Ed Hamell who had an international reputation as a singer/songwriter. Cathy became adept at classical, jazz and bluegrass flatpicking guitar styles as well as clawhammer banjo. She serves as the music director for Fayetteville's Immaculate Conception Church.
---
October 21—Cliff Eberhardt & Louise Mosrie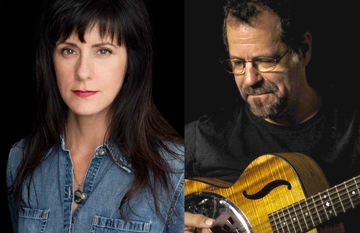 Raised in a musical family in Berwyn, PA, Cliff Eberhardt knew at seven that his future was music. With influences from The Main Line, a nearby folk club, and urban songsmiths like Cole Porter, the Gershwins, Rodgers & Hart, young Cliff paid attention to melodic line and wit in lyrics. After touring in his teens with brother Geoff, and on his own in Illinois and Colorado, Cliff moved in 1978 to New York City. Working as a cabdriver, absorbing the downtown scene, singing in ad campaigns for Coke, Miller Beer and Chevrolet, he maintained a musical life with solo gigs, studio and road work. His 1990 original, "My Father's Shoes," led to a first album with Windham Hill, featuring a duet with Richie Havens. A steady output of recordings followed until a bad car accident forced a recovery of several years. He came back with The High Above and the Down Below, cited by USA Today as 2007's #5 Album. Cliff's songs have been covered by Richie Havens, Shawn Colvin, Buffy Sainte Marie, as well as by a newer generation. Acknowledgement from the theater world has come for his work in sound design commissioned by the Folger Theatre and Shakespeare Library in a 2012 production of "The Taming of the Shrew," set in America's Old West.
Louise Mosrie's career began with songwriter awards and a 2010 debut album "Home", which charted at #1 on the Folk DJ list. She grew up near Nashville on a farm with British parents. After college in Knoxville, learning to play on a Sears guitar "borrowed" from her brother, Louise wrote her first songs influenced by her English roots and urban American pop, but a return to Nashville steered her back to the life she knew in the American south. Her latest album "Lay It Down," produced by Cliff Eberhardt, comes out of a dark period after the end of her marriage and the death of her mother. The stories connected to "Home" have led to Mosrie's being described as "…William Faulkner with a guitar".
---
October 28— Mac Benford and UpSouth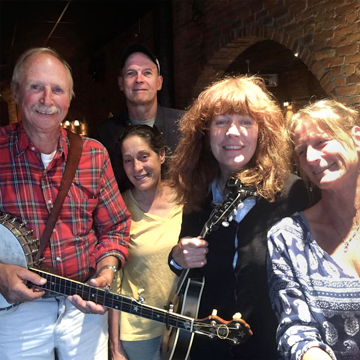 Master of old-time banjo, Mac Benford is well-known to string band lovers in Ithaca. In the 1960s he and exuberant fiddlers Walt Koken and Bob Potts formed a trio that, adding bassist Jennie Cleland and guitarist Doug Dorschug, would become the legendary Highwoods String Band, bringing a percussive, rollicking style associated with southern Piedmont music to the smoother fiddle band styles of the northeast.
From learning clawhammer banjo at Williams College to seeking Appalachian masters like Roscoe Holcomb, combing through old 78s for 1920s tunes, Mac was in the forefront of the string band revival in late '60s California. Back in the Finger Lakes, Mac made his mark as the Highwoods romped through festivals in the U.S. and Europe, taking their rhythms to Latin America as emissaries of the State Department. Highlighting that decade was a 1978 Carnegie Hall concert with The New Lost City Ramblers, capped by a Grammy-nominated recording. Settling down on his Mecklenburg farm, Mac kept the music expanding into blues, bluegrass, and western swing with his 1980s Backwoods Band, and the Woodshed Allstars in the 1990s. The driving power of these groups breathed new life into old music, drawing young fans to old-time music through musicianship and sheer good times.
With tight arrangements, original songs and clarion vocals by Marie Burns, recordings by the Allstars have been anthologized on major compilations. Preserver of Appalachian string band traditions, Mac is a treasure trove of songs past and present. After October gigs at The Rongovian Embassy in Trumansburg, he reunites with Marie, Sally Freund, John Hoffman, and Randi Berkman as the rocking group Upsouth, for an evening of joyful, dance-inducing music.
---
November 4—Heather Pierson Trio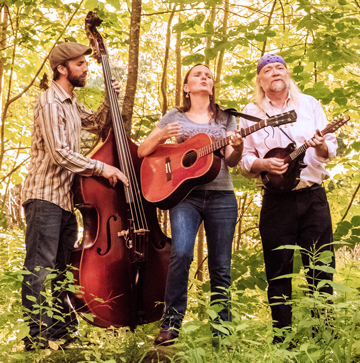 Heather Pierson is an award-winning pianist and multi-genre singer/songwriter. From New Orleans-style jazz and blues to rousing Americana and poignant folk narratives, her music moves seamlessly and effortlessly from one style to the next, and a growing catalog of wildly divergent CD releases reflects her boundless creativity. The Heather Pierson Acoustic Trio features Shawn Nadeau on upright bass, and Davy Sturtevant on, as Heather often puts it from stage, "everything else"—guitar, mandolin, dobro, fiddle, cornet.
Born to a Scottish émigré mother and Navy veteran machinist father, Heather began in life in the single-traffic-light town of Galena, Kansas. Her father was an avid clarinet player, and he passed the love of music onto his daughter. At the age of five, he taught her piano. "I'll never forget it," she recalls. "The very first time I played the piano – a real piano – I knew that this was exactly what I wanted to do, every moment that I had the chance to do it."
Originally hailing from Erie, Pennsylvania, Davy Sturtevant is a veteran touring artist, producer, engineer, songwriter, and performer who now makes his home in Lovell, Maine. Armed with a gorgeous tenor voice and a mighty arsenal of instruments, Davy is an engaging stage presence. New Hampshire native Shawn Nadeau brings nearly two decades of performing experience to the trio, informed by a wide spectrum of unique rhythmic and melodic sensibilities ranging from rockabilly to reggae to jazz.
---
November 11—Home Remedy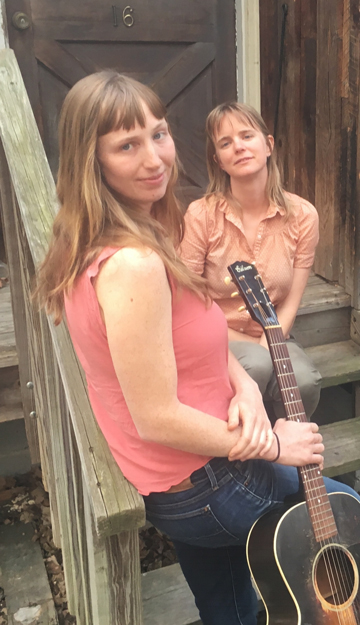 Home Remedy is the duo of Rosie Newton and Lydia Garrison, both from Ithaca, New York. They sing original songs in harmony, written on fiddle, banjo and guitar, and sometimes accordion. They also play traditional Old Time & Cajun/Creole fiddle & accordion tunes, and sing a few songs from the "Americana" cannon: Old Time, Country, Bluegrass, and Folk.
Rosie Newton grew up immersed in the rich folk music scene of Woodstock, NY, and began playing the fiddle when she was eight. Newton attended college in Ithaca, NY, where she studied Viola. While in Ithaca, she found herself swept up by the area's music scene, which infused her with a deep appreciation for the beauty and diversity of roots music. Newton's interests span a wide range of musical styles, from Irish and old time to country and zydeco.
Lydia Garrison's mother, Gay Garrison, had a passion for Cajun and Zydeco music and dance which took the family to many regional music festivals, and as far as Louisiana. Lydia started learning violin at school at age 8, but after three months when the students had to learn to read music, it stopped being fun and Lydia promptly quit with no regrets. After starting out on the Cajun triangle to sit in with her mom's Cajun band, Lydia began learning Old Time banjo and fiddle as well as Cajun fiddle. Gay taught Lydia the guitar, and the guitar got Lydia started with writing songs. In college, Lydia was fortunate to do a musical study abroad in Bamako, Mali (West Africa) where she studied the Jeli Ngoni—a great-great-grandmother of the American banjo.
---
November 18—Debra Cowan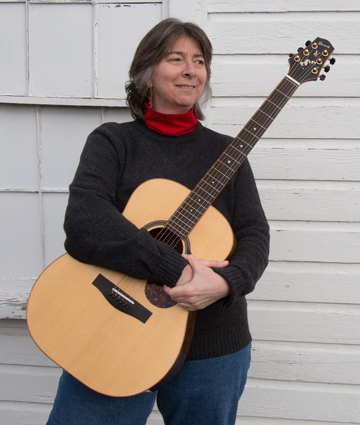 "Debra has a voice which beautifully combines Celtic and Appalachian sensibilities…deeply satisfying, lyrical and musically elegant." -Roseanne Cash
Following a life-long desire to sing and perform, Debra Cowan left her job as a California middle school math teacher in 1997 and went to live in Edinburgh, Scotland for six months. There she learned the art of unaccompanied singing and upon her return to the USA in 1998 began traveling all over New England performing at any open mike within 100 miles of her new home in Springfield, Massachusetts. Almost 20 years later, she is now a full-time performer who bridges the old and new with a refreshing stage presence. She can be seen in many venues, heard on both terrestrial and internet radio world-wide and will travel anywhere to sing. Her four recordings have been met with high praise and in June 2015, she was featured in the UK folk music magazine, Living Tradition. She tours extensively in the United Kingdom and in North America and can also be seen on stage with her good friend, singer and musician John Roberts. When Debra isn't touring internationally or busy with her activities as American Federation of Musicians (USA) Local 1000 Vice-President, she makes her home near Worcester, Massachusetts.
---
December 2—Cosy Sheridan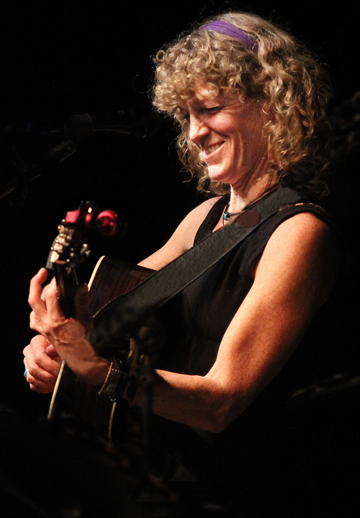 "A Buddhist monk in a 12-step program trapped in the body of a singer/songwriter."—The Albuquerque Journal
Cosy Sheridan first caught the attention of national folk audiences in 1992 when she won both the Kerrville Folk Festival's NewFolk Award and The Telluride Bluegrass Festival Troubadour Contest. Soon after, she released her critically-acclaimed debut CD Quietly Led on Waterbug Records. She has been on the road ever since, playing clubs, concert halls and coffeehouses from Seattle to Berkeley and across and across I-80 to Omaha, Chicago and then to Boston where she now makes her home. On her new CD, Sometimes I Feel Too Much, she writes of these years on the road in her song Woody Guthrie "Watch Over Me". She's released ten CDs, taught songwriting at workshops and camps across the country, and written a one-woman-show entitled The Pomegranate Seed – An Exploration of Appetite, Body-Image and Myth. Cosy Sheridan is one of the most respected touring musicians on the folk circuit, appearing everywhere from Carnegie Hall to the Jerry Lewis Telethon and the Philadelphia Folk Festival. For the past 20 years she has taught classes in songwriting, performance and guitar at workshops and adult music camps across the country including The Puget Sound Guitar Workshop and The Swannanoa Gathering.
Her concerts are wide-ranging explorations of modern mythology (meet Hades the Biker), love songs for adults, contemporary philosophy for the thoughtfully-minded, children's stories woven into tales of modern adulthood, and her signature parody on aging and women. Throughout this journey, her lyrical dexterity is backed by her distinctive, percussive bluesy-gospel guitar style. Cosy brings a depth of experience to her craft.