June 30—Nate Marshall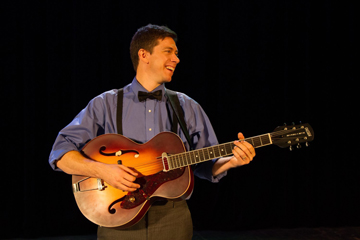 Nate Marshall carries on the folk music tradition of song and storytelling with a modern twist of humor and musicianship steeped in a number of genres including swing, blues, Americana and jazz.
In addition to solo performance, Nate is also a guitar instructor, staple of the childrens' music scene in central New York as well as an accomplished juggler, known as "Nate the Great". He has toured extensively throughout the U.S. in a variety of venues from theaters to cafes and farmer's markets to street corners. In 2007, he released "Fame by Frame" with his wife Kate of the folk duo Nate & Kate, and, in 2010, released his solo album "Throwaways Stowaways and Drifters".
Nate is currently performing shows in the central New York area in addition to regular tours throughout New England and the Northeast.
---
July 7—Ross Hollow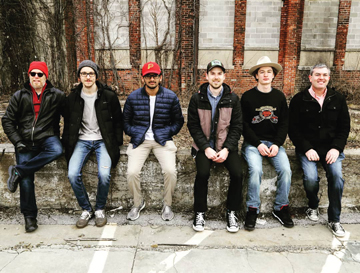 Ross Hollow's distinctive blend of Americana, folk, blues and modern indie music makes you want to stand up, dance, sit down, laugh, tap your toes, hum along, snap your fingers, listen to the words, smell the rain, enjoy life more. It has the kind of catchy melodies and verve that keeps you humming the songs long after you've heard them for the first time. With roots in New England, the Southwest, Chicago, The Carolinas, Mississippi Delta, and Indiana, Ross Hollow's music can transport you to all these places and more, with driving bass funkadelic, solid dobro twang, flamenco guitar riffs, wailing harmonica, scintillating ebony and ivory stylings, backwoods banjo rolls, and the backbeat that just won't stop.
The members of the band are Stuart Johnson on lead vocals and guitar, Vincent Yetsko on lead and slide guitar plus harmonica, Jared Horvath on bass, Dhruv Kulkarni on keyboard and backing vocals, and Vernon Marsh on drums.
---
July 14—Hoot and Holler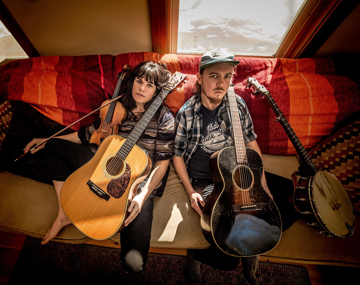 Brought together by a mutual love for American folk music, Amy Alvey (fiddle, guitar) and Mark Kilianski (guitar, banjo) have been entertaining audiences all over the U.S. with their tight duo sound since 2013. Based now in Asheville, NC, they specialize in the soulful grit of old time Appalachian mountain music, with their original songs blending seamlessly alongside their traditional repertoire. Both are equally inspired by mountain musicians like Roscoe Holcomb and Ola Belle Reed as they are to revered songsmiths like Gillian Welch and Townes Van Zandt. Instrument swapping is common during a performance between two guitars, banjo and fiddle, and fiddle and guitar. In 2015, urged by the rising cost of living in Boston, they decided to hit the road full time in a high-top camper van named "Irene" and have toured all over the country. With Asheville as their home base, they still travel most of the year in the van and play concert halls and festivals like Old Tone Music Festival, Watermelon Park Bluegrass Festival, and the Blackpot Festival in Lafayette, Louisiana
"I had only ever heard Amy and Mark play fiddle tunes, so I knew they had great instrumental and vocal skills. I'm the kind of guy that tends to listen only to traditional music, so I wasn't sure what to expect when I got a copy of their new CD ["Reasons To Run"]. Surprise! I was delighted to discover that I really liked their original songs, too. Everything — the instrumentals, vocals, songwriting, arrangements, and quality of recording — is just wonderful." — Brad Leftwich, Hogwire Stringband
---
July 21—Kora Feder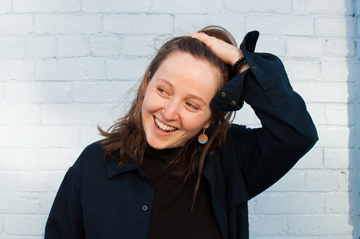 Kora Feder is a rising voice in the new generation of folk songwriters up to the task of confronting the times we live in. "The most talented new singer-songwriter I've heard in the past decade," says Rich Warren, host of Chicago's Folkstage. The year 2019 brings the release of her first full length album, "In Sevens". Released in April, the record has already drawn comparison to Pete Seeger (Roots Music Report) and been called "stunningly good" (Ear to the Ground).
Feder holds a degree in Global Studies with a focus on songwriting as empowerment in indigenous and migrant communities. She spent two years wielding a backpack and guitar in places like China, India, Thailand and Italy. While attending lectures, writing essays and leading songwriting workshops, she composed a collection of songs that reflect stories encountered along the way. In 2017 she graduated and recorded her debut solo EP, "Marigolds". The set of 5 original songs was met with glowing reviews, described as "a melodic salutation to all that is neglected and forgotten by a world at the mercy of Father Time; the carefully conceived work of a thoroughly engaging and exceptionally capable storyteller" (A Lonely Ghost Burning, UK).
Feder grew up in the Northern California music scene playing clawhammer banjo and mandolin with parents Rita Hosking and Sean Feder. Performing both as a solo singer-songwriter and supporting instrumentalist since the age of 15, Feder has appeared on stages across the world. She currently calls Brooklyn, New York, home.
---
July 28—Gordon Thomas Ward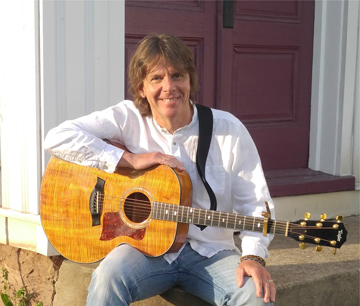 "Gordon Thomas Ward exhibits his mastery of eloquent lyrics and musical storytelling. The songs emanate exquisite colors, captivating rhythms, and Ward's enchanting voice."—Blogcritics
Gordon Thomas Ward's song stylings have been influenced by the singer-songwriters of the late 1960s through the 1970s, yet Gordon's songs occupy a space all their own and fit into the contemporary folk rock, adult alternative, and Americana genres. Gordon utilizes a variety of instruments in his live shows resulting in a varied spectrum of tonal colors.
His songs have led him to work with notable musicians such as Mik Kaminski and Eric Troyer (The Electric Light Orchestra and ELO II), William J. Hall (Frostwater), Caroline Cotter, share the stage and billing with Natalie Merchant and Christine Lavin, and to open for The Boxcar Lilies and Bill Staines, among others. Gordon's first album, "Welcome to the Past" was released in 2013. His new GRAMMY-balloted record "Providence" was released in 2018 to critical acclaim. Gordon has written songs for film, the World War One Centennial Commission in Washington, D.C., and historical groups.
As an artist interested in social issues, Gordon produced and performed in a Concert Across America to End Gun Violence in 2016 and 2018. A true "Renaissance man," Gordon is the host of a podcast titled An Artist's View and is the author of five books, on which he lectures frequently. At the moment, Gordon is working on a new record titled "Eiderdown", which he hopes to release late in 2019 or early 2020.