September 1—The Flywheels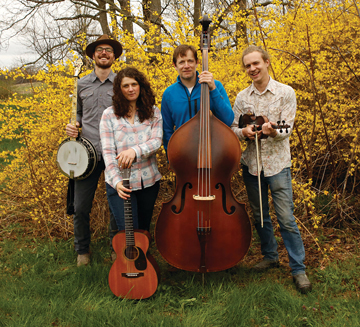 The Flywheels are an old timey band. Except when they're not. The Flywheels are a traditional bluegrass band. Except when they're not. Cap Cooke (banjo and vocals) Liz Pickard (guitar and vocals), Sam Schmidt (fiddle and vocals), Jason Zorn (bass) make up The Flywheels.
Cap Cooke got his first banjo from his parents for his 13th birthday and found a liking for old-style bluegrass and old-time music. He has played with Barham Lashley's Hilltoppers, Aaron Lipp's Mount Pleasant Stringband, Uncle Joe and the Rosebud Ramblers, and other bands.
Cap met Sam Schmidt, when he first filled in with the Hilltoppers. They learned a lot playing together in the Hilltoppers, and had an idea to start their own band once that band disbanded. Cap met Liz Pickard at the Grassroots Festival, and was soon blown away hearing her old-school guitar playing and singing. They became friends, and Cap soon invited her to join their new band.
For the better part of a year, the three rehearsed numerous times and played a few gigs. They were also on the lookout for a bass player. Cap knew Jason Zorn played the bass as well as old-time fiddle, and after Jason played with them a on a couple dates became the fourth member of the band.
Their first digital album, The Back Porch Recordings, is available on their website.
---
September 8—Heather Pierson Acoustic Trio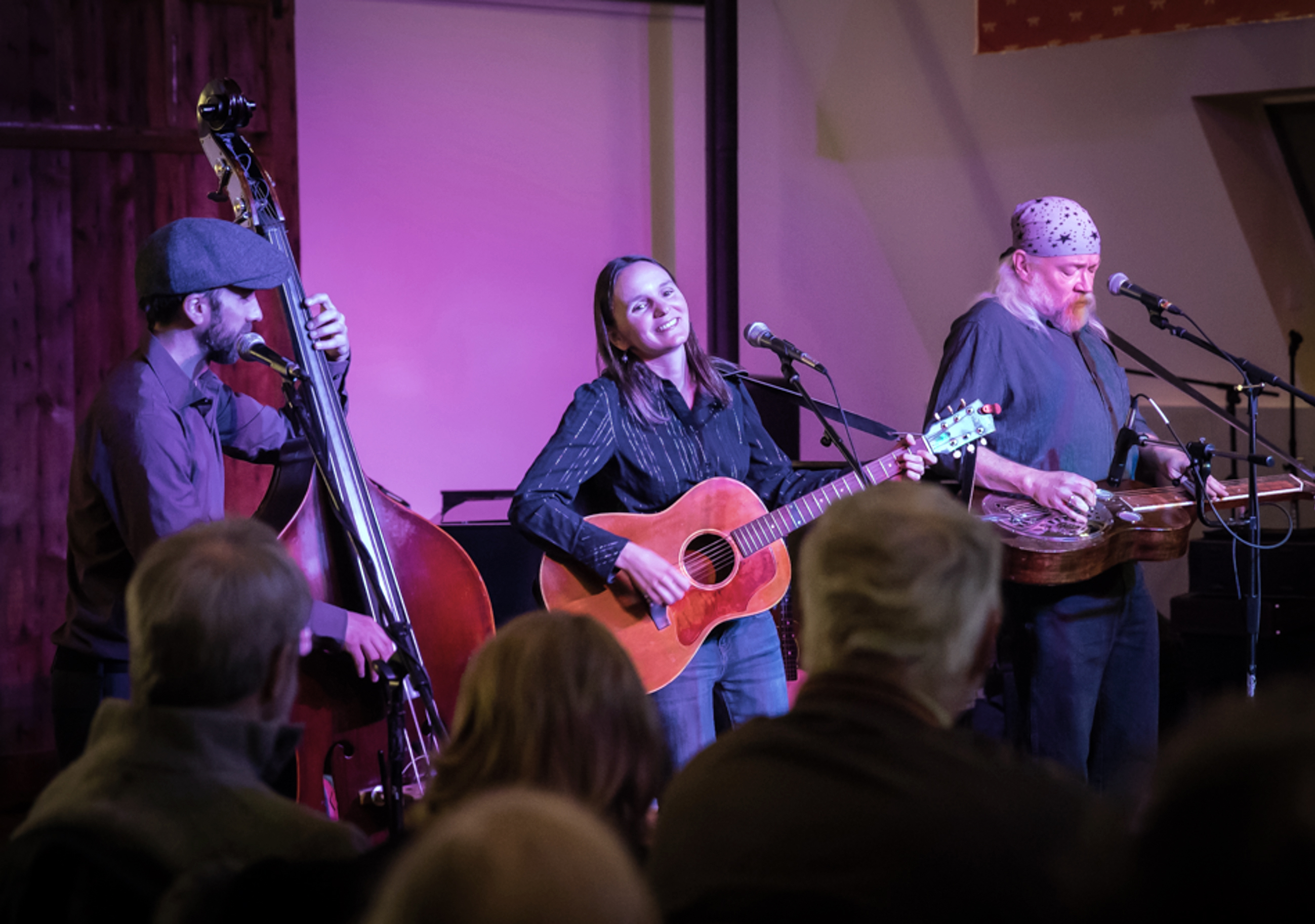 Heather Pierson is an award-winning pianist and multi-genre singer/songwriter. From New Orleans-style jazz and blues to rousing Americana and poignant folk narratives, her music moves seamlessly and effortlessly from one style to the next, and a growing catalog of wildly divergent CD releases reflects her boundless creativity. The Heather Pierson Acoustic Trio features Shawn Nadeau on upright bass, and Davy Sturtevant on, as Heather often puts it from stage, "everything else"—guitar, mandolin, dobro, fiddle, cornet.
Born to a Scottish émigré mother and Navy veteran machinist father, Heather began in life in the single-traffic-light town of Galena, Kansas. Her father was an avid clarinet player, and he passed the love of music onto his daughter. At the age of five, he taught her piano. "I'll never forget it," she recalls. "The very first time I played the piano – a real piano – I knew that this was exactly what I wanted to do, every moment that I had the chance to do it."
Originally hailing from Erie, Pennsylvania, Davy Sturtevant is a veteran touring artist, producer, engineer, songwriter, and performer who now makes his home in Lovell, Maine. Armed with a gorgeous tenor voice and a mighty arsenal of instruments, Davy is an engaging stage presence. New Hampshire native Shawn Nadeau brings nearly two decades of performing experience to the trio, informed by a wide spectrum of unique rhythmic and melodic sensibilities ranging from rockabilly to reggae to jazz.
Their recordings, "Still She Will Fly" (2015) and "Singin'" (2017), and live performances feature Heather's multi-genre songwriting, their instrumental virtuosity, and stirring three-part vocal harmonies. A new full-length recording, "Lines and Spaces", is currently in the works and planned for a late 2019 release.
---
September 15—John O'Connor & His Fellow Travelers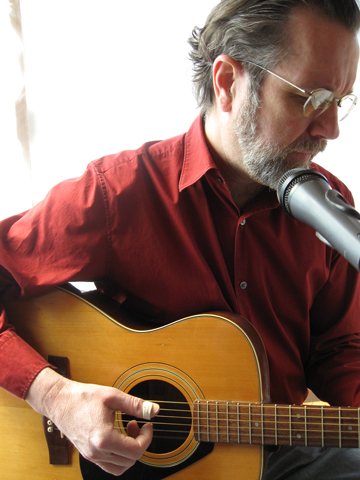 "John is one of those rare songwriters that paints honest, non-romanticized pictures of people's lives. Like Woody Guthrie or Utah Phillips, he uses deceptively simple language to take us into the complex lives of workers in many parts of the world." — John McCutcheon
John O'Connor began his involvement in the labor movement right out of high school when he went to work in the factories of Waterloo, Iowa. An interest in folk music and Woody Guthrie led to a 30-year career as a folk singer and a cultural educator, performing in concerts, coffeehouses, schools and colleges, union education programs and political action events.
In 1984, while living in Seattle, he recorded his first album, "Songs For Our Times", which was named one of the best albums of the year by the Washington Post and several folk publications and radio stations.
Thirty years later John is still stalwart in his focus of fighting for the working class and inspiring them with his music and their music. He has traveled the U.S. performing for labor education classes, high schools, colleges and folk audiences. His powerful songs have always, as Tony Harrah of the Guardian said, "mixed seamlessly with the old songs." John's songs have been recorded by numerous singers from around the English-speaking world.
---
September 22—Scott Cook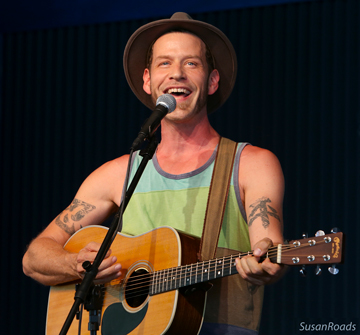 "He sings his heart and soul, and in doing so lets light flood into your own… A good eye for imagery, a gentle human touch, a wry sense of humour, a whole lot of integrity, a warm, rugged voice and a bunch of memorable lines… Truly one of Woody Guthrie's children."—RnR Magazine
A roots balladeer with a rare personal warmth, Canadian Scott Cook has managed to distil the stories collected over his years touring across Canada, the USA, Europe, Asia, Australia, and elsewhere into straight-talking, keenly observant verse. Road-worn, painfully honest, and deeply human, his tunes weave threads of folk, roots, blues, soul and country over spacious fingerstyle guitar and clawhammer banjo arrangements. His fourth release, One More Time Around, was nominated for a Canadian Folk Music Award. UK magazine Maverick Country named him "one of Canada's most inspiring and imaginative storytellers".
In 2015 he put together a seven-piece honky-tonk band for his fifth studio album, Scott Cook and the Long Weekends Go Long, and in 2017 he released his sixth album Further Down the Line, earning his second Canadian Folk Music Award nomination, for English Songwriter of the Year. The album is included inside a softcover book offering a look back, in words and pictures, on his last decade of near-incessant rambling. All the hard miles notwithstanding, he still believes that songs can change your life, and your life can change the world.
---
September 29—Hugh O'Doherty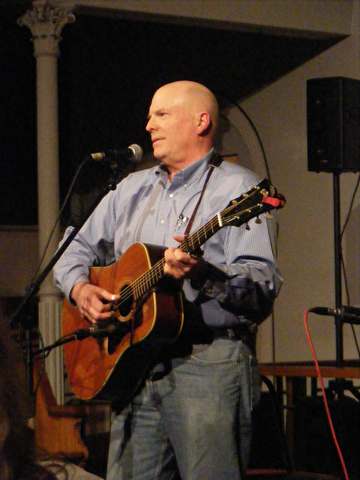 "He's a musician! He's a pilot! He's a Renaissance Man! … I HATE him!" —Christine Lavin
A veteran of New England, Greenwich Village, and California songwriting communities, Hugh O'Doherty 's live performances take the audience from romance to satire, and from riveting emotional issues to downright self-deprecating silliness. He lives in, and sings about, the real world. Hugh puts the frameworks of human connections into perspective with songs of: love, humor, childhood, friendship, marriage, blended families, justice, environmental issues, and other contemporary topics.
Hugh was raised in a family in which music was as essential as oxygen. Listening to it, dancing to it, playing it. In Hugh's case, that meant singing, and playing piano and banjo (and guitar, when his brother, Liam Tomas O'Doherty, wasn't looking). In high school, he sang in acoustic groups with Liam and other friends. Like Liam, Hugh started writing his own songs, and acting in the school plays. Hugh continued acting in college, while playing many of the campus coffeehouses in the Middle Atlantic States. He then carved a career, flying rescue aircraft, from hangars along American and Canadian shorelines. Meanwhile, Hugh conducted the parallel artistic pursuit of playing for the acoustic audiences of many of those regions, and engaging in California, New England, and Greenwich Village songwriting communities.
---
October 6—Amy Gallatin & Stillwaters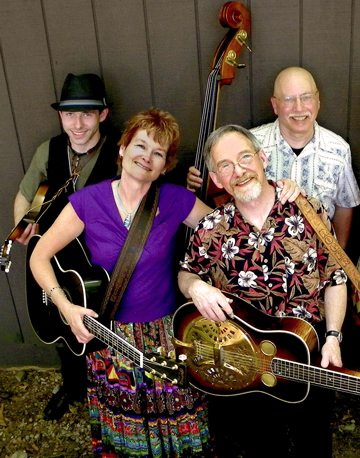 "Live in Europe is a super album of well-chosen material, all put over really well, with beautiful crystal clear heartfelt singing plus top class high quality bluegrass music including great Dobro licks…a thoroughly appealing album…" —Graham Hassall, host of Radio Nightingale , Rotherham, England
The powerhouse duo of Amy Gallatin and renowned resophonic guitarist Roger Williams joined forces a few years ago to explore their mutual love of country standards, served up with an acoustic treatment in the bluegrass vein. The result is a toe-tapping blend of heartfelt vocals, soaring harmonies and red-hot picking, traditional yet modern and distinct.
The two are enhanced by mandolin and vocals from Roger's son, JD, and by veteran bassist Eric Levenson. Amy Gallatin and Stillwaters have taken the stage at some of the most prestigious venues in the U.S., Mexico, and Europe.
Amy Gallatin, born in Muscle Shoals, Alabama, lived in several states before settling in the West, where she was raised. Amy is at home singing various musical styles — country, folk, bluegrass or western swing–branding each song with soulful sincerity.
Roger Williams started playing the resophonic, Dobro style guitar in 1963, when he was just a young teenager. He has gone on to perform and/or record with many well respected Bluegrass and folk acts on the national and international circuit. Bluegrass Unlimited magazine said "Williams, like all great acoustic slide players, can be mellow and lingering or crisp and jaunty. He's also a very fine singer (with) more than a little of Merle Haggard in voice and emotion."
---
October 20—Mara Levine & Gathering Time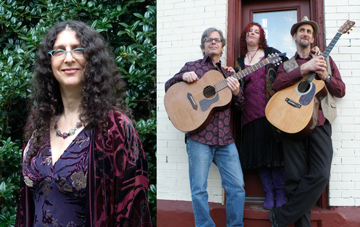 "While Mara Levine doesn't sing original songs, it truly doesn't matter. She chooses songs or has songwriters create to suit her voice, and what a voice! With Gathering Time backing her up, it's magical. Mara and Gathering Time performed at my series a few days ago and the audience loved it, and her. And the harmonies they created – spectacular."—Jill Padua, RiverFolk Concerts
Called one of the best singers of her generation by Christine Lavin, folksinger and jewelry designer Mara Levine has been creating beautiful interpretations of fine traditional and contemporary folk songs for many years and singing professionally as a member of various ensembles. Folk DJ Jim Marino has referred to her as "golden-voiced," while Michael Stock calls her voice "full, rich and soothing."
Mara shares shows on a regular basis with the Long Island, NY-based folk trio Gathering Time, with whom she has toured nationally as well as internationally in Canada, Ireland, and Germany.. Founded in 2006, Gathering Time's members Stuart Markus, Hillary Foxsong, and Gerry McKeveny have strong roots in traditional folk as well as '60s and '70s folk-rock, and they've been known to interpret some of those classics alongside their original songs at their shows.
Bob McKillop of MaineFolkMusic.com writes, "Gathering Time … has perfected two separate but related art forms: three part harmony and having a ball on stage! When they harmonize, some sort of fundamental, cosmic concordance occurs that makes you very happy that you have ears."
---
October 27—Larry Kaplan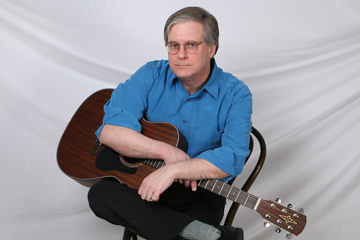 "Larry's themes address topics of concern to all of us who care about those with whom we share this planet. One of the best song-makers in the folk song revival."—Sandy Paton, Folk Legacy Records
Larry Kaplan has been described as a keen and sympathetic observer of the human condition. He cares deeply and writes eloquently about the concerns of others, reflecting his profound respect for the farmers, fishermen, and the other hard working people of New England.
Originally from Boston, Larry spent many of his formative years in Maine. He helped restore, then crewed on the Schooner Bowdoin up there, and worked his way through college and graduate school. He spent some time as a night clerk in a New Orleans hotel and met his wife, Nora, one evening when he was singing in a Providence coffeehouse while doing further graduate work at Brown.
Larry has released four CDs through Folk Legacy Records, "Worth All The Telling," "Songs For An August Moon," "Furthermore," and his newest, "True Enough". No Depression, the Folk Roots Magazine, has called Larry's music "some of the most finely crafted songs in folk music today." He is the recipient of multiple best folk CDs of the year by leading folk radio programs across the US and Europe, and tours regularly in Europe as well as across the US.
Of his album, "Furthermore…", reviewer Larry Looney said, "There is history and humanity and depth here just waiting to be heard….I think you'll find yourself returning to it again and again."
---
November 3—Bill Staines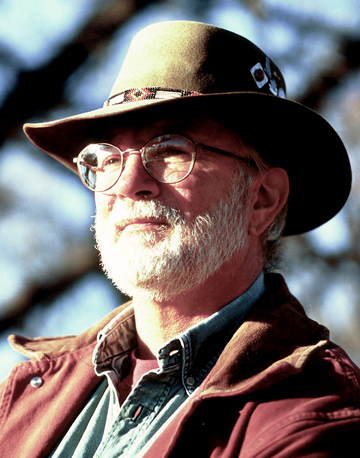 "Bill Staines has been my hero since 1977. He carries on where Woody left off-carrying on the tradition of stories and characters you wish you knew."—Nanci Griffith
For more than forty years, Bill has traveled back and forth across North America, singing his songs and delighting audiences at festivals, folksong societies, colleges, concerts, clubs, and coffeehouses. A New England native, Bill became involved with the Boston- Cambridge folk scene in the early 1960's. From the time in 1971 when a reviewer from the Boston Phoenix stated that he was "simply Boston's best performer", Bill has continually appeared on folk music radio listener polls as one of the top all-time favorite folk artists. Now, well into his fifth decade as a folk performer, he has an international reputation as a gifted songwriter and performer.
Singing mostly his own songs, he has become one of the most popular and durable singers on the folk music scene today, performing nearly 200 concerts a year and driving over 65,000 miles annually. He weaves a blend of gentle wit and humor into his performances. Bill's music is a slice of Americana, reflecting with the same ease his feelings about the prairie people of the Midwest or the adventurers of the Yukon, the on-the-road truckers, or the everyday workers that make up this land.
Bill has so far recorded 26 albums. His songs have been recorded by many artists including Peter, Paul, and Mary, Tommy Makem and Liam Clancy, The Highwaymen, Mason Williams, Grandpa Jones, Jerry Jeff Walker, Nanci Griffith, Glen Yarborough, and others.
---
November 10—Arise & Go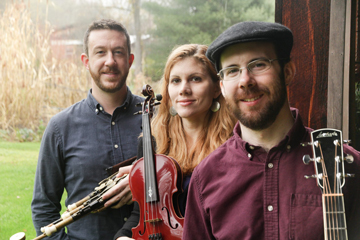 Arise & Go is an exciting Celtic trio that finds its roots in the dance music of Ireland, Scotland and Atlantic Canada. Noted for their "precision and energy", the band blends traditional melodies and instruments into fresh new arrangements. Based in Ithaca, New York, Ellie Goud, Michael Roddy, and Tim Ball bring their varied musical backgrounds together to produce a sound which is both grounded in tradition and uniquely fresh and driving.
Winners of the 2018 Best of Bound for Glory Award, Arise & Go has been featured in Irish Music Magazine, Roots Music Canada, and the Irish American News and praised for their "musical complexity and colour" that is also "authentically mindful of tradition." 2019 sees the release of their full-length album "Meeting Place".
From Quispamsis, New Brunswick, fiddler Ellie Goud grew up steeped in the Atlantic Canadian musical tradition. Her style combines Celtic and Acadian influences from Canada, Ireland and Scotland.
Piper Michael Roddy has spent over 20 years creating his unique combination of Scottish and Irish piping styles. Michael is an active teacher and has also premiered several of his own compositions and arrangements for pipes and orchestra.
Tim Ball (guitar, bouzouki, foot percussion) has been a staple of the contra dance and Irish music scenes in western New York for the better part of a decade. An exceptionally versatile musician and relentless collaborator, he performs throughout the Northeast with contra dance bands Tempest and Center Street, and Ithaca's Irish session band Traonach.
---
November 17—Joy Bennett & Chris Koldewey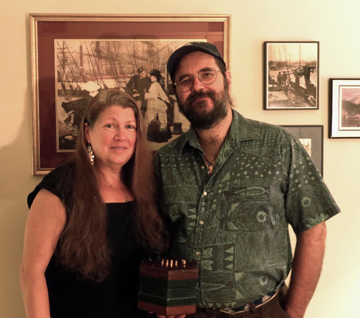 Chris Koldewey has been singing folk music—and sea music in particular—since his early teens. He comes from a family rich in maritime traditions, and his lullabies as a child were traditional songs of the sea. Chris primarily performs US and British traditional music, and he is attracted to the stories behind many of the songs he sings. He has played concerts and festivals in both the US and the UK, and has led workshops dealing with a variety of traditional music forms. Chris plays guitar, banjo, fiddle, concertina, mandolin, and other things common to an average garage sale. Chris is a public school music teacher by trade, which allows him to spend his summers as one of the Chanteymen at Mystic Seaport Museum in Connecticut.
Joy Bennett has been involved in folk music for most of her life. As a member of the quartet Water Sign for 13 years, and the all-female a capella group, The Johnson Girls, for the past 15 years, she has explored the close-knit harmonies of both traditional and contemporary folk music. Joy has performed solo, with Water Sign, the Johnson Girls, with Chris Koldewey, and with guest artists in the U.S., U.K., Canada, and across Europe. She served on the board of Folk Music Society of New York for many years, ten of them as president.
---
November 24—TBA
---
December 8—The New Cut Road String Band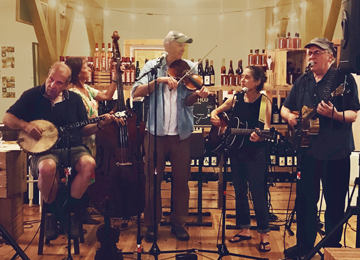 New Cut Road String Band is an old-time string band that plays music from the southern Appalachian Mountains that became popular in this country from the mid-1920s through to the Great Depression. With John Hoffmann on fiddle, Steve Arkin on banjo, Jim Reidy on tenor guitar, Randi Beckmann on guitar, and Sally Freund on bass, they deliver fast and furious fiddle dance tunes as well as ballads that bring a tear to the eye.
John Hoffmann, the fiddler, played banjo for The Tompkins County Horseflies in the early 1980's before he segued to fiddling. John has garnered a number of awards for his fiddle playing around the country.
Steve Arkin grew up in New York's legendary Washington Square music scene, playing both old-time and bluegrass music in many bands. Bill Monroe said of him, "it takes backing to get that stuff going. Steve could play the best backup banjo I ever heard.". Steve has won numerous banjo contests and has taught both bluegrass and old-time banjo.
Randi Beckmann began her musical career playing classical flute and attended music school at Ithaca College. Randi happily switched to the Irish flute in the 1990's and, after some arm-twisting, began playing Old Time backup piano and guitar. Her solid, powerful rhythm playing provides the groove to keep her rambunctious band mates in sync.
Sally Freund, the bass player, has become a trusted rhythm player on bass, guitar, triangle and scrub-board, backing up many of the great Old Time and Cajun/Zydeco musicians around western New York and beyond.