Liza DiSavino and A.J. Bodnar–June 24, 2018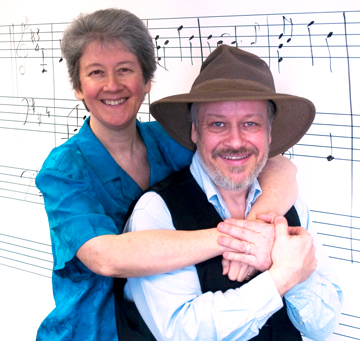 "Liza can play anything with strings. A.J. can play anything with keys. Both sing wonderfully. Liza and A.J. use ancient and original songs to connect traditional and contemporary folk music. Their commitment to social justice keeps them grounded in the present, while their research connects their music to place and history."—Art Menius, founder of the Folk Alliance and Merlfest.
Liza & A.J. offer musical excellence, beauty, and communal experiences through a dazzling variety of acoustic music.
Based in the Catskill Mountains of New York for ten years, and now in Kentucky, the heart of Appalachian music, they have shared their love of music with audiences for 21 years.Their multi-faceted and engaging repertoire combines timeless traditional, roots, folk, virtuosic instrumental and original music to the accompaniment of over 20 (including some unusual) instruments.
Their large repertoire of Americana music includes songs from the Catskill Mountains (as recorded on one of their five albums, "A Home in the Catskills") and Southern Appalachian ballads and songs (gleaned during their seven years at Berea College, including two fellowship studies).
They also are award-winning songwriters, rooting their style firmly in Americana with well-crafted songs that tell great stories, insightfully explore social issues, and bear witness to the redeeming power of love.
---
Twangtown Paramours–July 1, 2018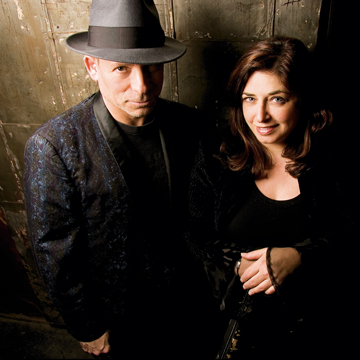 "The Twangtown Paramours bring a blend of thought provoking lyrics with angelic vocals combined with well accomplished musicians. What more could you ask for?"—Dennis Double, Co-host Writer's Block, WDVX-FM, Knoxville, TN
The Twangtown Paramours are Mike Lewis & MaryBeth Zamer. a Nashville based husband & wife acoustic duo, They are known for their well-crafted and award-winning songs, top-notch lead singing, and fine harmonies.
Before moving to Nashville, MaryBeth was a fixture of the local music scene in the Washington, D.C. area, where she fronted a popular bar band and sang background vocals for the band Method Actor, featuring Eva Cassidy. After relocating to Nashville, MaryBeth continued her career working as a demo singer and background vocalist.
Mike T. Lewis plays guitar and bass. He sometimes tours with Jimmie Dale Gilmore. He hashad songs recorded by independent artists. Since 2000, Mike has owned and operated a studio in Nashville, producing albums and demos for up and coming performers.
The Twangtown Paramours were chosen three times to be finalists in the prestigious Kerrville New Folk contest, and were winners of the Wildflower Music Festival Songwriter Contest in 2012. In February, 2011, the Twangers were named Artists on the Verge for 2011 by the Bluegrass Special Magazine.
---
Pierce Pettis–July 8, 2018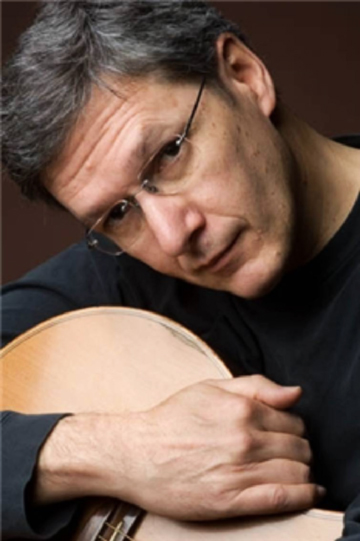 "Pierce Pettis doesn't write mere songs, he writes literature…End to end the songwriting is brilliant…Pierce Pettis albums are events in my listening. His writing just gets better all the time and his singing is marvelous, wry and warm…"—Sing Out!
Pierce Pettis is one of this generation's most masterful songwriters. His music is distinguished by his uncanny ability to capture universals in human experience by drawing on the humor and trials in daily life. Pettis' music can simultaneously pull on our hearts and keep us laughing. The beautiful harmonies, inventive yet subtle percussion, strong guitar, and Pierce's rich vocals are a constant throughout his body of work.
During his long career Pierce Pettis has been a writer at Muscle Shoals Sound Studios in Alabama, recorded for Fast Folk Musical Magazine in New York, won the prestigious New Folk songwriting competition at the Kerrville Folk Festival in Texas, and was a staff songwriter at Polygram/Universal Music Publishing in Nashville. He has received numerous songwriting awards including a 1999 ASCAP Country Music Award for "You Move Me" recorded by Garth Brooks.
Pettis is presently working on a new album for Compass Records to be released this year.
---
The Vollmers–July 15, 2018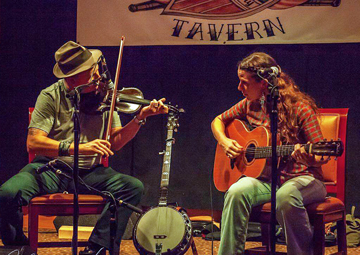 The Vollmers are an acoustic duo composed of newlyweds Claire Byrne of Driftwood and Brian Vollmer (Old Time Music Party & The Gerry Garcia String Band). They are full-time musicians who also teach and lead workshops. They make their home in Binghamton, New York. They play older country and bluegrass songs, archaic fiddle tunes from rural Appalachia, and original roots music. Their interpretation of timeless American music is compelling and revealing.
Brian's first CD, Old Time Music Party, was released in 2013, and quickly received widespread acclaim. Banjo Newsletter said, "a great old-time recording that honors the past while staying up to date with younger musicians who will carry on the tradition; in good hands for years to come." The album has had such an impact on the Old Time music community that you can always hear some of the more unusual and archaic tunes that Brian composed for the album being played at jam sessions at prestigious fiddler conventions all over the world. In recent years, Brian moved from the mountains of Tennessee and North Carolina to Upstate New York. There he met musician Claire Byrne of Driftwood during an apprenticeship in Ithaca, and they ended up getting married.
Mixing folk, country, blues, old time and a sound that's all her own, Claire Byrne's music flies out of her heart and into the room in which she sings. Held akin to the musical styling of Loretta Lynn, June Carter and Janis Joplin, Byrne's music is rich in energy and emotion and reflective of human nature. Well known as the violinist and singer in Driftwood, Byrne now also plays with Brian in The Vollmers.
---
John O'Connor–July 22, 2018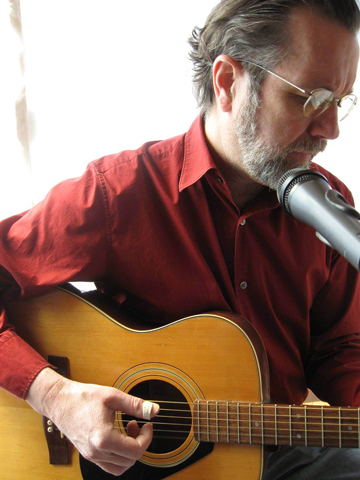 "John O'Connor is one of those rare songwriters that paints honest, non-romanticized pictures of people's lives. Like Woody Guthrie or Utah Phillips, he uses deceptively simple language to take us into the complex lives of workers in many parts of the world." — John McCutcheon
John began his involvement in the labor movement working in the factories of Waterloo, Iowa. Inspiration from Woody Guthrie led to a 30-year career as a folk singer and cultural educator.
In 1983, John sent a batch of his songs off to Flying Fish Records cold and–almost unheard of in the business–landed a contract to make an album. Songs For Our Times came out in 1984 and was named one of the best albums of the year by several folk publications and radio stations.
Thirty years later John is still stalwart in his focus of fighting for the working class and inspiring them with his music and their music.
In 1993, the first union for traveling musicians on the acoustic music circuit was chartered as a local of the American Federation of Musicians, due in large part to John's efforts and imagination. There are few on today's folk music scene that have not heard of the work of Local 1000, the North American Traveling Musicians Union.
---
Pat Wictor and Deborah Latz–July 29, 2018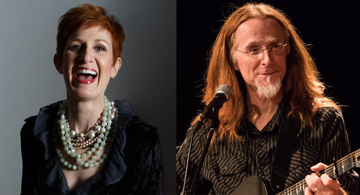 "Pat Wictor walks onstage and sits down. He places a Guild DV-52 flat across his lap and begins playing slide guitar. The sounds are snaky and sizzling."—Richard Cuccaro, Acoustic Live
Pat Wictor has made his mark as a singer-songwriter with songs that incorporate—and subvert—rural blues and gospel traditions. Until 2017, Pat had been touring nationally as part of Brother Sun, the powerful harmonizing trio with Joe Jencks and Greg Greenway, garnering critical acclaim.
An American by birth, Pat's early years were spent in Venezuela, Holland, Norway, England, and East Texas. His time abroad gave him the perspective of a world citizen and set him on a journey to understanding America—and his own "American-ness"—through music.
An adept improviser and accompanist, he is sought after as a collaborator, sideman and session musician, with dozens of recording credits to date. He writes a monthly e-mail column, "A Few Choice Words". He is a music educator, teaching workshops on improvisation, writing, interpreting, and rearranging songs.
Pat is an in-demand session musician, providing his distinctive slide guitar and vocals on dozens of recordings, including releases by Sloan Wainwright, Jon Vezner, Joe Crookston, and a forthcoming CD by David LaMotte.
Pat will be joined tonight by the New York-based jazz singer, songwriter, arranger, and actress Deborah Latz.